Yuma Yoshimura is a Japanese contemporary artist best known for his hand painting in monochromatic style.
YUMANIZUMU
Yoshimura was born in Tokyo, Japan in the beginning of the 80s. Thanks to his family's affinity for art, he started drawing at an early age. In 2004 he received a BFA in printmaking from Tama Art University in his birth town. He exhibited flat-surfaced works primarily made using aluminum plate – he was turning tableaux into paintings, following an original technique employing the aluminum plate normally used in printmaking. At the time, he was known for his colorful shoe paintings, as he developed a very personal style combining tribal figurative drawings with a monochromatic and chaotic Tokyo influence.
After spending some time on the streets of Tokyo, in search for inspiration, YUMANIZUMU became his main field of art creation in 2008 with one "simple" goal: never to stop exploring the duality in the chaotic world.
Soon, Yuma decided to focus his art in hand painting which is the major ingredient for this artist's visual art work - like his original shoes and 2D works.
Yin and Yang Is into You
In 2011, Yuma held his first solo show in Germany. After this exhibition, Yuma was invited to participate in a mural project as artist in residence in Soweto (South Africa), a city built under apartheid to house the black African population. Yuma's intervention continued with a solo exhibition in the capital, Cape Town, titled Yin and Yang Is into You. It was a word-play as the he spelling of 'Yin and Yang' in Japanese can be read the same as 'In To You' in romaji (roman letters in Japanese). There, he learned a technique called African fusion of oneself.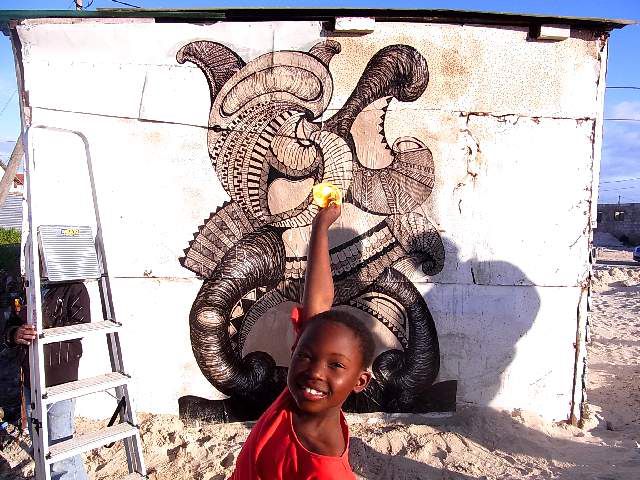 "My style is very serious, and delicate, and sometimes it's dynamic and rough. So I thought in the future I wanted to try creating a fusion. But it's difficult, every day I try but it's confusing. So, having an outside energy like Cape Town has helped."
In the works of Yuma, through color and other primitive forms found along his travels, the hustle and bustle from big cities such as Tokyo is inevitably present. He said that he intentionally brings the chaos into his work and that the basis for that is his growing up in Tokyo.
"In the space-time of painting and giving birth to murals, leaving transitory external traces, I clothe objects created from aluminum and stone with an appearance of having been asleep in the earth. These works contain both the concept of an uncertain and real way of life and, at the same time, that of Chaos due to distortion."
Yuma Yoshimura lives and works in Nakano, Tokyo, Japan.
All images copyright © the artist