Easily passing as one of the most innovative artists emerging from the neo avant-garde period, Yves Klein was a French mastermind who wrote out some very interesting and exciting pages of modern art history. Although he did not want to have anything to do with art in his student years, instead seeking out advancements in other fields such as Eastern spirituality and judo, Klein eventually did introduce unique concepts to the scene once he chose to dedicate himself to artistic creation in the late 1940s. What fueled this sudden turn to art and his entire creation process was Yves' one of a kind relationship with the sky. Most notable of these concepts is the famous International Klein Blue (also known as IKB) - this chemically developed color found its way into every mature piece Yves ever created, effectively becoming one of the most recognizable trademarks in modern art. Putting the ultramarine color aside, this artist also introduced ideas such as sponge sculptures, living paintbrushes, fire paintings and other conceptual works, as well as some of the most original performance acts ever assembled. Yves Klein was also one of the founders of Nouveau Réalisme, an artistic movement founded by himself and the art critic Pierre Restany in 1960.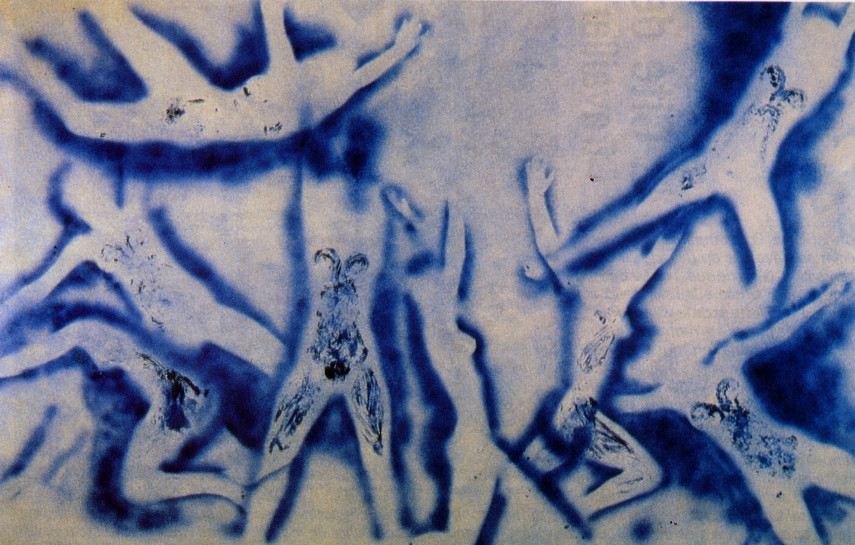 Young Yves Klein and His Blue Sky
Yves Klein was born in Nice, France, during the year of 1928. Despite both of his parents being painters, young Klein had no particular interest in exploring any kinds of art in his earliest years. Despite his efforts to ignore such callings, Yves parents had a massive influence on their son's future career - Klein's father, Fred, worked in a figurative style, while his mother, Marie, favored more abstract expression. Yves grew up between Paris and Cagnes-sur-Mer, a place in the southern France which was his home whilst the Nazis occupied the northern lands of his country. Between the years of 1942 and 1964, Klein studied at the École Nationale de la Marine Marchand and the École Nationale des Langues. He was still not attracted to traditional art forms, choosing instead to dedicate himself to the exploration classic literature, jazz music, eastern philosophy and judo - a Japanise fighting style with its roots in the ancient samurai combat.
As student Klein was enjoying post-war life and his various hobbies, the legend now forever embedded in art history says that he had an epiphany which will permanently alter his view on the world and subsequently shape his future work. Lying on the beach with friends in 1946, Yves declared that he claimed the sky. Although this may sound a bit crazy in all honesty, Klein's friends were not as shocked as they've been aware of Yves' fascination with the endless blue above us - the young artist described the sky as the perfect representation of the formless and infinite[1]. Talking about it many years later, Klein stated that he actually started to feel nothing but hatred for birds due to their natural ability to fly. He said that the birds would fly back and forth across the blue cloudless sky with goals of boring holes in his greatest and most beautiful work. These heavily abstract concepts with surrealistic touches would fuel Klein's art for the remainder of his career as he dedicated his life to depicting mystical experiences between his and the sky through his work.
All of Klein's pieces were somehow connected to his unique relationship with the endless sky above us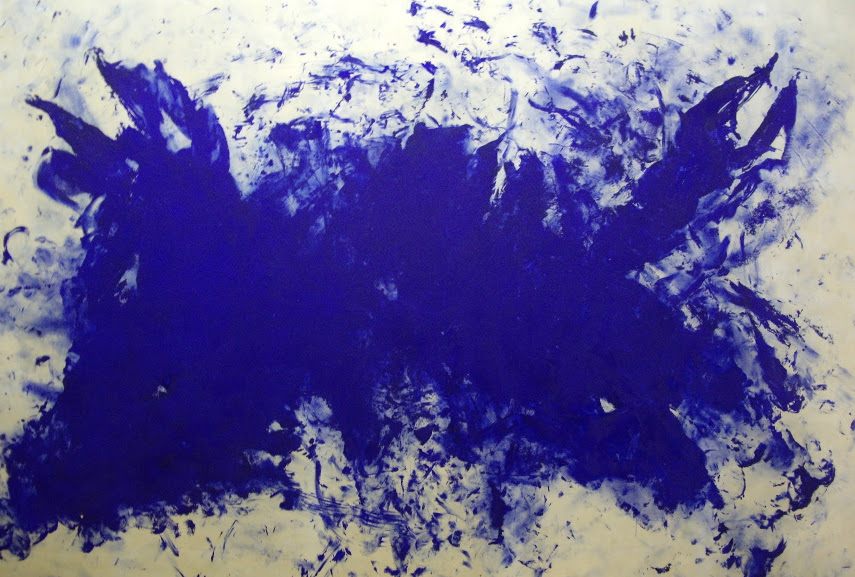 A New Color - International Klein Blue
Invigorated by his revelation of the sky and its mysticism, Klein began to seek ways of communicating his vision with the rest of the world. One of his very first creations was the Monotone-Silence Symphony (1947–48) - a musical piece intended to elicit the sky through a constant playing of a single chord for full 20 minutes, followed up by an equally long period of silence that was reserved for reflection upon what the listener just realized. Although this piece was not to be performed publicly for a decade later, it did set the tone and the primary theme that would serve as a compass to all Klein's future works. Monotone-Silence Symphony was so ahead of its time that it's always fascinating to realize the piece was actually created before the year of 1950 - literally nothing similar was ever made and the closest thing to Klein's symphony were Futuristic's takes on artistic music and sounds during the early 20th century.
Following the years after the completion of the Monotone-Silence Symphony, Yves traveled extensively. He would further shape his artistic vision and overall skill along the way, absorbing all the locations he would visit and finding inspiration in local art. Klein lived in London for three years between 1949 and 1952, spending most of his time working in a frame shop - this experience, combined with the under the radar influence his parents had on him, eventually helped Yves to gain a solid understanding of painting and the foundations of color. Growing a bit bored with the United Kingdom, Klein decided to follow his instinct and pursue a better skill in judo, his lifelong fascination. In order to do so, he set his sails to Japan in the year of 1952 and became a fourth dan black belt at the legendary Kodokan Institute. Whilst in the Land of the Rising Son, Yves held a solo exhibition of his work and wrote a manual of his art, titling it the Manifesto of the Monochrome. In it, Klein described his work as a liberation of emotion from the restraints of line and object[2].
After traveling around the world, Yves finally made a full circle and returned to Paris in the year of 1955. There he opened a judo school and continued to develop his neo avant-garde concepts. In February 1956, he held another solo show called Yves: Propositions Monochromes - in this exhibition, the artist displayed twenty paintings, each composed of a different single color. Unfortunately, the French public yet again proved that it was not ready to witness Klein's concepts, so Yves: Propositions Monochromes was destined to become a huge failure. Disappointed by the unenthusiastic response he received, Yves decided to force the next step of his career. Hiring a professional chemist to help him, Klein devised a special color to be used in all his future works - a deep ultramarine tone. He called it International Klein Blue (IKB).
International Klein Blue (or IKB) was an ultramarine color that served as Yves' main expressive tool in all his mature works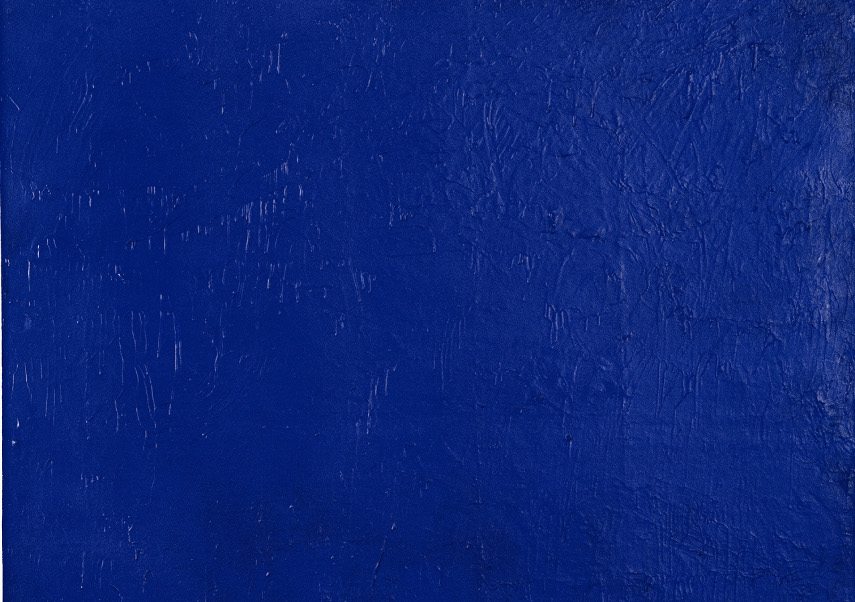 Blue Ballons, Fire Paintings and Live Sculptures
After he established it as a trademark symbol, the ultramarine color became the main tool of Yves' art through which he channeled his spirituality and the personal relationship with the sky above him. The birth of the deep blue color subsequently launched his Blue Period in the year of 1957, marked by his famous Aerostatic Sculpture. This performance act was organized in Paris and it was based on releasing 1,001 blue balloons. This time around, the French public loved Yves' work. Aerostatic Sculpture put Klein on the map and he soon traveled around Europe, presenting his monochromic paintings in London and Milan. In the same year, the artist also branched out a bit and found a new method to express his blue ideas. Yves completed a commissioned task that required him to paint a mural for the entrance hall of a new opera house in Gelsenkirchen, West Germany. He also started his series of sculptures that featured the paint-soaked sponges he used to create his monochromes.
After the 1957's events, Klein became a household name of the French contemporary scene. It was about that time that he started to work on the legendary The Void[3], a project that had Yves empty an entire space of the Galeries Iris Clert and paint it completely white. Simultaneously, Klein began to experiment with more approaches to expressing his vision - he would hire nude female models and cover the entirety of their bodies with International Klein Blue, later introducing them to blank surfaces as if he was using living paintbrushes. Inspired by the Sun, Yves also began burning his canvases and effectively establishing a new series of his career - the so-called fire paintings. He worked on his Monogolds[4] as well. Soon, Yves became a part of a group of other artists who all wanted to find new ways of representing reality around us. This group founded by Klein and Pierre Restany in 1960 was called Nouveau Réalisme and it revolved around methods of seeing the world as an image from which they could take parts and incorporate them into their works. By the year of 1961, Klein became an under the radar star of the contemporary art scene, with his various pieces traveling around the world and attracting mass attention both around Europe and The United States.
Yves Klein is widely considered as the most important performance art representative of all time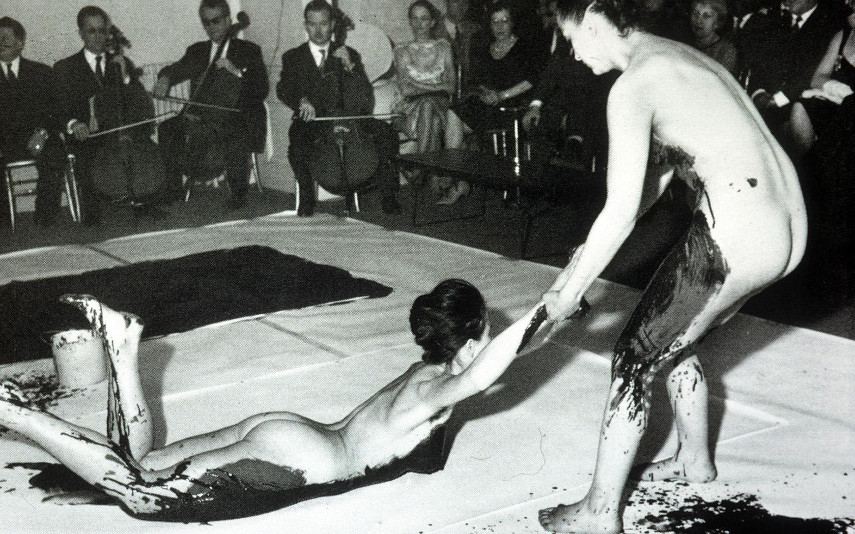 Yves Klein's Table Bleue
Although Klein is probably better known for his signature paintings and the rest of the International Klein Blue works,this artist actually dedicated a lot of his effort into becoming a part of the furniture design world. The result of such efforts were his Table Bleue pieces, tabletops that are still produced to this day - although the price tags often exceed the sum of $22,500, so it can not be easily described as affordable to wider masses. To this day, Klein's design of the Table Bleue did not change a bit since he first presented them. Yves' tables are essentially a plexiglass box supported by metal legs and filled with the pigment of the International Klein Blue. Today, Klein's Table Bleue pieces are produced by a company called Artware. Besides the standard sky version of the table, there were also tabletops that came in pink and gold colorations.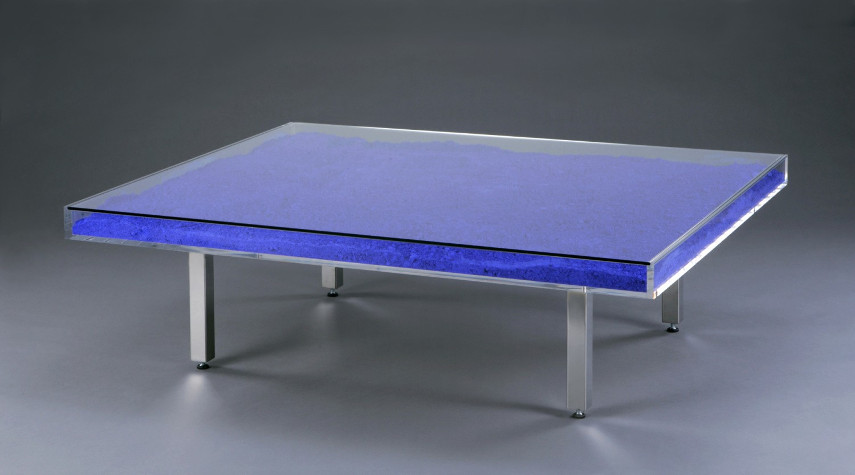 The End of the Tale
After one of his American exhibitions started to be under an all out critical attack, Yves was prompted to write the famous Chelsea Hotel Manifesto. In it, the artist described how he sees his life's work and explains many aspects of his art, as well as the transcendent experience on the beach in 1947. This manifesto now has a cult status and it is widely considered to be the most precise explanation of Klein's art and one of the most amazing writings about art ever made. Soon after the USA show's failure, Yves married German artist Rotraut Uecker. Unfortunately, the happy marriage was heavily overshadowed by Klein's signs of heart trouble. Logically, this eventually impacted his artistic output as well as he was forced to spend much of his time in hospitals. He also stopped visiting his own exhibitions - something he loved doing throughout his career. On June 6, 1962, Klein suffered a critical heart attack and subsequently died at a local infirmary. He was only 34 years of age. Luckily, the sad and untimely ending of Yves' life was a bit lightened by the birth to his son, Yves Amu Klein, who was born mere two months after his father passed away.
Yves' work did not manage to impact the scene whilst he still drew breath, but it became vital to conceptual and performance art after Klein's death
Forever Believe in the Blue
Unfortunately, Yves was ultimately very misunderstood and maligned during his day, with his true appreciation coming only after the fatal year of 1962. This can somewhat be connected to the fact that his premature death ended his career before he had a chance to furtherly establish his art, but it's undeniable that the public was simply not ready nor willing to understand most of his pieces. In his time, Klein was a quick excitement and one of the artists no one wanted to adhere with too much respect. However, as the years after his death were passing by, Yves' impact started to show in all aspects of both the performance and conceptual art movements. Now his name is treated with deserved respect and it became a challenge to name just a few contemporary artists who impacted the world as much as Yves Klein managed to do.
References:
Anonymous. Yves Klein Biography, Bio [September 2, 2016]
Weitemeier, H., Yves Klein, 1928–1962: Internacional Klein Blue, Taschen, 2001
Berggruen, O., Yves Klein - The Void, Pushkin Press, 2012
Anonymous. True Blue, The New Yorker, p.72, 2010
Featured image: Yves Klein - Photo of the artist. © Yves Klein / Artists Rights Society (ARS), New York / ADAGP, Paris
All images used for illustrative purposes only.