Zak Smith, also known as Zak Sabbath, is a controversial American artist whose name is equally present in the world of visual arts and in the porn industry. Smith's paintings and drawings are a powerful blend of comic book and punk style – they are colorful, rich in details and often humorous or daring. Smith claims that his drawings are based on his experience as an adult film actor and when asked about his peculiar double career in arts and porn, he replies with a mischievous smile: I am involved with porn mostly because the social life of the art world is like living death.
Smith's paintings and drawings are a powerful blend of comic book and punk style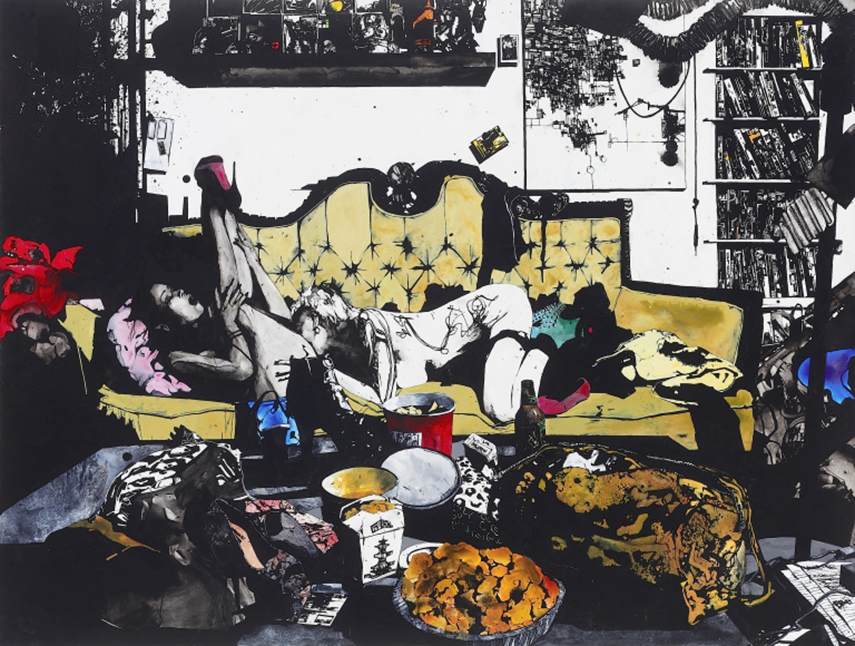 Prestigious Education
Smith was born in New York, he grew up in Washington D.C. and later on lived in Brooklyn until he moved to Los Angeles in 2007. He was an extremely good student who went to some of the best American schools. He received his BFA from Cooper Union in 1998, continued to study at the Skowhegan School of Painting and Sculpture in Maine and finally earned his MFA from Yale University in 2001. This program at Yale is famous for its extremely low acceptance rate and it is the most prestigious graduate school in the United States, along with Rhode Island School of Design. Smith, whose behavior and style might be deceiving and confusing, is a highly educated person who chose the unusual path when it comes to his career.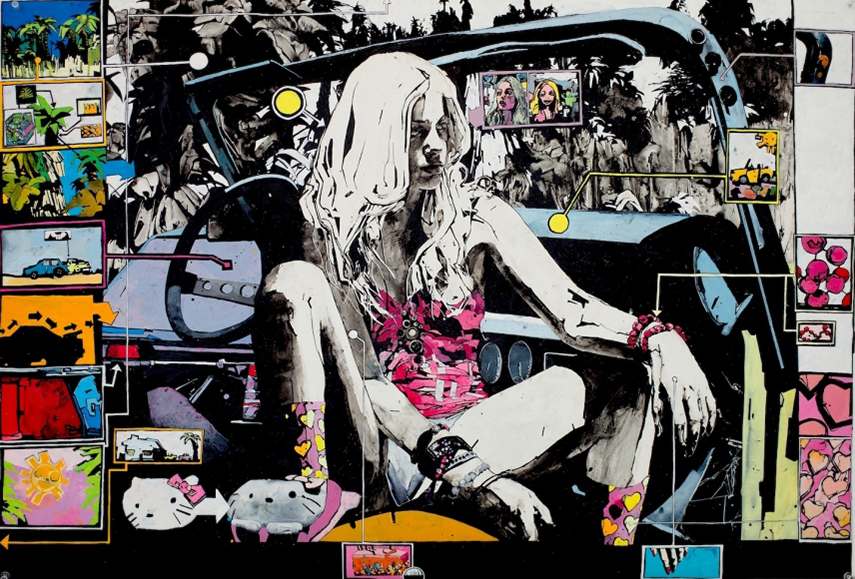 Influence of Punk and Hardcore
Smith's entire body of work consists of various  portraits, drawings, and abstractions. His works are predominantly erotic in nature and painted with acrylic colors and ink, even though they sometimes resemble collages and mixed media due to their complexity. Smith's interest in comic books as well as video games is obvious in his dynamic and jaw-droppingly detailed portrayals of people and interiors. In addition to comic books, punk, hardcore and BDSM culture had a decisive influence on Smith's  aesthetics. However, Smith's prestigious education is not completely hidden in his work. He is often using visually stunning patterns, vivid, saturated colors and repetition of simple shapes, such as squares, in order to emphasize the sense of tridimensionality. Smith is also using contrasting colors in his work so that his subjects are clearly standing out from the background.
In addition to comic books, punk, psychedelic and hardcore culture had a decisive influence on Smith's aesthetics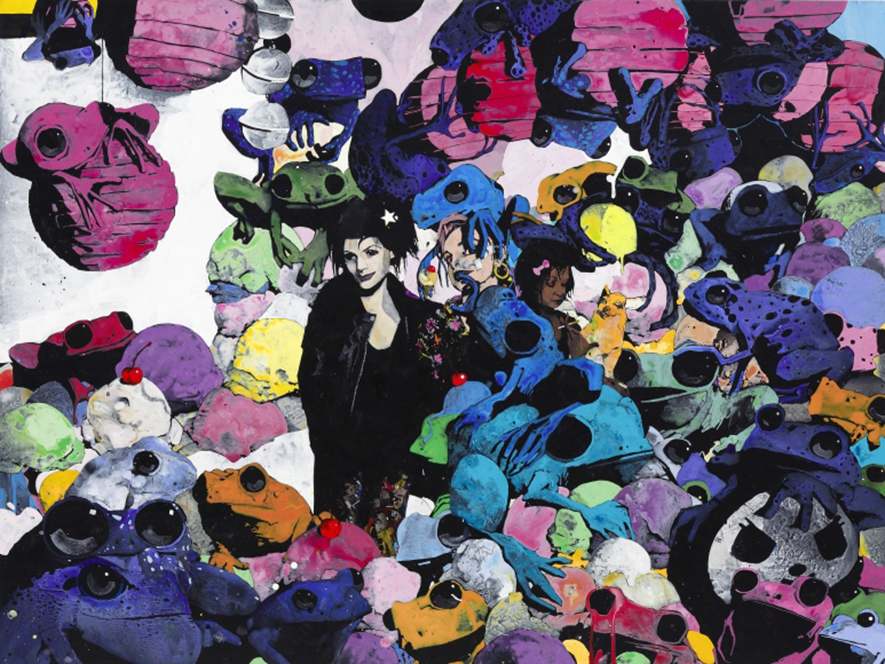 Erotic Portraits
Smith is best known for his portrayal of women, with a strong focus on eroticism. Since 2006 when Smith made his debut in the porn industry, under the pseudonym Zak Sabbath, most of his models are alternative porn actresses, such as Sasha Gray or Mandy Morbid. No matter the nature of his subjects, Smith's work is never pornographic by itself and it doesn't even contain too much nudity – he simply focuses on mundane aspects of life and there is a lot of spontaneity and playfulness in his works. There are also elements of psychedelicin his style, such as the juxtaposition or repetition of awkward objects that resemble fractal motifs commonly used in psychedelic paintings and drawings.
Smith's artworks have been presented in the 2004 Whitney Biennial at the Whitney Museum of American Art and they are also in the collection of the Museum of Modern Art in New York and the Walker Art Center in Minnesota. Smith has donated a part of the profits from his artworks work to various activist causes, most significant one among them being Food Not Bombs. In addition to his successful career in arts, Smith has also published 3 books so far, called Pictures of Girls, Gravity's Rainbow and We Did Porn: Memoir and Drawings. Smith's books are focusing on his experiences in adult films as well as his artworks.
Smith is using the repetition of simple shapes in order to emphasize the sense of tridimensionality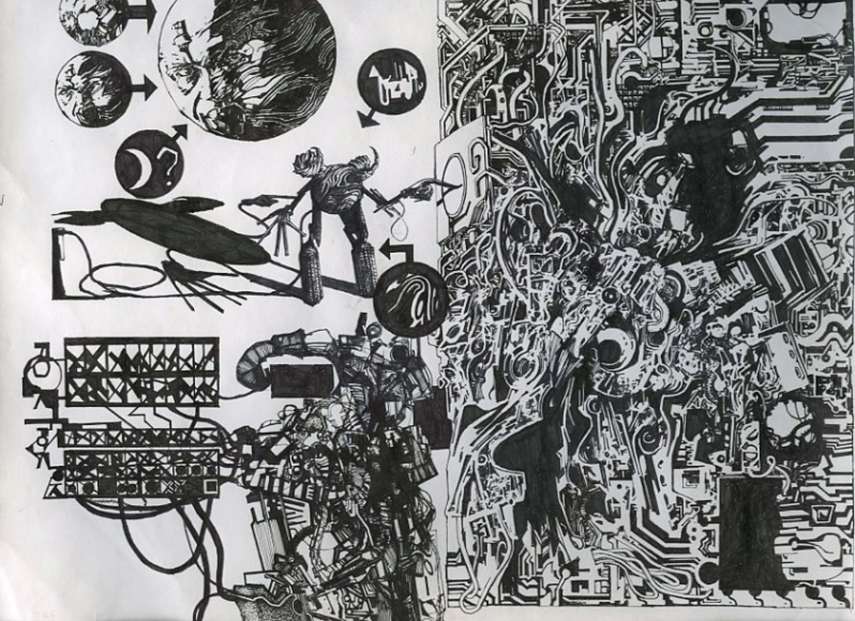 Sharp Sense of Humor
Smith's refreshing personality and unusual career make him stand out amongst the crowd producing paintings and drawings inspired by comic books or hardcore. Smith's involvement with the adult movies might be something that traditionalists would frown upon, but for Smith, it is just a regular part of his life.  Also, his lovely sense of humor is winning people's hearts. When asked about the effect of LA on his recent painting, Smith cleverly replied: Since I moved to LA, when I paint a portrait of a girl, she's slightly less likely to be a dominatrix and slightly more likely to be a stripper. There hasn't been any noticeable effect on the abstract paintings.
Zak Smith lives and works in Los Angeles.
Featured image: Zak Smith portrait - image via flickr.com
All images © Zak Smith.