Zalez is a contemporary multidisciplinary French artist who explores the identity issue of the women. His admiration of human body, especially women's body, was derived from the idea that female body symbolizes life, and celebration of the body through art symbolizes the eternal life. Since bodies are organic and finite, and art is everlasting, his idea is to give a unique homage to the female form that gives life to mankind. Although provocative, his work is never vulgar. Using a style that belongs in the streets he gives his theme a contemporary look. Being quite opinionated, he extrapolates his idea over the range of modern advertisements, classical figurative portraits of women, and current love for logos and brands.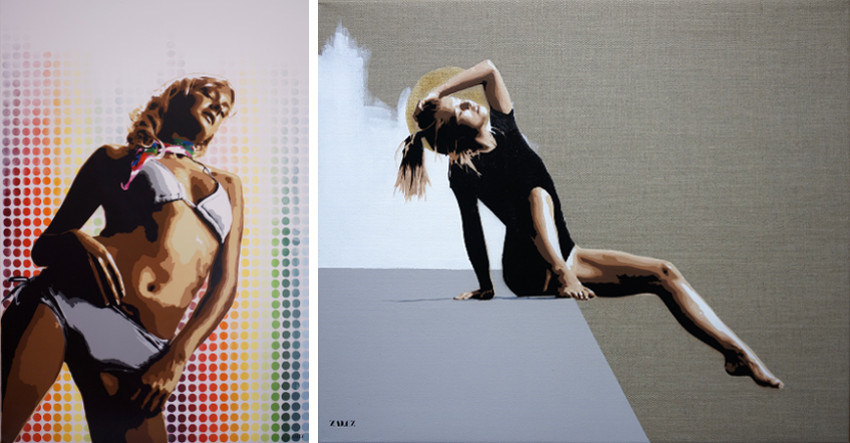 Zalez – the Artist
He first stepped onto his artistic path back in primary school when he was just six years old. Some of the first pieces were sketches and drawings he made for other children in exchange for marbles and candy. In high school, he had a really good professor who taught him a lot about creativity and free mind that accompanies the art. Zale enrolled in design school, a fine art school, and history art school, just so he could gain an insight into art in general. However, he didn't stay longer than two years in either of those schools because he simply didn't find himself within those kinds of expectations and working conditions. While studying at Toulouse in South of France, he discovered Street Art and stencil on a wall. Charmed by it, he spent an incredible amount of time studying, trying to understand the processes of stenciling in black and white. Around 2007, he started working on the women's perception in Hollywood imagery and movies and began realizing stencil on the walls of Toulouse.
For 3 months, he would spend the nights working in the streets and then sleep during the day. At the same time, Zalez participated in the movement "Zone agreed Liberty educated to Zapping", which was a group of ten students making happenings on the streets illegally. Actually, his artistic name originates from those days and constituted from the first letters of the name of this Group Z.A.L.E.Z. He left school a year later. After spending five months working on a canvas in his apartment, he made a decision to have his first exhibition in Clermont-Ferrand (Middle of France) in a shop. In 2009, Zalez made his personal 'Tour de France', traveling around in a truck, carrying his canvases, meeting people and making exhibitions. At the end of 2009, he met an Art Agent, a relationship which opened up a possibility of working and exhibiting in galleries, something Zalez has been doing ever since.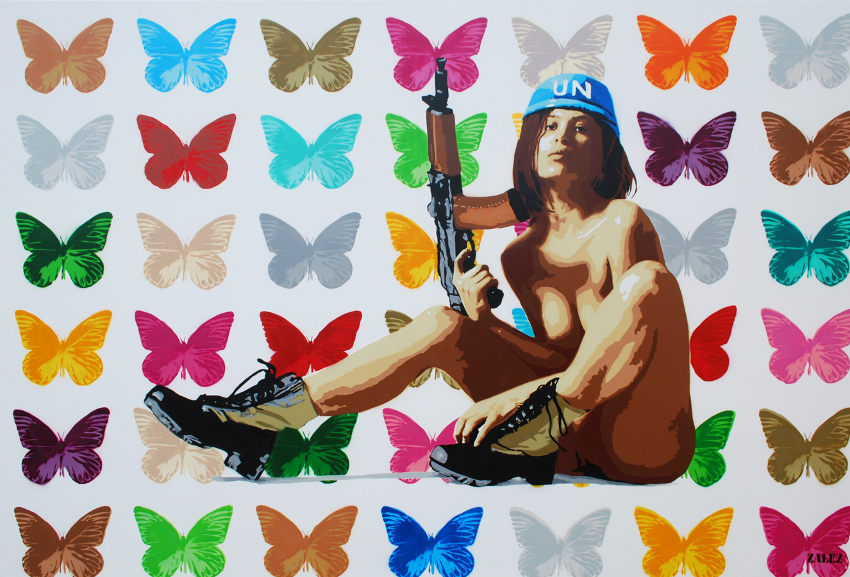 The Art of Zalez
Perfectly capable of working both indoors and outdoors, Zalez considers the most important moment in his career when he started creating multi-color stencils. It has opened his art on a completely new level. By learning this technique, he had to understand and learn about colors and their functionality, all in order to create volume and texture. One of the biggest milestones so far happened in 2010 at the Bristol Upfest Festival, when Zalez met Stik and many other great artists. As he was creating a woman disguised as a clown, a mother and her son were passing by. The boy was very interested in the clown, but his mother was rather shocked by the exposed nipple. She dragged him away, saying he shouldn't look at the boobies. This anecdote made the artist understand the problem of the innocence of a child seeing a clown and the parent who saw nothing but sexual tension – "it's creating a mental barrier we need to change!" Speaking of the messages Zalez is trying to send, he states there are many different ones – provocative, political, poetic. Since he doesn't want to express himself in words but rather visually, the most important part of his work is what the viewers think, feel, remember.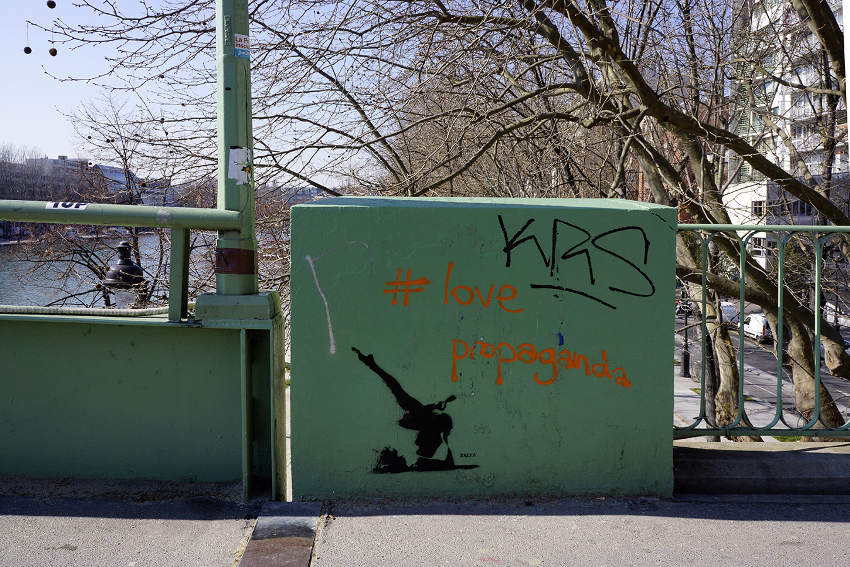 Style, Influences, and Themes
Not really influenced by any individual person or a movement, Zalez is a 30-year-old product of all the things of his time – fashion, movies, geek generation, classicism, Pop Art, Hip Hop music… His greatest inspiration is, without a doubt – the woman. He thinks he's a part of a generation that will change the woman condition, moving the line and creating the new mind of equality. "I use the woman body and character to talk about society, politics, religious, poetry." Still curious about everything, from History, Mechanics, Sport, to Fashion and Design, Zalez keeps an open mind for anything that's up in the air. He has a lot of Black books (with ideas, pictures, and sentences), from where he just picks things up and elaborates them further. His work begins with a simple stencil, black and white, after which he adds more detail, such as skin, wear. As mentioned above, back in 2008, he spent many months perfecting the multi-color stencil, and was, at the time, alongside Btoy and few other artists, a true master of this technique. After learning it, he was interested in exploring what he had previously learned in other techniques, like drawing, oil painting, charcoal, etc… With one thing in common for all of them, his subject – Woman.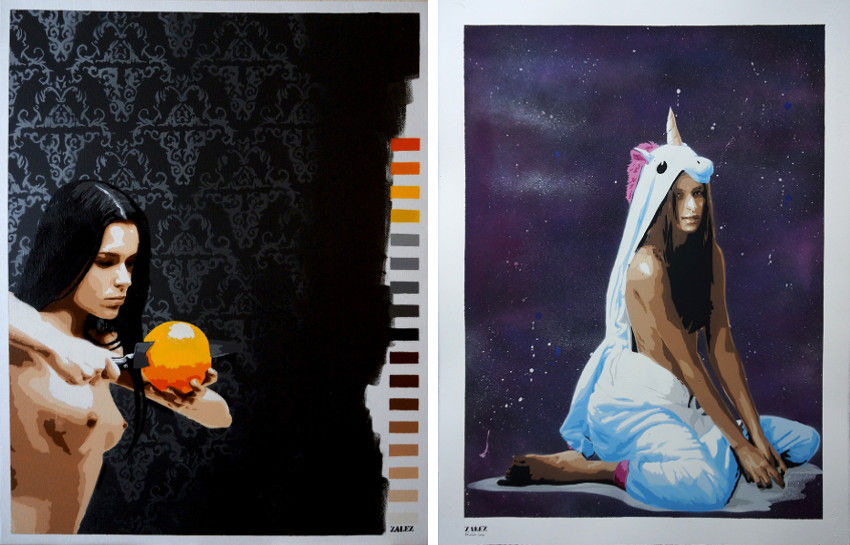 The Main Theme of Zalez
Starting in Nude Art, the artist expresses a desire to understand the body in general, without any hints of social status. Things like clothes give away information about social class, education, etc… And Zalez had to start without these, following the footsteps of Ancient Greeks who were fascinated with the mystery of women body. After years of practice, he has reached a point where he understands that our society is becoming more and more puritanical against the women body and he's feeling the need to engage and try to change these circumstances, like movements "Free the Nipple" and "Femen" do. Zalez's diverse experience allows him to blend in together his old-school techniques that he mastered in street art, with fine oil paintings, drawings with crayons, and spray paint works, creating a unique blend. The contemporary urban design gives his pieces a fresh vibe, whereas motives associated with classical paintings bring the sophistication. Visually provoking and mentally engaging, the art of Zalez signifies the importance of the revolutionary step where women took control over their bodies and started celebrating the empowerment and freedom. Their body is glorified, but in a tasteful manner.
He is represented by Ministry of Walls, Gallery Berthéas in France and Gallery Kellermann in Dussëldorf.
Zalez lives in Paris and works in Thiers, Auvergne.
Featured image: Zalez working in his studio
All images courtesy of the artist