A contemporary Chinese artist, born in 1964 in Wuhan, Hubei Province - Zeng Fanzhi is best known for his expressionist art. The emotional directness his work projects are more than not weighted with psychological and political overtones. Zeng studied oil painting at the Hubei Academy of Fine Arts, and he was strongly influenced by German Expressionism. This kind of aesthetic is visible in many of his artworks. Zeng's artworks are easily recognizable by his signature expressionistic style. His paintings possess an underlying violence, a feeling of an upheaval, sort of psychological tension, both shown on the canvas and that which the viewer might feel. Fanzhi paints portraits, rural landscapes, and the omnipresent politically charged motifs, still not lacking beauty.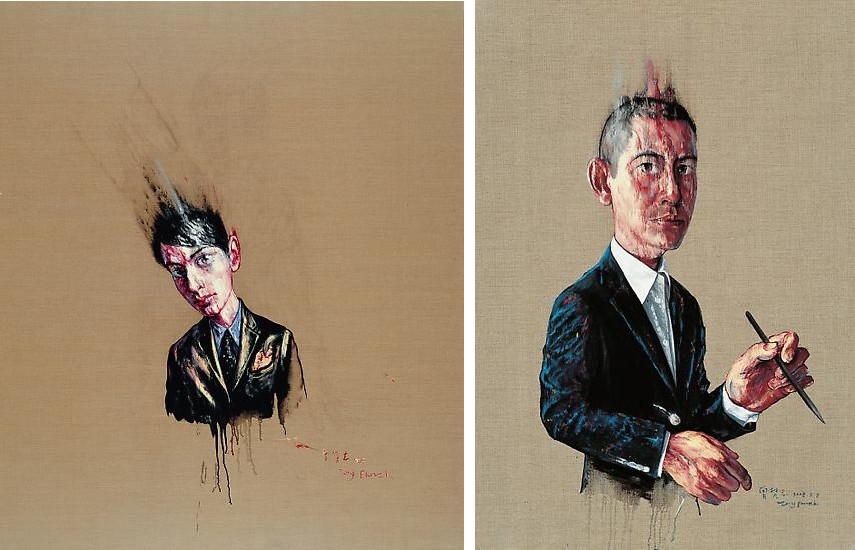 Beauty of Beijing Solitude
After moving to Beijing in the early 1990's, Zeng felt alone and alienated from the friends and family he left behind in Wuhan. His art displayed an immediate shift, corresponding to the pomposity inherent to his new urban life. This Chinese artist's response to the new superficial environment came in his seminal Mask Series, which depict the tensions between the Zeng's existential concerns and the contemporary environment. He began the Mask Series in 1994, as a reaction to the overwhelming feelings of solitude. The figures in these paintings are well-dressed but wearing white masks with blank expressions. This was a reaction to China's transformation during the 1990s. These characters seem insincere, fake and correspond well to the newly found situation in China. Just like the officials who had started to wear suits and masks of another personality, only to change the surface of themselves, Zeng's masked figures seem artificial. They are placed against flat, unnatural background, which highlights their falsity. The suspicious nature of these figures reflects Zeng's feelings of social isolation, and the inability to connect to anyone in the busy city of Beijing.
These characters seem insincere and fake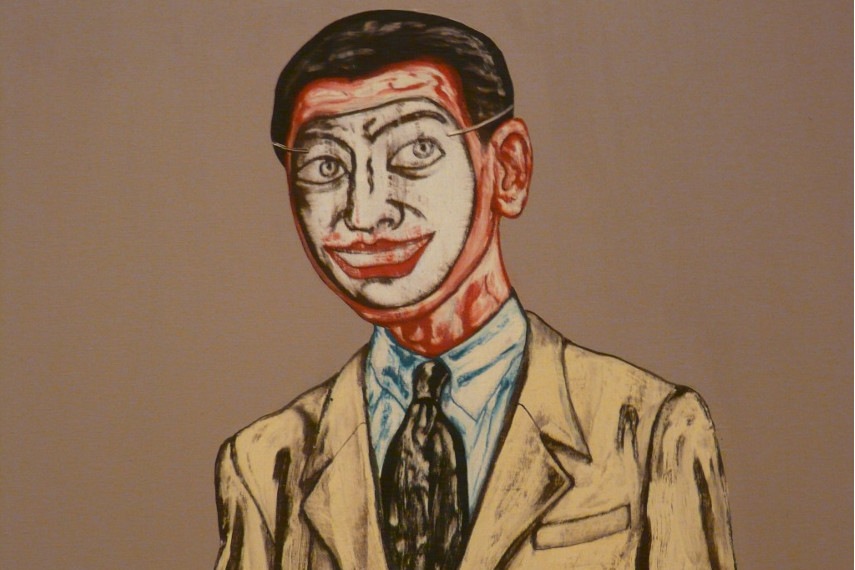 Paintings Exploring Nature
Zeng has a correlative approach between psychology and painting is best shown in Hospital Series, where he juxtaposes distraught patient and doctor as human anguish and the horror of bureaucracy, while the muted tones depict staleness of the crowds. In the beginnings of 2000s, Fanzhi abandoned his rough style inspired by the German expressionism, and turned to more traditional Chinese influences, looking at the work of Song Dynasty. This dramatically changed his technique. Following his new inspiration, Zeng turned to landscape art. This could have been his escape from the city, as this Chinese philosophy speaks of man's relationship to nature, and its beauty, where people are insignificant in relation to the Universe. His striking landscapes express a notion of the omnipresent gulf between individual cognition and the reality of the environment. His peculiar style of painting simultaneously with two brushes allows him to describe his subject with one, as the other meanders the canvas. His passionate style leaves traces of the subconscious, turning his landscapes into borderline abstract fields.
He describes his subject and meanders the canvas





Zeng Fanzhi - Lion, 2008 - photo via acquavellagalleries.com

Chinese Maestro in Action
For this Chinese artist, it is this working process that can almost be compared with performance art. What Jackson Pollock, Willem de Kooning and other great contemporary painters are to the Western world, Zeng is to the Eastern. When painting, Fanzhi turns into a maestro in action, he paints wholeheartedly, vivaciously, relentlessly. Hoping on and off elevated platforms, reaching the center of his immense canvas. He creates chaotic strokes by brushing and splashing paint, creating spontaneous and yet elaborate artworks. His work dissipates all comfort, composed of irony and optimism, fusing revolution and uncertainty. The frenzied brush marks bring his paintings to life and resonate emotions, as the layers of paint dry and convey what is food for thought. In his painting Tiananmen, 2004, the figure of Mao seems as a lingering ghost over popular consciousness and still dominates the scene.
The frenzied brush marks bring his art to life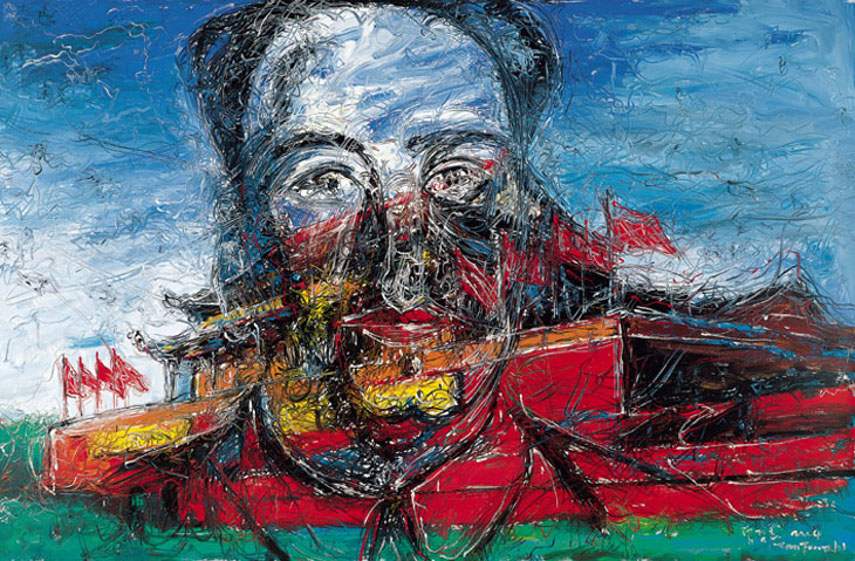 Painting as Meditation
Although his works show suffering, and sometimes are formidable in their nature, just like the motifs he depicts, Zeng says painting is meditation and not suffering. His works have been shown in museums and galleries all over the world. One of his works from the Mask Series became the highest-grossing work by an Asian contemporary artist. And his work The Last Supper was sold in 2013 for a record-breaking US$23 million. Zeng's pieces are exhibited in galleries and museums around the world.
Zeng lives and works in Beijing.

Featured image: Zeng Fanzhi - portrait(detail) - photo via scmp