Zhang Xiaogang is one of the most influential and acknowledged painters in the contemporary art world of China. In his fruitful career, he managed to explore many social, philosophical and intimate subjects, developing a unique style and certain seriousness in his paintings. Using his own life, the lives of the people he shared political history with, and personal emotional turmoil, he put all his thought and reasoning into his surreal and symbolic paintings. Growing up in China was not all roses and butterflies for this artist, and he spent many years rejuvenating and recuperating. Everything that he learned about socioeconomic and political occurrences and their impact on culture and art, he wrapped up in a symbol and shared his opinion through painting.
The artist started out with paintings of rural scenery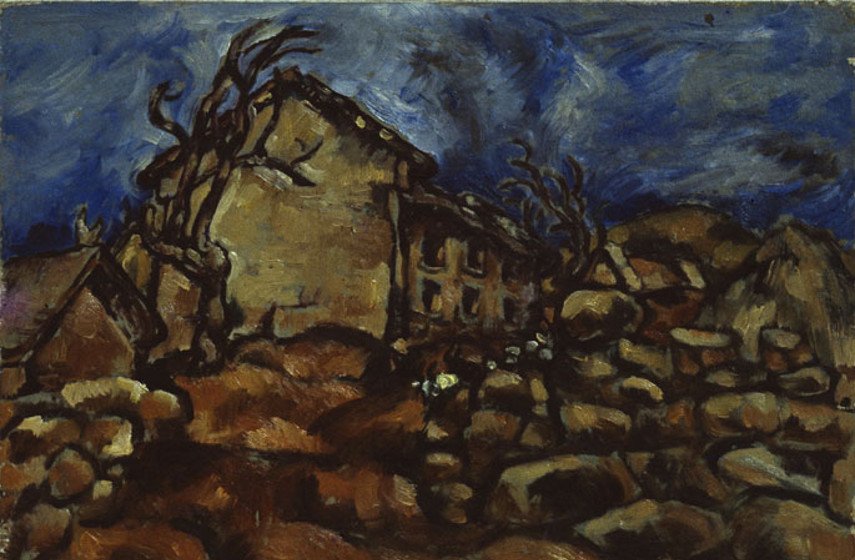 Cultural Revolution and Scenes from Rural Region
Xiaogang was born in 1958 in Kunming, to parents who worked for the government. His mother taught him how to draw and his playtime with crayons was a sort of disciplinary measure for him. When he was in adolescent age he was sent to work on a farm, as a part of the government program called Down to the Countryside Movement where young people from the city would be sent to the countryside in order to get practical skills. Many high-school graduates recall this time as the time of lost generation of China. While participating in physical labor on the farm, Xiaogang was concurrently learning how to paint. He learned how to work with watercolors and how to make sketches. This was the time of Cultural revolution, and the political outbreak strongly influenced Xiaogang's painting. He decided that art was his true calling and successfully enrolled the Sichuan Academy of Fine arts in 1977, where he studied oil painting.
Xiaogang went through a phase where he occupied his mind with contemplations about death and addiction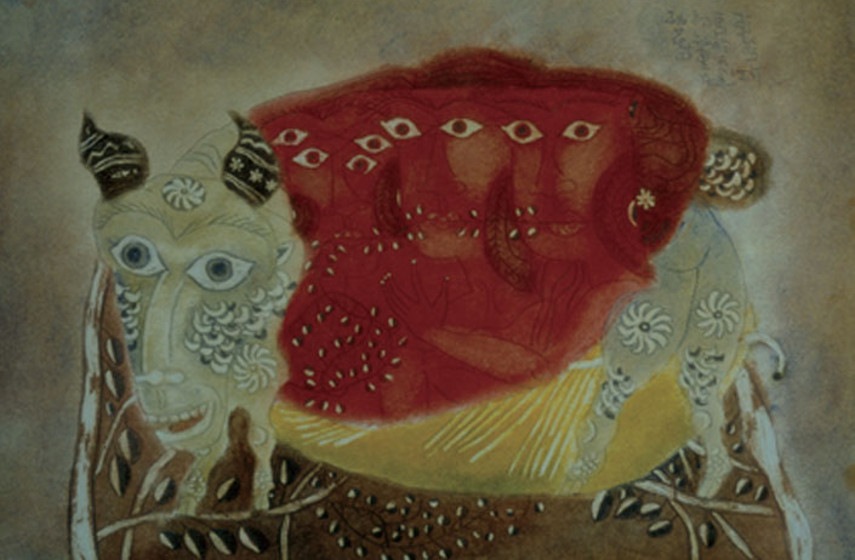 Personal Growth and Introspection
Changes in his style and theme were directly related to fluctuations in the establishment and his personal life. He started out with paintings of rural scenery where he used tiny and distinctive brush strokes to emphasize movements in nature. Xiaogang always incorporated his personal beliefs into his work, and when the insinuate had to be censored, he would turn to subtle implications in style. For example, in the 80s, he imitated the brush work of Vincent Van Gogh when portraying the works in the field. When he was already a graduate, he began exploring his psychological and mental life, as well as the collective state of mind of his generation. The results were surrealistic paintings, full of symbols and tokens. He was personally going through a rough patch, and after spending almost two months in a hospital, he occupied his mind with contemplations about death, disease, and addiction. He managed to go through a period of profound melancholy and find the light at the end of a very dark road.
In Bloodline series he established strict and bold style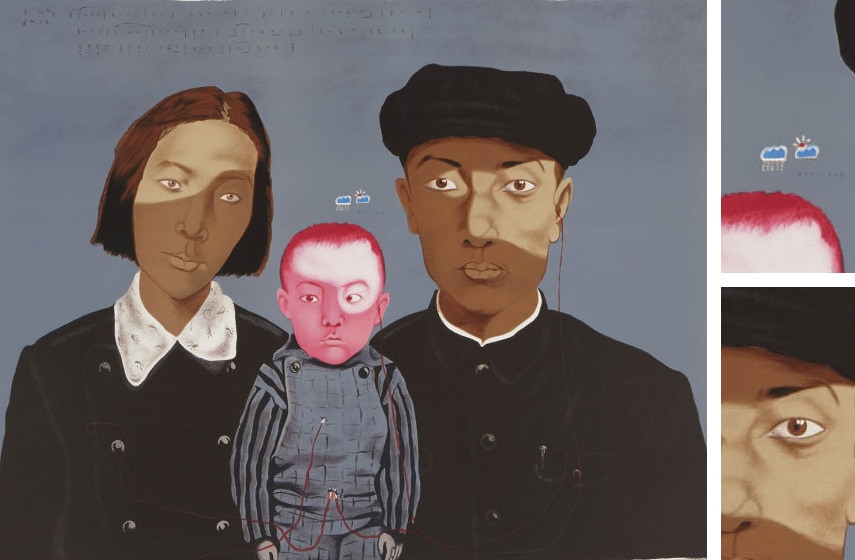 Bloodline Series of Portraits
What he is most famous for is his Bloodline series that he started producing in the 90s and continued to release them throughout the first decade of 21st century. He established a distinctive style, strict and bold, supported by monochromatic palette and clean look, that made the portraits stand out even more. The theme was family and how relationships between family members were regulated. The policy of the house was directly established by the government and house rules were only modified and changed in secrecy. There is an issue of identity and class that Xiaogang painted in a Social-Realist style. Figures looked like each other but were given small remarks as a symbol of authenticity. People were depicted with slightly larger heads that distorted the symmetry of the body, implying big the head got from all the thoughts and unspoken opinions. The tension that lingers in his portraits metaphorically produces emotional disturbance, where the straight-back, wide-eyed persons try to communicate the struggle of the social pressure to fit in.
The artist paints the environmental transformations of everyday life in China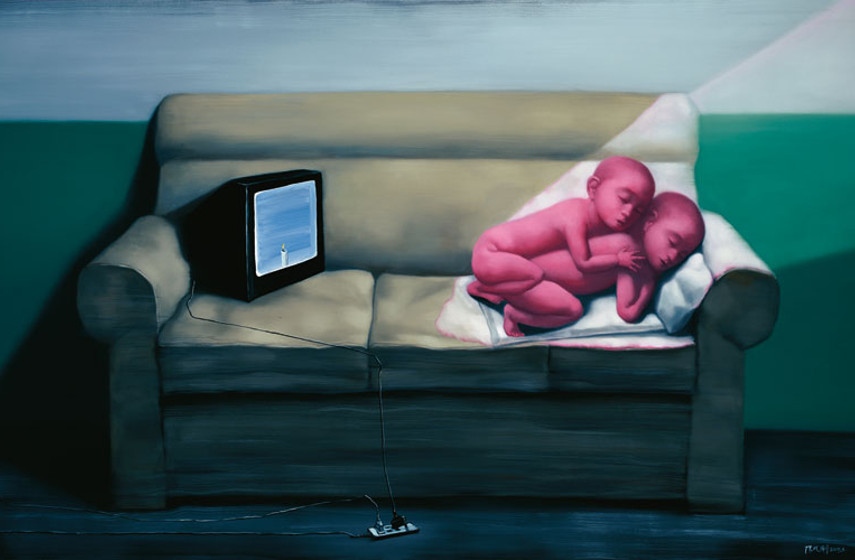 Environmental Transformations
Fallen in the hands of unfortunate destiny, he used every single change in his life to dive into introspection. What this artist lived through can be described as enrollment in an unmerciful school of life, where the student has to learn a lesson and stay out of trouble. He went through many jobs, from teaching to working as a construction worker, but his spirit never gave up. He was, and still is, exploring the profound philosophy of individualism, of western philosophy and cultural ideology. These topics served as inspiration for his series of family portraits. After his trip to Germany in 1992, he gained a new perspective on Chinese collectivism and saw the absolute unique characters of his nation, where they unselfishly rely on each other for help, consolation and comfort, like one big family. Socialism and the relationship between culture in the city, and in rural areas, still serve as inspiration for him, as he quite often paints the environmental transformations and microevolution of everyday life in China.
The artist is represented by Weng Contemporary Gallery.
Zhang Xiaogang lives and works in Bejing.
All images used for illustrative purpose only © Zhang Xiaogang