Creating a series of installations, sculptures, paintings, costumes, and videos featuring representations of or allusions to panda bears, Zhao Bandi is a Chinese contemporary artist widely known as "the pandaman". He clings to his ever-present motif, impervious to the hailstorm of criticism he constantly faces for allegedly exploiting a beloved national symbol, using it instead to blur the boundaries between, political activism, advertising, and art. Bandi has an uncanny ability to make his viewers aware of even the most obvious aspects of everyday life and transform them into an aesthetical experience, always with a deeper meaning and a clear message. His works are social experiments planned with care and then presented impeccably.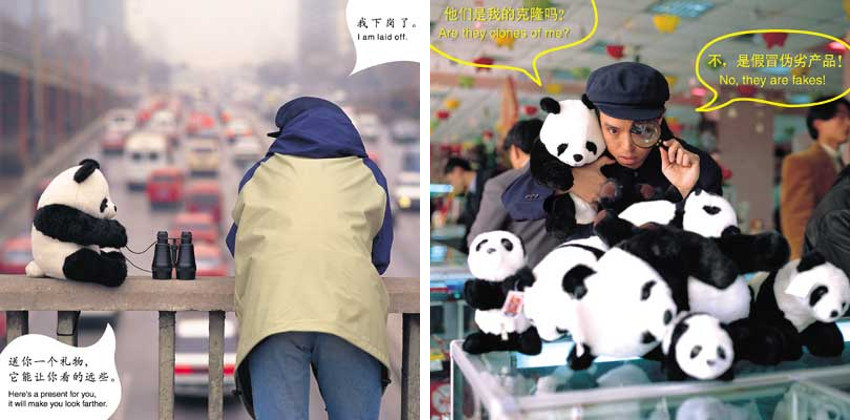 Zhao Bandi - Biography
Born in the capital of China, Bandi graduated from the Central Academy of Fine Arts Oil Painting Department, Beijing in 1988. He became gaining recognition in the early 90s, notably via the China Avant-Garde, an exhibition organized by Hans van Dijk for the Haus Der Kulturen der Welt in Berlin which toured Europe for two years. The paintings from this period used odd-shaped canvasses (curved at the top, or with the rectangular form hung askew) in order to heighten the contrast between pictorial effect and the banality of subject matter and setting. Perhaps this taste for the everyday was a reaction against the celebratory heavy-handedness of socialist realism; yet here this normal world is both decontextualized and ennobled, leaving one with a vivid sense of the unreal. Bandi's solo show Moonlight (1994), held at the Hanmo Gallery in Beijing, also used reworked everyday objects such as colored rags, old tables, and metal bedheads. Everything is transformed, becomes the point of departure for a Pindaric flight of fancy beyond the prosaic everyday world to the realm of dreams that the artist harbors in his soul.[1] It makes sense to say that Bandi would probably be a fan of Kusturica's films, particularly enjoying in the surrealism of Arizona Dream. Just as the main character in that film sets about creating his own flying machine, so here a naked Zhao Bandi fastened on the metal bedhead like a pair of wings and took on the appearance of an apprentice Icarus ready to take to the skies.
Zhao Bandi gained recognition in the early 1990s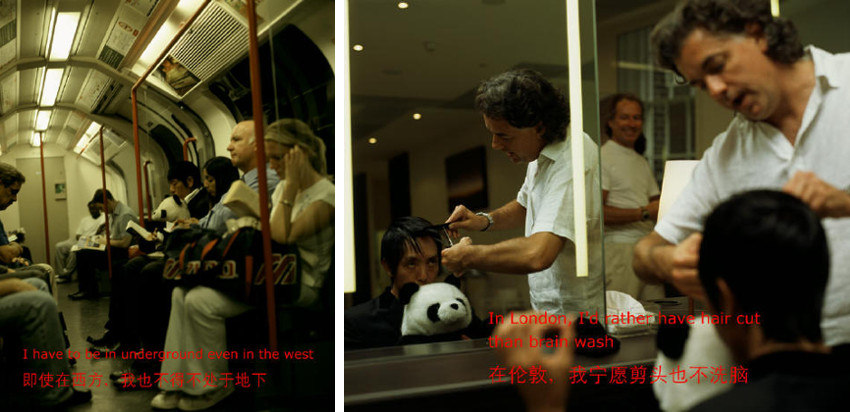 The Art of Zhao Bandi
To fully understand the true meaning and significance of Bandi's work, a closer look at the circumstances in China is mandatory. Chinese contemporary art constitutes a unique phenomenon. Quite different from its western counterpart, which has evolved across a succession of artistic movements, there was a significant rise in Chinese art when greater freedoms were introduced in the 1980s. The country's artists swiftly embraced many modern and contemporary western art movements that had "passed them by", creating authentic pieces in terms of content as many works responded to the political and social challenges of the day. Since the turn of the millennium, a younger generation of artists has emerged that is both active at the very forefront of the global art scene and deeply committed to China's own rich artistic heritage. Despite all the positive changes, there are still quite a few challenges in China. Inspired by public service information and government propaganda, Bandi and his toy panda engage in a sharp, deadpan dialogue. He uses humor and the persona of pandaman to tackle difficult issues of concern to contemporary society. Since the 90s, through photography, performances, installations, and videos, Bandi has used the panda to symbolize China's one-child policy, to produce social and political commentaries on authority and power, and to act as his playful character in a series of odd and comical images.
Bandi's work responds to contemporary political and social challenges
Between Fiction and Reality
Strangely, Bandi was originally more famous abroad than in his homeland. He became recognized in Beijing because the same works that were catching the art world's attention in Venice were simultaneously being displayed on 300 lightboxes at different locations in Beijing's subway system, and on smaller posters inside the trains themselves. This "exhibition" was not organized by an art gallery, but by the artist himself after extensive negotiations with the Beijing subway authorities.[2] Although his work frequently walks the fine line between fiction and reality, there are times when the two coincide - his video, A Tale of Love Gone Wrong for Pandaman, is more than parody. In 2003, the artist sued two media businesses for publishing his "Block SARS Defend the Homeland" poster without acknowledging his copyright. During the hearing, Zhao Bandi sits, forlorn, with his Panda. At the end, he reads as evidence a letter from his ex-lover, in which she explains why she is leaving him. She describes Zhao Bandi's relationship to the toy panda as being sick and denies that the SARS poster could have anything to do with his personality. Because of the letter (or despite it), Zhao Bandi wins the case. It's a reality that produces fiction that produces reality. However, sometimes his work is all about reality. Let Panda Fly is a heart-warming family movie that tells the true story of thousands of children in Zhengzhou creating panda art to take community action and raise money for elderly orphans home. Based on a real-life event, the actors play themselves which gives the art film a touch of reality.
Zhao Bandi lives and works in Beijing.
References:
Dematte M., Zhao Bandi, 48a esposizione internazionale d'arte, by La Biennale di Venezia [February 27, 2017]
Goldkorn J., The whimsical work of Zhao Bandi, Beijing Scene [February 27, 2017]
Featured image: Zhao Bandi posing with models in his Bandi Panda fashion show
All images courtesy of ShangART