Zio Ziegler is an emerging American painter and sculptor, whose artistic approach creates a fluid exchange between the painter and observers. His spontaneous and natural expressions, present in various murals and paintings, allow everyone to receive and understand his work in their own way, allowing the artistic act to be completed by the interpreter. The work of Zio Ziegler is focused on self-reflection and it is influenced by a multitude of styles, including classicism, cubism, futurism, primitivism and mural works. What is most attractive about Ziegler's work is his boundless energy, which explodes in thousand colors in his paintings on canvas as well as drawings. His sources of inspiration are as eclectic as his style, including theater, gallery, comics, illustration, folk culture and San Francisco.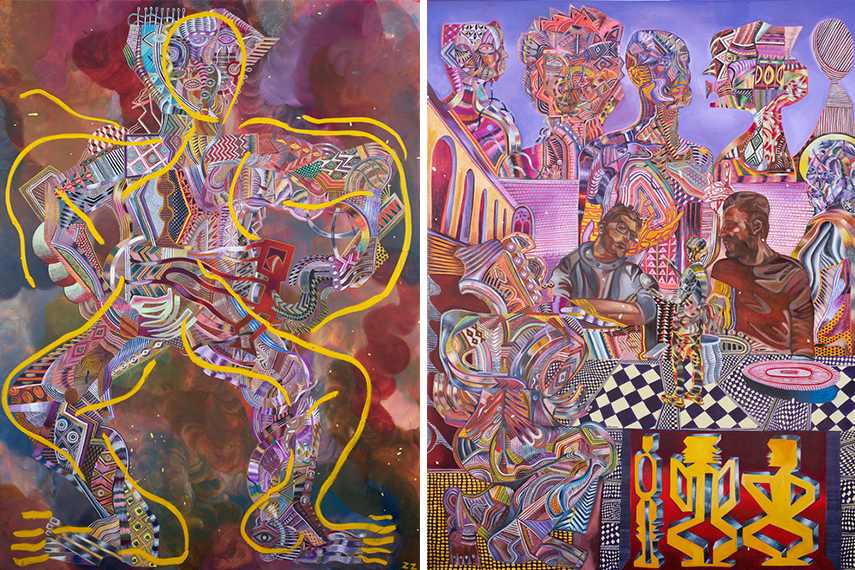 Eclectic Painting Style of Zio Ziegler
Zio Ziegler was born in 1988 and he studied at two prestigious schools - Brown University and the Rhode Island School of Design (RISD), where he graduated in 2010 with a B.A. in painting. According to the artist, the greatest paintings were not made under the pressure of the zeitgeist of his home country, but they spring from the void of the mind, which explains why his work so eclectic, almost as if it was the result of many different styles and languages. Even though his sources of inspirations are ever changing, his work is currently influenced by Eastern philosophy, French modernism, Egyptology, Xavier Veilhan, Auguste Rodin, Thomas Houseago, Eddy Martinez and Georges Braque. Ziegler's work is a subconscious expression of how he understands the world; it catalyzes his self-exploration and at the same time provides a portal for viewers to get lost within. His imaginative paintings are meant to be a starting point through which the viewers can be transported, triggering individual memories and experiences while challenging a deeper exploration of the psyche. Ziegler likes to draw with his paintbrush instead of using it for painting and in this unusual way he produces a primitive style rooted in simple lines, as a way to suggest movement and form. It is also important to note that the use of patterns is a typical element of his pictorial style and such patterns are usually intended to create an effect of disorientation and wonder.
Ziegler's eclectic work and unusual artistic tools are the result of many different styles and languages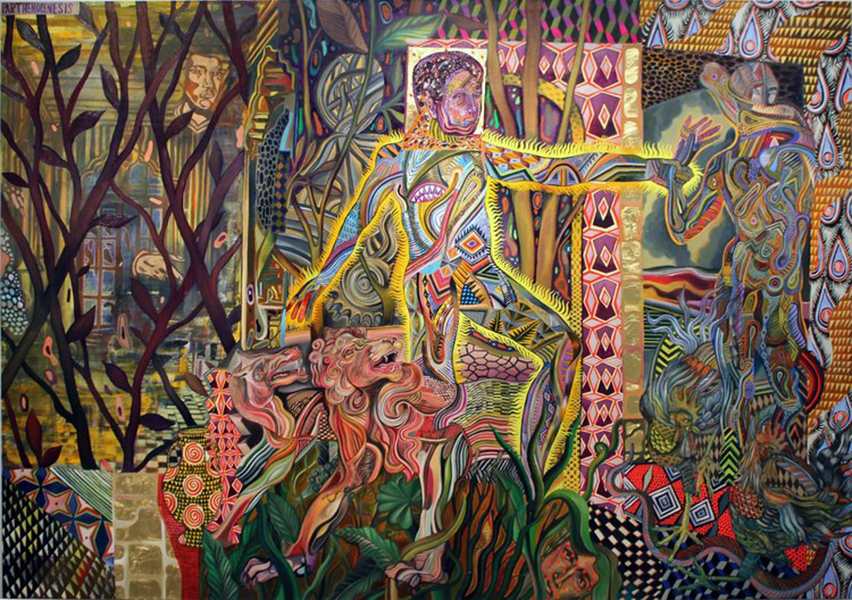 Ziegler's Open-Ended Art
According to Zio Ziegler, there is no conclusion, but above all questions and individual explorations; he considers his art as a highly reflective process. Painting is my attempt at self-understanding - rather than finding a concept and executing it in a linear fashion, I react to my questions, life, and awareness, the artist claims. His work is not about a final product, but about the process that helps him solve a certain problem. In addition to his canvas-based works, Ziegler also produces complex graffiti pieces, influenced by ancestral cultures, such as tribal masks and wild style. His graffiti can be found throughout the Bay Area of San Francisco, from the Mission District to Sycamore Street, Facebook headquarters at Menlo Park, but also in Los Angeles, Puerto Rico, Cuba, New York and even Tokyo, Japan. Ziegler always uses a plenty of metaphors and allegories to express his torments, which then give birth to unusual paintings; his works often represent a bizarre mix of human beings and their surrounding world, animals, and simple geometrical figures. Zio Ziegler nowadays owns a studio in Mill Valley and he is also the founder of Arte Sempre, a lifestyle and clothing brand that makes his art easily accessible to the wider public as well as studio based artists.
Ziegler also produces complex graffiti pieces, influenced by his artistic undestanding and reception of ancestral cultures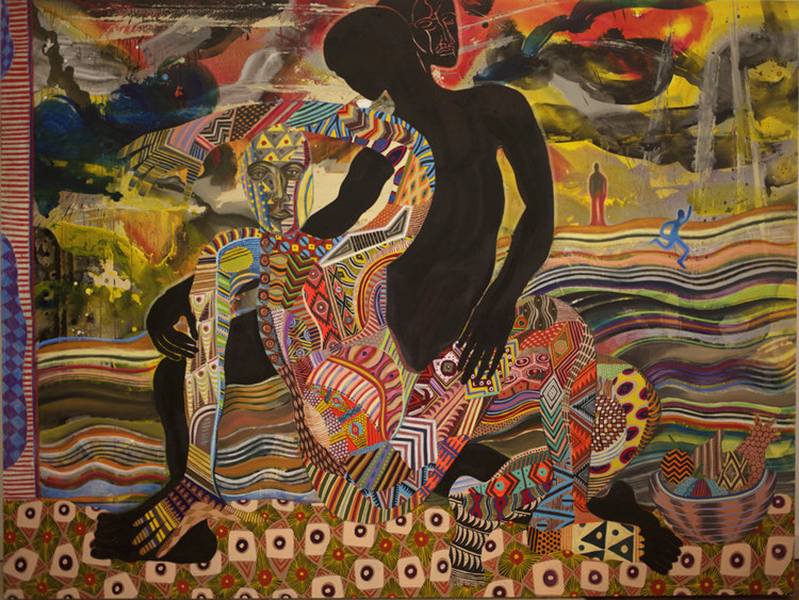 Appreciating Tribal-Like Aesthetic through Murals
For Zio Ziegler, who studied both philosophy and painting, art represents a universal language that should be enjoyed by everyone. This is one of the reasons he has applied his style to any type of object and surface, such as cars, skateboards and running shoes, typical for his Arte Sempre project. At the bottom line, Ziegler remains, more than ever, a product of his time and one of the few young artists to have understood that combining the present with the past is the best way to achieve truly precious and authentic art. In addition to paintings and other gallery pieces, Ziegler has also been recognized for his outdoor mural projects, which are typically monochromatic with a distinct tribal-like aesthetic. These pieces can be seen at a variety of high traffic areas across San Francisco.
Zio Ziegler lives and works in San Francisco Bay Area, California.
Featured image: Portrait of the Artist - image via 3am.net
All other images courtesy of the artist.