Highly influenced by some of the most important movements in the recent history of art - lyrical abstraction and the New York School, French urban artist Zokatos has developed his signature abstract street style. Born and raised on the street of the Parisian suburbs, the artist possesses a true urban underground background. Driven by the urge to adorn the gray universe of the block buildings where he grew up, Zokatos used a city as a canvas since the beginning of his street art endeavors. Always experimenting with new techniques, his style has developed over the course of years, shifting towards more abstract, colorful and poetic visual language.
Urban Abstraction
Inspired by the counterculture of the 90's, it was a natural path to choose street as a ground for his artistic expression. Keeping the brutality of graffiti, his lovely colors and softness of non-figurative forms create a contrast with the gesture. Using the various techniques, as markers, spray cans, collage, watercolor and stencil in a combination with his refined style, Zokatos' work is an interesting mixture of urban and abstract art. Considering the difference of mediums, from walls to canvases, it seems that he very easy and skillfully shifts his object of expression. As a self-taught artist, he experiments a lot, searching for new challenges.
Zokatos' work is an interesting mixture of urban and abstract art
Spontaneous, Emotional and Expressive
Zokatos creates drawn by emotion, finding the driving force in the moment, without premeditation. Starting from mainly white canvases and using the techniques based on a quick drying time, there are no place for the mistakes and corrections. Very mature for his ages, his work represents an original synthesis, connecting street walls and gallery spaces. Stating the abstract expressionism as a definition of his own style, Zokatos uses technical and visual violence achieving the balance with harmony of colors. His expression is always spontaneous but controlled.
His expression is always spontaneous but controlled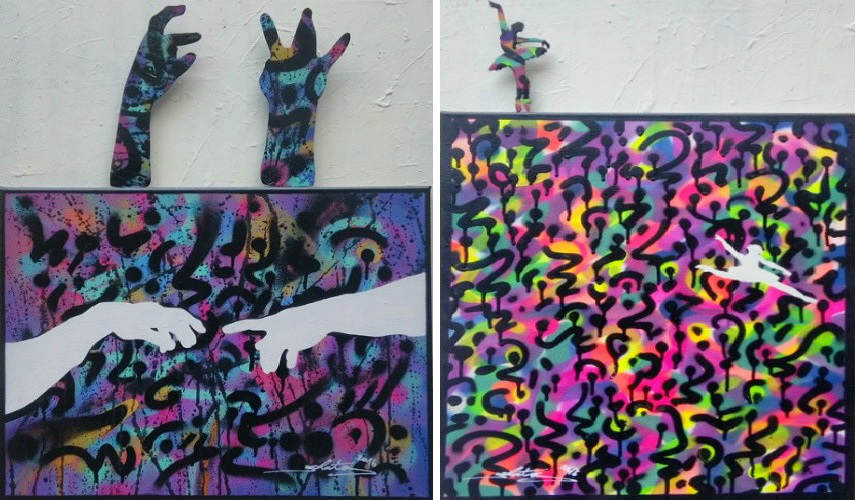 Speed and Intensity in the Focus
A man of many talents, Zokatos plays with different techniques in a creation of his art - spray cans, watercolor, markers, stencils. Fascinated by the abstraction, the surrealism, and cubism, Zokatos listed some of the biggest names as his influences, including Joan Miró, Klee, Dali, Hans Hartung, Pollock and Sam Francis. Drawn by the no-premeditated gesture, the speed and intensity of painting that characterized all of these famous artists, Zokatos proves to be an artist whose existence is conditioned by the act of painting and for whom the canvas, the vital medium of expression, is an end in itself.
He is represented by Dope! Gallery.
Zokatos is currently based in London.
Featured image: Zokatos - Shot in Beehive Pub, Tottenham
All images courtesy of the artist and Dope! Gallery