Zoltan Veevaete is a Canadian artist best known for his admiration for the classical painters, particularly interested in work of Spanish masters.
Zoltan and the Old Spanish Masters
Zoltan was born in Montreal in 1981. After a two-year journey to Spain, where he was deepening his knowledge of the Spanish painting tradition, practicing that style, he obtained a BFA from Concordia University in 2010. Soon after, Zoltan won the prestigious Cecil Buller - John J.A. Murphy Scholarship in Drawing.
Zoltan is deeply dedicated to his passion for world art history and that can be seen in his unique style that takes the viewer into multiple territories at once. He is describing his work as an art of collage, the citation and recycling. This way, Zoltan proposes the idea of some sort of dialogue with old masters and art movements. All the way from Picasso, Velasquez, Hungarian fauvism up to Degenerate art – Zoltan is searching for his painting vocabulary that he puts to use in his chronic and urban eclecticism.
When it comes to Zoltan's paintings, they are incisive and intelligent, coming very close to the world of a cult movies. His painting approach is created out of Zoltan's voluntarily questioning of his influences, pushing his artistic process to constantly make a full circle, weather that questioning is of esthetic or technical nature.
Zoltan Under Pressure
Zoltan's works are a kind of space-time continuum comprised of back and forth, creating an elemental collision between the borrowings and tributes of our collective past. He is a master of creating that strange déjà-vu sensation, so his art naturally finds its place in viewer's experience, as if it was always there. However, that experience always allows a new, fresh perspective, unveiling surprising new elements that are interpreting multiplied reflections of the complexities of our modern lives.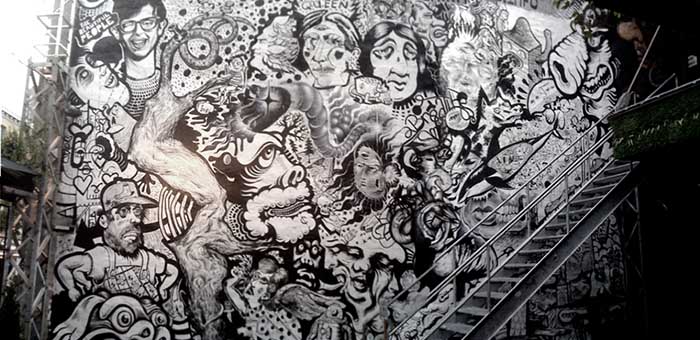 Even though he chose a graffiti muralism as one of his prime art expression, all of his works bear that mark of his admiration for the classical painters.
In 2011, Zoltan participated at Under Pressure, the largest and oldest graffiti festival all across North America. Zoltan worked on a wall, together with the artists that participated for the first time on this kind event. The wall itself was very difficult to draw on, accounting for the set of stair climbing its surface, and the jerry-rigged scaffolding set up. On the top of a 30′ ladder Zoltan Veevaete created a left-handed pretzel. This weird maze-like wall was located at 87 Saint Catherine Street East, in a neighborhood known as the Latin Quarter.
Mass Movement at Robert Poulin Gallery
In 2014, following a short stay in New York, Zoltan produced most of his paintings exhibited under title Mass Movement at Robert Poulin Gallery.
Those paintings are leading the audience in a silent and impersonal universe, where characters seem to be bended in themselves, indifferent to the outside world. The compositions are once again inspired by the baroque techniques where the reading of the table is dynamic and captures the eye. Zoltan continues to give back to painting their essential vocation once but long ago possessed - with one single goal, to evoke a story.
He has exhibited mainly in Canada, and participated in numerous art fairs such as Montreal, Toronto and New York…
The artist is represented by Galerie C.O.A.
Zoltan Veevaete lives and works in Montreal.
All images copyright © the artist