What did the First Half of 2018 Bring to the Art Market? Artprice Reports
As the art world slowly prepares for the fall season after a summer recess, Artprice brings us its H1 2018 – Global Art Market Report 2018 that we have all been waiting for. Overall, the report shows that the market is enjoying a new worldwide stability and independence. A very large volume of transactions has created a solid basis for the International Art Market.
The high-end market will benefit from this new level of confidence more than any other. Since a total of 229 works sold above the $5 million threshold in the first half of 2018, rising from 163 in 2017, the current economic situation can certainly be described as favorable. In the ultra-high-end market, the sale of Leonardo da Vinci's Salvator Mundi masterpiece last November alone accounted for 3% of 2017's total global auction turnover from Fine Art.
However, overall, it is now museums acquiring most artworks put up for auction rather than billionaires. According to the report, around three-quarters of purchases above one million dollars was done by museums and this trend is being supported by the opening of new museums. Artprice's founder Thierry Ehrmann pointed out that more new museums have been opened since 2000 than all of the 19th and 20th centuries.
Let's take a closer look at the report.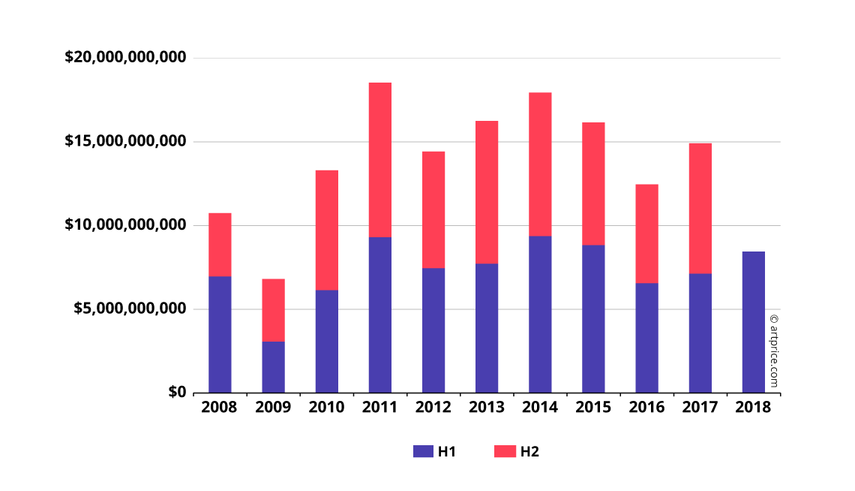 The USA, Europe and China – Art Market Leaders
Once again, the USA is a leader thanks to the Modern Art. In addition to the historical sale of Salvador Mundi, the greatest boost was provided by the dispersion of the Rockefeller Collection held at Christie's. The most valuable private collection ever sold, it included works by Pablo Picasso, Henri Matisse, and Claude Monet, among other 20th-century masterpieces. Among highlights is a Picasso "Blue Period" painting Fillette a la corbeille fleurie which fetched $115 million alone. With 47,000 lots sold over the year's first six months, nearly one-fifth of the works auctioned worldwide, the USA remains the world's leading art marketplace. With its extremely dynamic market and unmatched high-end offer, New York was by far the leading marketplace in the global art market in H1 2018.
After 2016 which brought much uncertainty, the English Art Market does not longer seem weakened by the Brexit process, demonstrating excellent health. The UK's Fine Art auction total already stands at $1.9 billion for the first half, compared with $2.5 billion for full-year 2017. It is expected that the Frieze week in October will also bring a flurry of prestige sales. Competing with New York on the high-end market, London remains the world's leading marketplace for works by Gerhard Richter, the most successful living artist on the global Art Market, but also for works by Pablo Picasso, which accounted for 17% of the total Fine Art auction turnover in the country. These two cities together accounted for 80% of the high-end market in the year's first half. Continental Europe ($920 million) is still far from competing with the firmly established triumvirate of the United States, China and the United Kingdom.
With a total turnover of $2 billion, China (Hong Kong and Taiwan included) remains in the second position in the global ranking of the world's major marketplaces. Among highlights is Zao Wou-Ki's Et la terre était sans forme (1956-1957), which fetched $23.3 million. Although China's H1 2018 Fine Art auction turnover was down -7% versus H1 2017, the restructuring of the Chinese art market has brought a number of benefits, including the legal obligation of immediate payment for purchases of artworks in auctions. Although the number of works put up for sale dropped by -35% in H1 2018, the contraction was offset by a lower unsold rate, which fell back from 68% last year to 57%. With Beijing's most prestigious auctions being organized in December, the rivalry between China and the USA for dominance of the Art Market will depend on the results in the year's second half.
Top 10 results – S1 2018
| Artist | Artwork | Price (USD) | Sale | |
| --- | --- | --- | --- | --- |
| Amedeo MODIGLIANI (1884-1920) | Nu couché (sur le côté gauche) (1917) | 157159000 | 43234 | Sotheby's New York |
| Pablo PICASSO (1881-1973) | Fillette à la corbeille fleurie (1905) | 115000000 | 43228 | Christie's New York |
| Kasimir Sevrinovitch MALEVICH (1878-1935) | Suprematist Composition (1916) | 85812500 | 43235 | Christie's New York |
| Claude MONET (1840-1926) | Nymphéas en fleur (c.1914-1917) | 84687500 | 43228 | Christie's New York |
| Henri MATISSE (1869-1954) | Odalisque couchée aux magnolias (1923) | 80750000 | 43228 | Christie's New York |
| Constantin BRANCUSI (1876-1957) | La jeune fille sophistiquée (1928) | 71000000 | 43235 | Christie's New York |
| Pablo PICASSO (1881-1973) | Femme au bére et à la robe quadrillée (1937) | 68702214 | 43159 | Sotheby's London |
| Pablo PICASSO (1881-1973) | La Dormeuse (1932) | 57829046 | 43167 | Phillips London |
| Francis BACON (1909-1992) | Study for Portrait (1977) | 49812500 | 43237 | Christie's New York |
| Jean-Michel BASQUIAT (1960-1988) | Flexible (1984) | 45315000 | 43237 | Phillips New York |
H1 2018 – Contribution of the European Union to the overall economic growth
| | Turnover | Evolution |
| --- | --- | --- |
| USA | 3341746766 | 0.48 |
| China | 1997226110 | -0.07 |
| UK | 1873284804 | 0.18 |
| France | 372461596 | 0.08 |
| Germany | 122765010 | 0.17 |
| Italy | 118907954 | 0.22 |
| Switzerland | 76847823 | 0.04 |
The Domination of 20th Century Art
In the first half of 2018, 20th Century Art accounted for 80% of total global auction turnover from Fine Art. Although the works created after World II are attracting the strongest media coverage, collectors are showing an increasing interest in the works made between 1900 and 1940. This period alone accounts for nearly half of global auction turnover from Fine Art and 40% of the lots sold.
Russian abstract art is coming back into the spotlight, with Kazimir Malevich's Suprematist Composition (1916) fetching a stunning $85.8 million at Christie's New York in May. Due to this incredible sale, the artist has now reached the 9th place in Artprice's latest ranking of artists by H1 2018 auction turnover.
Meanwhile, the results for Vincent Van Gogh's Vue de l'asile et de la Chapelle St-Paul de Mausole (1889) and Paul Gaugin's The Wave (1888) fetched $39.6 million and $35.2 million respectively. It seems that 19th-century masterpieces are becoming so rare that prices rise quickly for good quality works.
While works created during the second half of the 20th century and the 21st century exist in far greater numbers, the demand for them remains strong. Jean-Michel Basquiat's Flexible (1984) fetched $45 million on at Phillips New York in May, while a version of Jeff Koons' monumental sculpture Play-Doh (1994-2014) sold for $22.8 million the same day at Christie's. Meanwhile, the best result for a female artist was Joan Mitchell's Blueberry (1969) which sold for $16.6 million.
Investing in Art
When it comes to investing in art, Post-War Art and Contemporary Art show the strongest prices increases over a short, medium and longer terms. On the other hand, other periods have experienced a gradual dilution of prices as the major top-quality works become increasingly rare.
A number of active artists have been enjoying the extremely rapid price evolutions, including Kerry James Marshall, Mark Bradford and George Condo, resulting in a remarkable progression in the overall index for Contemporary Art of +27% for the first half of 2018. After its first-ever appearance at Christie's New York in May, Condo's Nude and Forms (2014) fetched over $6 million.
Featured images: At the museum, creative commons. All graphs and tables courtesy of Artprice.