Ata Bozaci at Artstübli
Gallery Artstübli proudly announces their upcoming exhibition by Ata Bozaci. It is the third show in Ata Bozaci's series of Fifteen Seconds of Fame, A Gallery of Digital Portraits coming to Basel after Zurich and Bern. It this series Ata Bozaci deals with the interesting phenomenon of selfies brought about by social media expansion. He explores newly established culture of self-representation through use of the one of the oldest and the most classical of themes – portraiture.
Exhibition teaser Beautiful Facebook for Ata Bozaci's Fifteen Minutes of Fame
Fifteen Seconds of Fame
When in 1968 Andy Warhol stated his legendary sentence that in future everyone will have their fifteen minutes of fame he could have never imagined the degree to which technology will develop to make his statement come to realization. However, not even the visionary Warhol could predict the whirling acceleration that would happen. With the incredible evolution of Internet and the impact of social media and some aspects of television we have come to an age where everyone can become instant celebrity overnight. With the pace in which world revolves nowadays Warhol's fifteen minutes are more likely to become fifteen seconds. That is certainly the thought that prompted Ata Bozaci to name his project for Artstübli the Fifteen Seconds of Fame. You may find Richard Prince's exhibition New Portraits or the article  Is Instagram a New Artistic Medium interesting?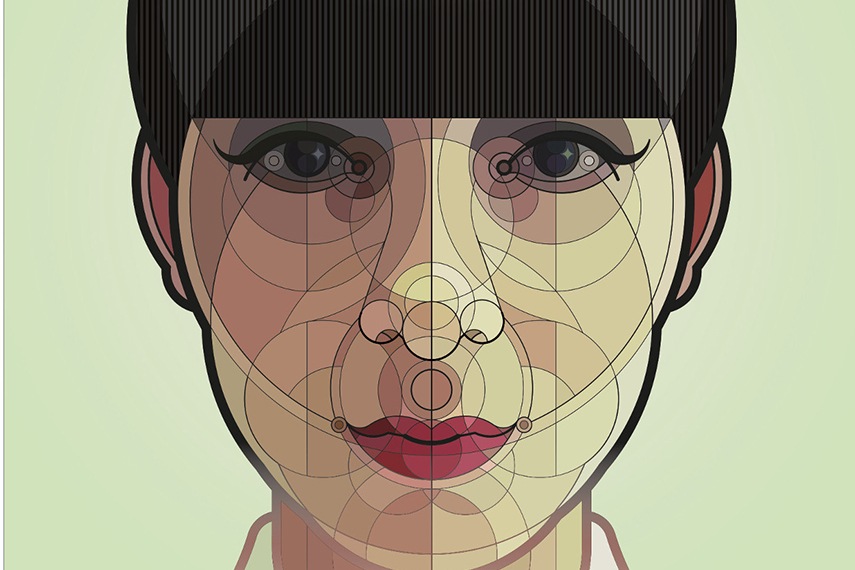 Gallery of Digital Portraits
With his Fifteen Seconds of Fame Ata Bozaci joins the tradition of artists who are exploring the latest developments in society. The impact of social media, Facebook leading the way, is tremendous and Ata Bozaci researches the way people represent themselves on social media. He uses Facebook profiles from his friends and works on them utilizing his excellent illustration and design skills. This way Ata Bozaci places Facebook profiles out of their context and into forms of street art murals or as prints. He uses full-frontal portrait shots to explore subject's features and emphasize the ridiculous importance social media gained in our lives. Ata Bozaci literally creates his own Book of Faces – Facebook. Another interesting aspect of his art is Bozaci's reverse use of the digitalization. He firstly designs his work digitally and then transfers it manually in large format version in the public space. You may be interested in reading about 10 Artist's Facebook Pages or 10 Artists to follow on Instagram.
Video Dedicated to the Late Sigi van Koeding who often collaborated with Ata Bozaci.
Ata Bozaci at Artstübli
Ata Bozaci is Swiss artist of Turkish decent raised in Bern. After receiving a degree in design he grew into a versatile artist who deftly moves through disciplines that vary from drawings and traditional painting on canvas to the street art, graphic art and modular sculptures. Ata Bozaci started his artistic career in the graffiti back in the 1990s and has since become internationally recognized in the street art movement. He worked closely with the late Sigi Dare von Koeding, one of the most prolific artists of his generation who painted over thousand walls in thirteen countries. The two artists collaborated on several projects including painting the Gunter Sachs Castle. The Artstübli gallery presents Ata Bozaci's show Fifteen Seconds of Fame, A Gallery of Digital Portraits that opens on May 8th 2015. The exhibition will run until May 29th in the Artstübli gallery in Basel.
Keep up with the fast evolving world of contemporary art by signing up for My Widewalls!
Featured Images are Courtesy of the Artstübli Gallery.