Auction Analysis: Nigo Only Lives Twice
It's mid-October and we can definitely feel the art season has begun, fiercely. New exhibitions, events, Frieze Art Fair and the ongoing and upcoming events, big cities fighting for the domination in the world of art, while auction rooms are as lively as ever. Looking at the recent auction results, it's easy to conclude collectors were missing the tension and the unpredictability of auction room, while the watchers hope for an extraordinary climax further down the season. However, one of the spectacular peaks is perhaps already reached earlier this month at Nigo Only Lives Twice auction hosted by Sotheby's Hong Kong Autumn 2014 Sale Series on the fourth day of the series, October 7, 2014. Nigo's auction accumulated twice its high estimate of $2.2 million, reaching the hammer price total of $5.4 million, with 100% of lots sold.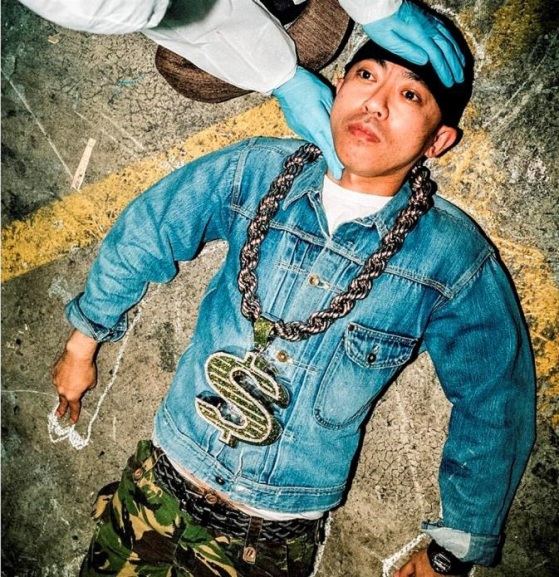 Nigo – Japanese Designer and Collector
Nigo, Japanese designer, music producer, founder of Bathing Ape, creative industry bigshot, and a collector, organized an auction of his prized possessions in commemoration of the 25th anniversary of his presence in fashion world. This intriguing sale offered 250 pieces, assembled in 107 lots including paintings, collectible toys and other items, jewelry, watches, designer furniture, and other luxury goods. It was in fact an estate sale, which Nigo wanted to experience while still alive and well, and it went exceptionally well, with all of the 107 lots finding a buyer, while prices soared high above initial estimates, especially for KAWS Original Fake figures and paintings, but for Andy Warhol as well, though the latter one could be expected. Word is, the auction room was bubbling over with competitive spirit, with 88-year old collectors bidding against the 18-year-old newcomers to the scene, while the event culminated with Mr Robert Chang, a famous businessman and collector from Shanghai, winning the bid on the Jacob & Co. dollar sign necklace, with the hammer price of over four times its estimate for $104,000.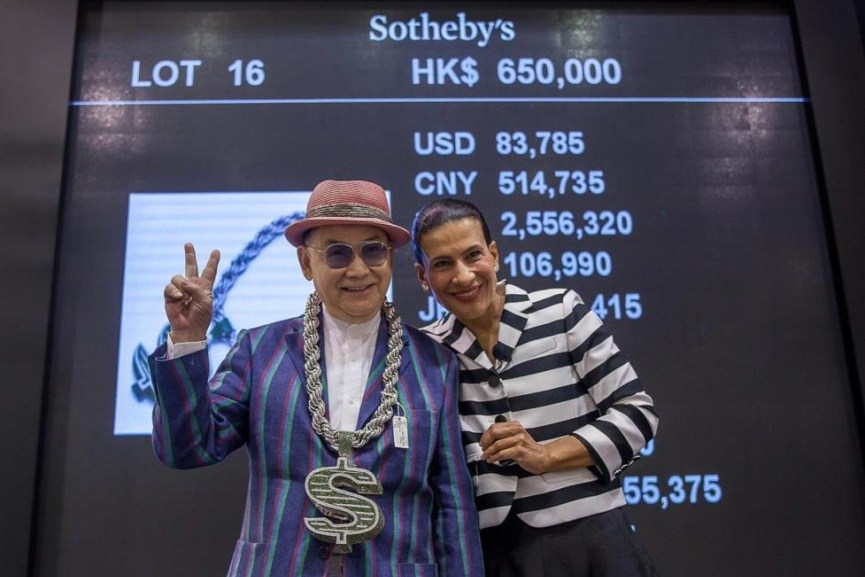 KAWS – Star of Nigo's Auction
Although Andy Warhol was the highest priced artist at Nigo Only Lives Twice Auction, with two separate sets of 10 Campbell's Soup prints, the first one sold for $407,450, and the second one for 345,559, the absolute star of the sale turned out to be KAWS. Nigo offered a lot of works by KAWS, who is signed as sole author on 9 lots, while he was the designer of 3 sofas made in collaboration with Nigo as well. Seven of nine lots were comprised of his Companion figures, of which the most expensive one was lot 39 (Original Fake) Companion sold for $128,940, 11 times over its high estimate. All original works by KAWS surpassed the high estimate by at least 3 times, while the overall winner was lot 7, Untitled (Painting and Doll) painting, sold for $283,668. Each of Nigo's sofas with KAWS upholstery design sold 5, 9 and 12 times over their high individual estimates. Apparently, Nigo is a specific collector with a particular taste for expensive design and urban art, but such prices reached for KAWS alone might be indicating the artist's growing popularity on the market, as his work was also sold above estimate at a recent Christie's urban art auction.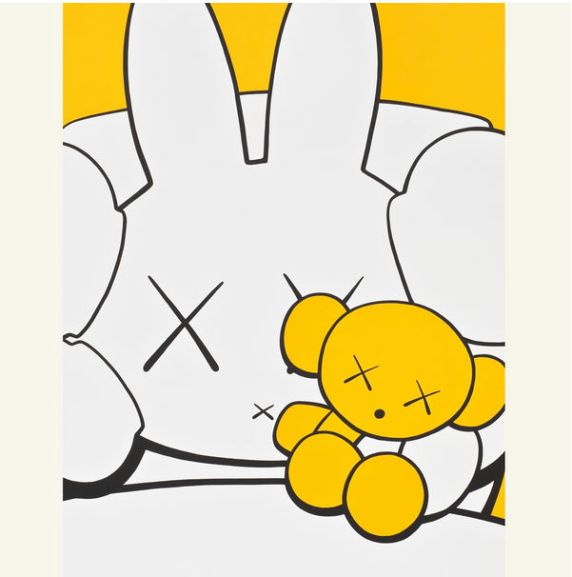 Expensive Taste of Nigo
Nigo Only Lives Twice is a clever pun probably ending one collecting era and opening a new one for the Japanese fashion mogul. Besides Warhol and KAWS, there were many other items at auction that drew much attention. Nine lots were signed with Louis Vuitton name, offering glasses, luxury luggage and accessories, with each of the lots selling well above estimate. Avant-garde furniture by Jean Prouvé also performed exceedingly well, with the most expensive lot 22, Marcoule Bench with Astro Boy Sculpture, sold at $167,622. An artwork by Takashi Murakami registered as lot 92, entitled Superflat Monogram: Panda and his Friends, reached the price of $29,012, much over its top $11,605 estimate. Three works by Futura were sold as well, lot 97, Untitled (Thirty-six works) and lot 103, Bathing Five No. 1 both above high estimate reaching $12,894 and $12,088 consequently (6.5 times and somewhat over $4000 over top appraisal). Lot 64, an Untitled series of 5 works on canvas and paper, sold a little under its $7,736 estimate, reaching a hammer price of $6,769.
Overall impression is that KAWS stole the show, while Jean Prouvé followed, leaving Nigo's pockets full, show space empty and ready for new interesting acquisitions. As for the auction watchers – we are left to see whether KAWS will continue performing so well in the coming sales.