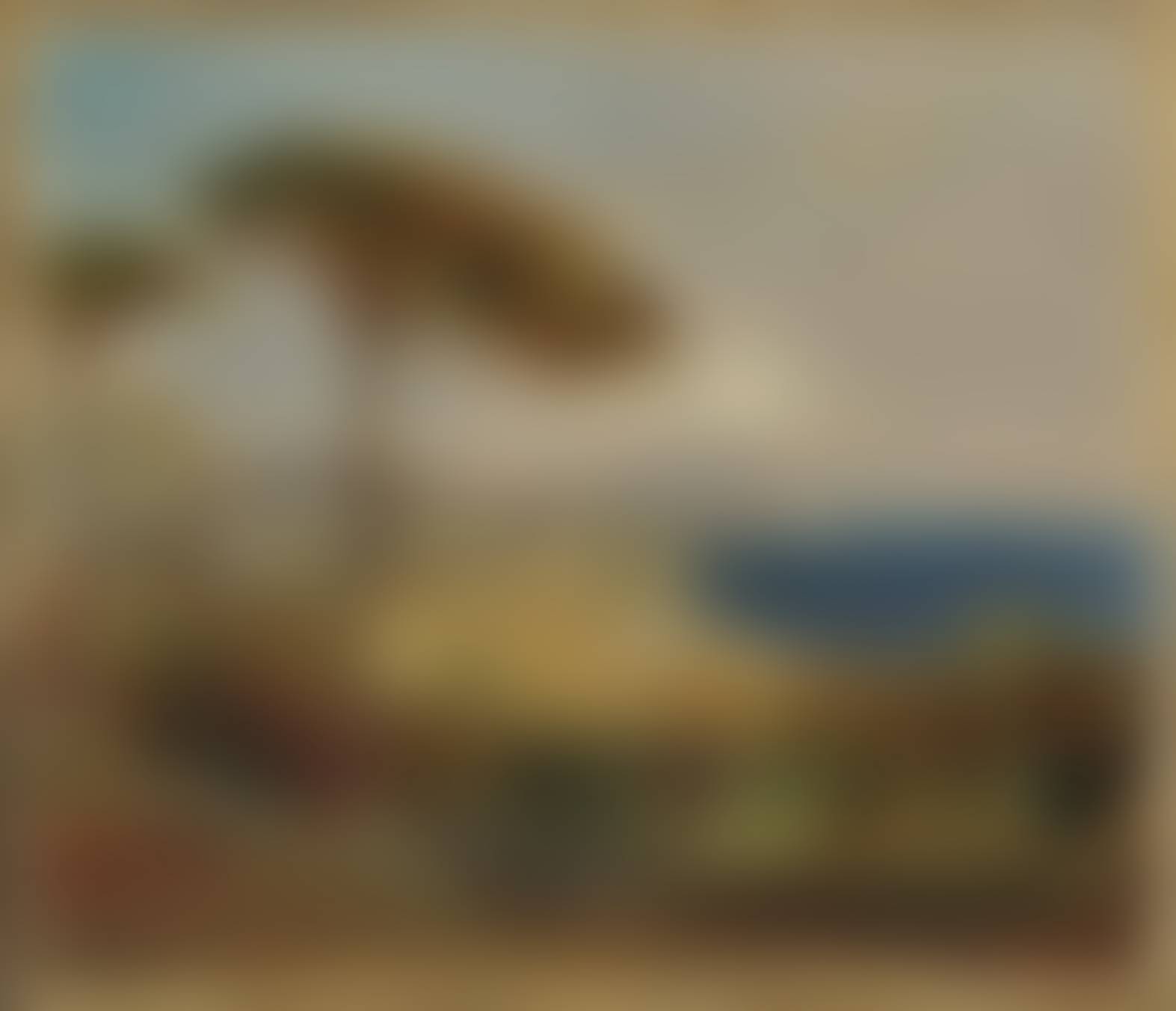 Sell Through Rate: 100%
Artwork:
Carl Blechen - The Bay Of Naples From Posillipo
Medium:
Oil on paper, mounted on cardboard. 9.1 x 10.5 cm. restored. framed.carl blechen is one of the most important german landscape painters of the first half of the 19th century. after training in a berlin bank and subsequent military service, he began studying painting at the berlin academy in 1822. he was first employed as a decorative painter at the konigsstadtisches theatre in berlin in 1824, thanks to the intervention of karl friedrich schinkel, and from 1827 he worked as a freelance artist.his journey to italy, which he embarked on in late autumn 1828, left its mark on blechen both personally and artistically. ' [...] as a new man he returned home from the south. the melancholy that had weighed on blechens soul since the days of childhood had vanished. the artist was also reinvented. [...] wherever the artist turned his eyes, the sun shone on him. the shadow itself shone. blechen came to italy and realised that there is no black in nature; three years before he had painted pitch-black pictures. [...] it is not the thing in itself, but the impression, which is decisive for the painter. later artistic language called this type of painting impressionist painting. what manet demands has happened here.' kern, see below, p. 67 onwards.from this point on, blechens artistic interest lied in aesthetic values, moods, the light and colour of the landscapes depicted. the representative is subordinated to this interest. the approximately 100 small-scale works in oil on paper, which originated in italy, convey this impression for the first time and point to the further development of blechens landscape painting. these small-scale works are wrongly referred to as 'oil sketches' and classified as study material. however, many of these works were created by the artist as independent small paintings. they were shown at exhibitions in berlin and paris and found a very positive reception among collectors. karl friedrich schinkel regarded them as 'something real of art' cf. schenk-sorge, see below, p. 40.however, it took years for the general public to appreciate carl blechens art. if potential buyers found these paintings, they were not ready to pay a fair price. blechen complained in 1830: 'is it possible, i ask, how can it be that because i am conscious of having recognised and sensed the nature of god - and i hope that i have sensed it better than certain other members of my profession - and because my brush does not tremble so, and goes beyond the scope of artists primers [...], i must be subjected to the insult of being humiliated with a small, reduced sum, for the ridicule of every colleague and stranger in the public negotiations!' cited after kern, see below, p. 86 onwards. tempora non mutantur ...!literature: kern, guido josef, karl blechen. sein leben und seine werke. berlin 1911. - rave, paul ortwin, karl blechen. leben - wurdigungen - werk. berlin 1940, p. 296, catalogue raisonne no. 997 with illustration, p. 295. the present painting is not identical to a very similar work which was auctioned in 1928 and was listed under catalogue raisonne no. 998 by rave. compare: hollstein & puppel, berlin, auction 8-10 november 1928, catalogue number 10 with illustration plate viii, 1940 in the possession of the administration of the state palaces and gardens, berlin. - schenk-sorge, jutta, neapel sehen und ... malen! die italienische reise, in: schuster, peter-klaus ed., carl blechen. zwischen romantik und realismus. exhibition catalogue berlin, national gallery, 31 august - 4 november 1990. munich 1990, p. 39-43
Artwork details :
Interested in buying this artwork - place your bid HERE! None
Provenance:
Dr. Ernst W. Kuttner Collection, Berlin 1940.
Notes:
Restored. Framed. Carl Blechen is one of the most important German landscape painters of the first half of the 19th Century. After training in a Berlin bank and subsequent military service, he began studying painting at the Berlin Academy in 1822. He was first employed as a decorative painter at the Königsstädtisches Theatre in Berlin in 1824, thanks to the intervention of Karl Friedrich Schinkel, and from 1827 he worked as a freelance artist. His journey to Italy, which he embarked on in late autumn 1828, left its mark on Blechen both personally and artistically. " [...] as a new man he returned home from the south. The melancholy that had weighed on Blechens soul since the days of childhood had vanished. The artist was also reinvented. [...] Wherever the artist turned his eyes, the sun shone on him. The shadow itself shone. Blechen came to Italy and realised that there is no black in nature; three years before he had painted pitch-black pictures. [...] It is not the thing in itself, but the impression, which is decisive for the painter. Later artistic language called this type of painting Impressionist painting. What Manet demands has happened here." (Kern, see below, p. 67 onwards). From this point on, Blechens artistic interest lied in aesthetic values, moods, the light and colour of the landscapes depicted. The representative is subordinated to this interest. The approximately 100 small-scale works in oil on paper, which originated in Italy, convey this impression for the first time and point to the further development of Blechens landscape painting. These small-scale works are wrongly referred to as 'oil sketches' and classified as study material. However, many of these works were created by the artist as independent small paintings. They were shown at exhibitions in Berlin and Paris and found a very positive reception among collectors. Karl Friedrich Schinkel regarded them as 'something real of art' (cf. Schenk-Sorge, see below, p. 40). However, it took years for the general public to appreciate Carl Blechens art. If potential buyers found these paintings, they were not ready to pay a fair price. Blechen complained in 1830: 'Is it possible, I ask, how can it be that because I am conscious of having recognised and sensed the nature of God - and I hope that I have sensed it better than certain other members of my profession - and because my brush does not tremble so, and goes beyond the scope of artists primers [...]