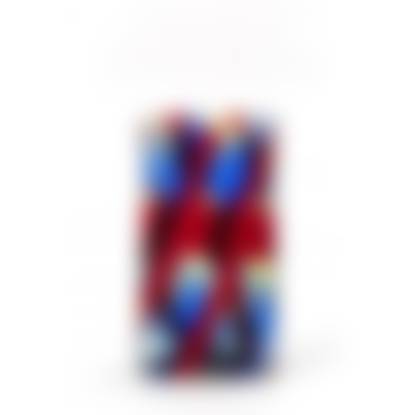 Sell Through Rate: 100%
Artwork:
Fulvio Bianconi - Vase Model Scozzese
Medium:
Blown glass with polychrome twisted sapphire, opaque red and lattimo bands, crossed with wide horizontal pagliesco, sapphire and opaque red bands, included in the wall of the object. Body with rectangular base with rounded corners, variable section throttled in the center, obtained with a 'stop' mold.
Marks:
Acid signature 'Venini Murano Italia', old paper label Venini, paper label Sarsini / Venini Florence.(slight defects, small conservative restoration)
Category:
Sculptures And Ceramics
Artwork details :
Venini, Murano, 1954-57.
Provenance:
Sotheby's auction, Milano1991; Private collection, Milano
Notes:
Literature "Arti Decorative del Sec. XX", catalogo di asta, Milano, Sotheby's, 12 dic. 1991, lotto 254; M. Cocchi, 50 Capolavori – Vetri di Murano del '900, IN.ARTE, Milano 1991, p. 93; M. Quesada, L'arte del vetro. Silice e fuoco: vetri del XIX e XX secolo, Marsilio editori, Venezia, 1992, p. 254, fig. 359; R. Bossaglia, M. Cocchi, I vetri di Fulvio Bianconi, Umberto Allemandi & C. Torino, 1993, fig. 69 M. Barovier e C. Sonego, Fulvio Bianconi alla Venini, Skira, Milano 2015, p. 288