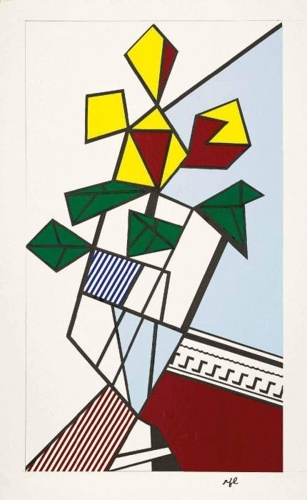 Sell Through Rate: 100%
Artwork:
Collage for Cubist Flowers Collage for Untitled Christmas Card for Beyeler
Medium:
Acrylic on paper collage, tape, marker and graphite on card
Marks:
Signed with the artist's initials 'rfl' (lower right); signed 'rf lichtenstein' (on the reverse)
Provenance:
Leo Castelli Gallery, New York; Acquired by the late Ernst Beyeler, Basel
Exhibition history:
Basel, Galerie Beyeler, America on Paper, 1974, no. 52; Basel, Galerie Beyeler, Autres Dimensions, 1976, no. 46; Basel, Galerie Beyeler, Roy Lichtenstein/Frank Stella, 1991, no. 2; Basel, Galerie Beyeler, New York on Paper, 1993, no. 41; Zurich, Galerie Art Focus, Roy Lichtenstein, 1997 (illustrated in colour on the back jacket).