Rice is Life at Thavibu Gallery
Rice is Life for the Myanmar artist Aung Kyaw Htet and he has created a series of canvases elaborating that concept. The exhibition that deals with the importance of rice in everyday life of Myanmar's population will be presented at Thavibu Gallery in Bangkok. Aung Kyaw Htet was influenced both by his childhood spent in a small village in Myanmar and his Buddhist beliefs and in his latest work he explores both the religious and the secular elements of rice. Rice is Life solo show will consist of oil paintings inspired by the traditional ways of cultivating and preparing the most important and most widely used nutriment in his country and throughout Far East.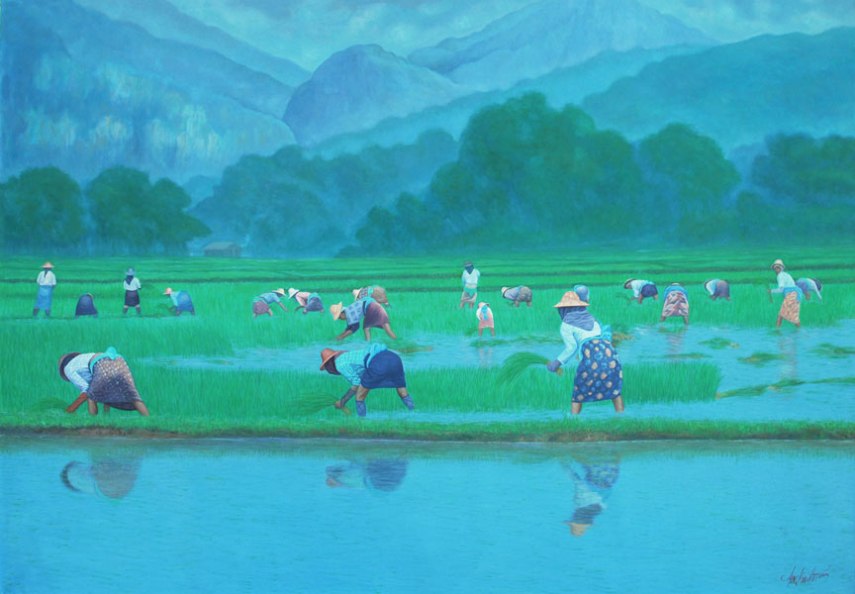 Rice is Life for Aung Kyaw Htet
In Rice is Life, the artworks Aung Kyaw Htet illustrate traditional ways of planting, harvesting and storing rice that are slowly being replaced by the modern technologies. The artist takes us back to the time when rice was planted by hand in vast fields flooded by the rain or the river water. Some of Aung Kyaw Htet's artworks show the rice being threshed by cattle or crashed at small mills while other images present the cooking of rice and its consumption. The tradition of offering rice to monks and noon's that are passing by while walking their morning round is depicted in many Rice is Life artworks and emphasizes the religious aspects of rice use. Priests, villagers and animals are the main characters of the pieces and their role in the cultivation and preparation of rice is depicted with realism and respect.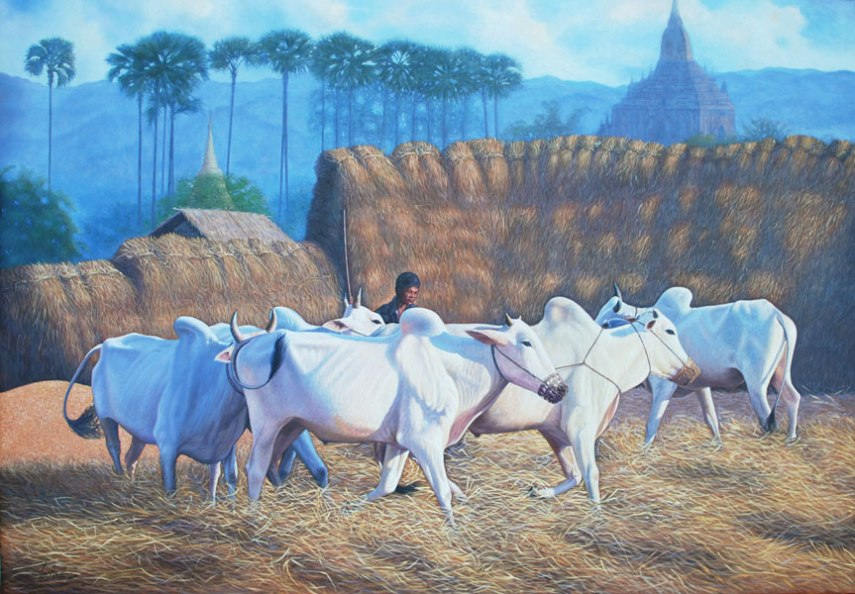 Realistic Portrayels of Traditional Life by Aung Kyaw Htet
Aung Kyaw Htet is one of the most talented Asian artists and his paintings are marked by realism and slightly grained background. The coloring is bright and flashy with the dominance of orange and blue, colors that both have their significance in the Buddhist culture. Orange is considered the essence of Buddhism and the color full of wisdom, strength and dignity while blue symbolizes loving, kindness and peace in Buddhist tradition. The subjects of Aung Kyaw Htet works, whether human or animals are portrayed with sensitivity and consideration. Special attention is given to facial expressions that are painted in great detail and exemplify the emotions of the characters. Aung Kyaw Htet's pared-down compositions accentuate the serenity of the Buddhist faith that had been the foundation of Myanmar culture for centuries.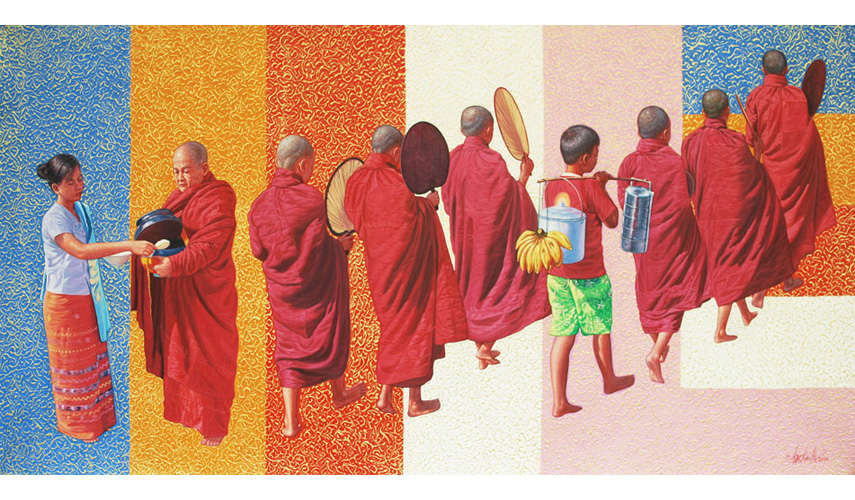 Aung Kyaw Htet at Thavibu Gallery
Rice is Life exhibition at Thavibu gallery in Bangkok will open on June 20th. Traditional life and production of Myanmar and religious aspects off food are all a part of the vivid narrative that will be displayed at Rice is Life exhibition. Aung Kyaw Htet's depictions of life in the countryside are cherished for their coherence and realism while his portrayals of monks and nuns unleashes questions about the social environment in Myanmar. Rice is Life exhibition at Thavibu Gallery in Bangkok closes on 18th July, 2015.
Art is life and you can find it in your mailbox every day if you sign up for My Widdewals
Featured images: Aung Kyaw Htet – Preparing a Rice Meal (detail), 2014 and Aung Kyaw Htet – Offering Rice (detail), 2014
All images courtesy of Thavibu Gallery