assume vivid astro focus in NY
Color! Craze! Substance that makes you tick on several levels! All of that is gained through the experience of viewing the latest show by assume vivid astro focus – avaf at the Suzanne Geiss Company. The first New York show for the duo since 2008 is now on view at said gallery, presenting a new series of their abstract, psychedelic imagery fused with transgender iconography. Looking at their work, the viewer is agitated, excited and led to re-examine their own and the general social and sexual criteria. The show under the peculiar name Adderall Valium Ativan Focalin (Cantilevering Me) opened on May 7 and it will remain on view through June 21, 2014.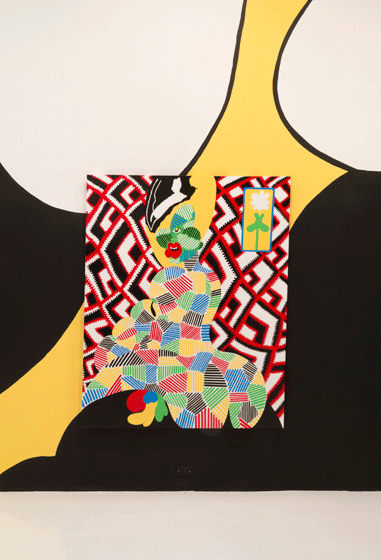 Adderall Valium Ativan Focalin (Cantilevering Me)
The new work at the Suzanne Geiss project is placed on a wall over the mural originally painted by the avaf, ranging from complete bursts of mixed associations to the reduced abstract compositions. Having created an original and recognizable visual language over the years, the artists deliberately induce tension, visually and emotionally, investigating the issues of class, gender and identity on every level.
The duality of the presented imagery is underlined by the lively additions added to the subjects. Picturesque transgenders and cross-dressers presented by avaf have fragmented, colorful bodies, with their most prominent features enhanced to the point of caricature, while they assume positions of the generally coveted sex godesses found in pornographic films and famous comics.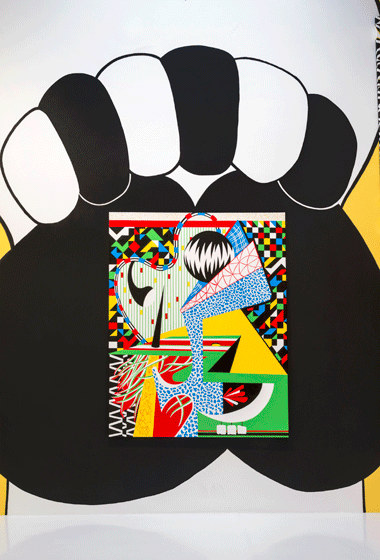 Visual shifts
While they twist our contemplative perceptions and ideas, avaf twist our endorsed contemporary aesthetics. Bodies they put in their artwork are contorted, swollen, flaccid, broken into pieces or sometimes, entirely dismembered. Assembled upon the sheer rules of the contemporary living, these broken bodies reflect the overflow with IT, gadgets, communication, drugs and various forms of commercials. They fall apart and burn while merging with the abstract backdrop, as their bodily characteristics start reminiscing machines, robots or built structures.
The fact avaf disassembles their subjects implies the fragility of human spirit, its usual succumbing to the currents, but it does not indicate its destruction. On the contrary, these parts of human bodies continue to live in a new, vibrant and obviously resilient form, while they absorb traits of new civilization and time. Painting of avaf signifies a shift in the traditional portrait painting as well as a new turn in abstraction with mixing the two, thus creating novel emblems of freedom of body and mind.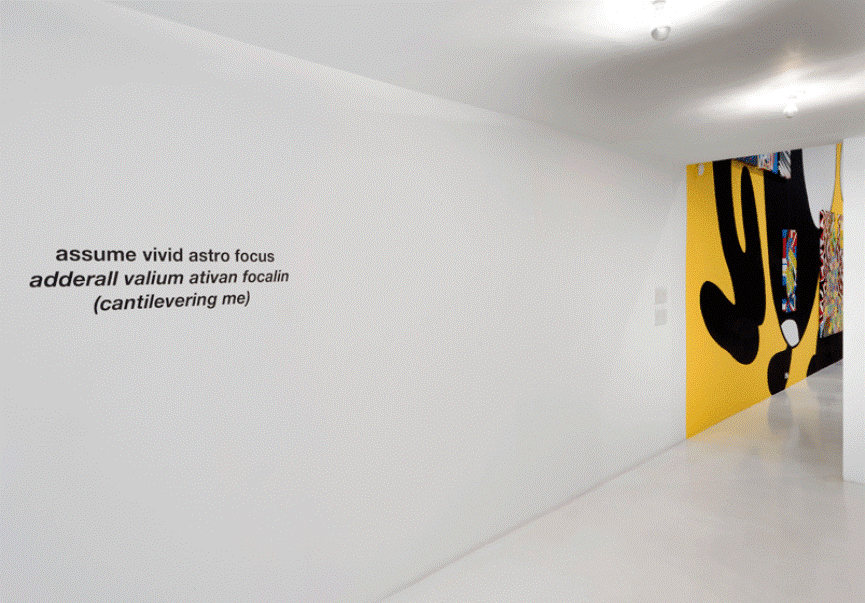 assume vivid astro focus
assume vivid astro focus is a duo established by Eli Sudbrack in 2002 who has been collaborating with Christophe Hamaide-Pierson on the project since 2005. Eli Sudbrack was born in Rio de Janeiro, while Christophe is a born Parisian. They exhibited at some of the acclaimed contemporary art spaces around the world. Today, they work together while based on different continents, Eli divides her time between Sao Paulo and New York and Christophe is living in Paris. Their numerous and intriguing projects revolve around the ideas of obsession, curiosity, generosity and anxiety, while involving the observers to actively participate in the emotional and visual roller-coaster they materialize.