The Desire to Possess a Piece of History - The Appeal of Banksy
The distinction between 'graffiti' and 'street' artist is often as nuanced as it is interchangeable; the former destructive and self-aggrandizing, the latter constructive, revitalizing perished urban environments for public pleasure. Most street artists cut their teeth with graffiti, graduating to the respect of the art world. But only one man has elevated beyond the 'street artist' nomenclature, reaching enigmatic status through iterative self-actualization, pushing beyond the tag, beyond the canvas, spray can, or wall. Banksy is a performance artist; his journey prolific, his portfolio long-tailed and varied, his work complementary to any collection.
In a career spanning over two decades, in which his true identity has never been confirmed – despite tabloid efforts – Banksy has left a trail of art in his wake, and as many antagonists as fans. Tracing his journey back to the nineties in Bristol, one can follow the development, confidence, and eventual sheer audacity of the artist, a profound elusiveness in his essence.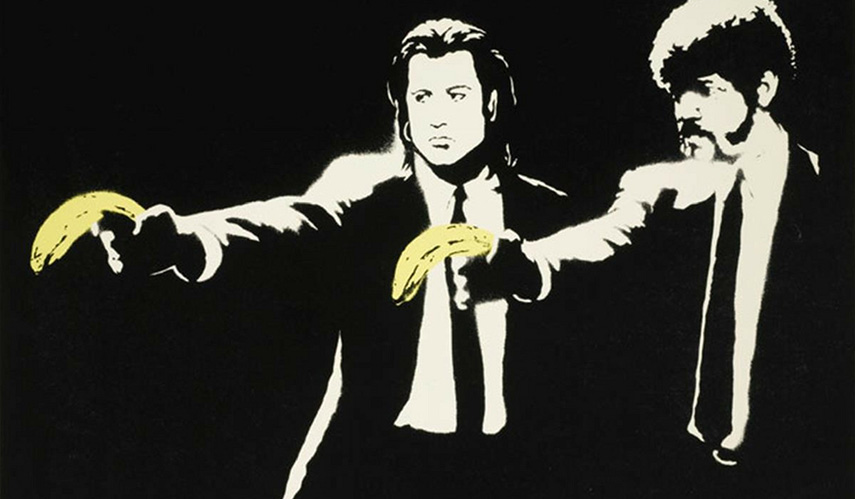 Visiting the Banksy Prints Market
Of course Banksy is most famous, and perhaps defined, by his stencils, each incrementally more political and acrid than the last – those in war zones, those protected by councils as tourist attractions, those which have been stolen in the night by chancers with industrial plant.
But with success comes fraud, and due perhaps to the inexorable simplicity of stencils, Banksy's art is undoubtedly the most replicated on the planet – one can stroll down any high street and find an unlicensed replica in minutes, making owning an original all the more fulfilling, not just as an investment, but a statement of historical custodianship.
With such volume of market stall knock-offs and highly persuasive counterfeits, owners of originals, or those contemplating purchase, should visit Pest Control, the handling service acting on behalf of the artist. It's the only place one can get Banksy prints or art authenticated for genuinity and issued a certificate. Pest Control is also the sole point of sale for new work. Although no commercial prints have been listed since 2009, and in the absence of supply a starved international market has driven up demand, and with it the price one can expect to pay for his work.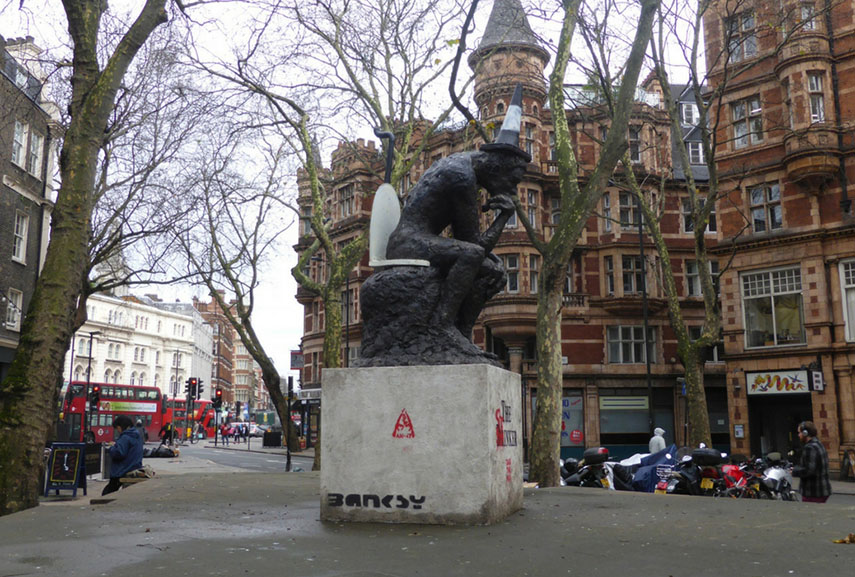 The (Ever-Rising) Star of Street Art
The resale value of Banksy's work is liquid and continues to rise: stencils purchased at nineties Bristol car boot sales for £150, now fetch tens of thousands. It is between about 2002 and 2008 that the artist is most prolific, devising this noted pastiche. Pulp Fiction, formerly on Old Street roundabout, featuring a stencilled John Travolta and Samuel L Jackson, guns replaced with bananas, was later painted over by TfL for creating an 'atmosphere of social decay'. Estimated to be worth around £300,000 at time of destruction, the original stencil was sold for £10,600 in 2012. At around the same time prints were selling for £1,000. At recent auction they've fetched as much as £36,000, inflating heavily with the dearth of supply.
The artist's original public art has always fetched the most at auction, such as the 2002 sandwich board-wearing monkey – laugh now, but one day we'll be in charge – painted on the side of a Brighton nightclub. Although it was cut out and sold for £228,000 in 2008, purchasing one goes against the grain of what street art, and in particular Banksy, has set out to achieve. You'll never receive certification of authenticity for a stolen cut out – he won't put his name to art created for public enjoyment. Despite the artist's disapproval, carefully chiselled public art does occasionally appear at auction, and always for eye-watering sums. Kissing Coppers, a seminal 2004 middle finger to authorities that failed to catch Banksy, in 2014 sold for $477,000 Stateside – around £400,000 at 2014 exchange rates.
Last year's The 40 Lot Wanted: Banksy auction at Mayfair's Westbury Hotel raised £662,000 including buyer's premium. Records were set for the 2004 Girl With Balloon, from an edition of 150 in pencil, selling for £86,000 including premiums, against an estimate of £50,000-70,000. On the counter, one can pick up Banksy artworks for less than six figures, for example, an unsigned Queen Vic is currently on sale for £7,000 on MyArtBroker. Banksy has a very set period and it's uncertain, and most will argue, unlikely, if any new prints or stencils will ever be produced, making acquiring one all the more fulfilling.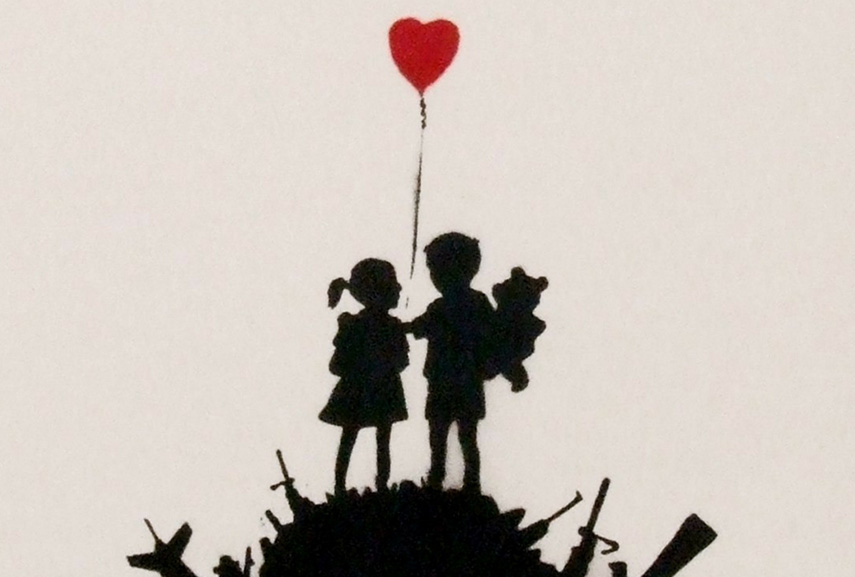 Banksy as the One Sure Thing
I really struggled to think of a favorite, and perhaps it's my age – I still admire the anti-establishment – but I've whittled it down to two: The first is The Drinker statue, a cone-headed man stolen by the 'arto-politico humorist' group Art Kieda in 2005 in retaliation to Banksy's success – his apparent selling out – and returned to Shaftesbury Avenue a decade later, with an added toilet seat, and a new name: The Stinker.
But it's his performance pieces I most admire; not so much Dismaland, the "bemusement" park that briefly put Weston Super Mare on the map – I thought it garish commercialism. The artist's finest hour was when he arranged for original prints to be sold by a New York street vendor for $60 a piece. It was self-awareness, and to an extent deprecation, of the illusion of art, and the beast he had created. As if to prove the point one assumes he was trying to make, the pieces later sold for nearly 1,800 times the price, fetching £125,000 at auction.
The street art scene talks about the coming of Banksy like a period of religious sanctity; one often hears "After Banksy". A.B. was the point that street art, initially an eyesore – vandalism – became revered. Despite the already high price, street art is as big, if not bigger than any modern art movement, and demand has not waned, even slightly.
It is likely, if following the same demand curve, that the real value will continue to rise. But, like all alternative assets, those who purchase Banksy's art seldom do so with the intention of making a profit. The draw is aesthetic; the pleasure of possessing something original – a piece of history – trumps the potential to generate a profit.
Written by Elliott Haworth.
Featured image: Banksy graffiti, via Fitztrovia News. All images used for illustrative purposes only.