Banksy Retrospective at Rise Gallery Croydon: It Began on The Walls
Rise Gallery in Croydon finally opened its doors to the public for the retrospective exhibition of Banksy's works. It Began on The Walls exhibition is referred to as the "most high-profile art show ever to be put up in Croydon" in South London. The organizational team at Rise Gallery is honored and excited to be a part of this event, and Banksy's army of fans and supporters will undoubtedly be heading to Croydon in the following days. Banksy is one of the most prolific street artists in the UK, and probably one of the most recognizable street art figures even to those who are not particularly interested in street and urban art. Today, when Banksy's artworks are being detached from the walls and sold for enormous sums in auctions, retrospective exhibitions of his earlier works come as a real delight to those who supported Banksy's artistic engagements before he became celebrity.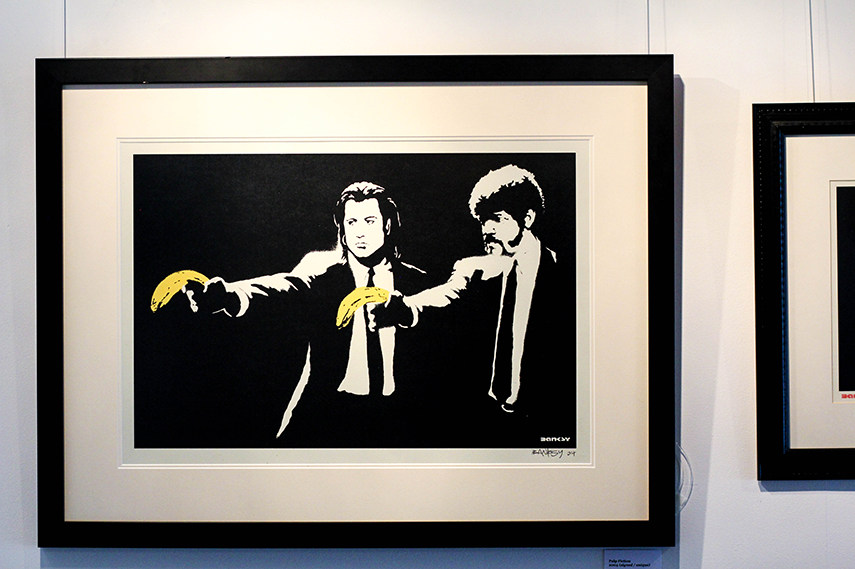 It Began on The Walls
Is there anything to be said about Banksy that you already do not know? He is definitely one of those artists who doesn't need any special kind of introduction. He is so famous now that we tend to forget that once he was just a creative individual leaving his ironic comments on the society all over London. Well, for those who are shaken by the feeling of nostalgia, Rise Gallery has put up a selection of Banksy's seminal and recognizable works made in the last fifteen years. Symbolically titled It Began on The Walls, the exhibition brings a retrospective view of the evolution of Banksy's career since he turned to the art of stenciling which later became a trademark of his work.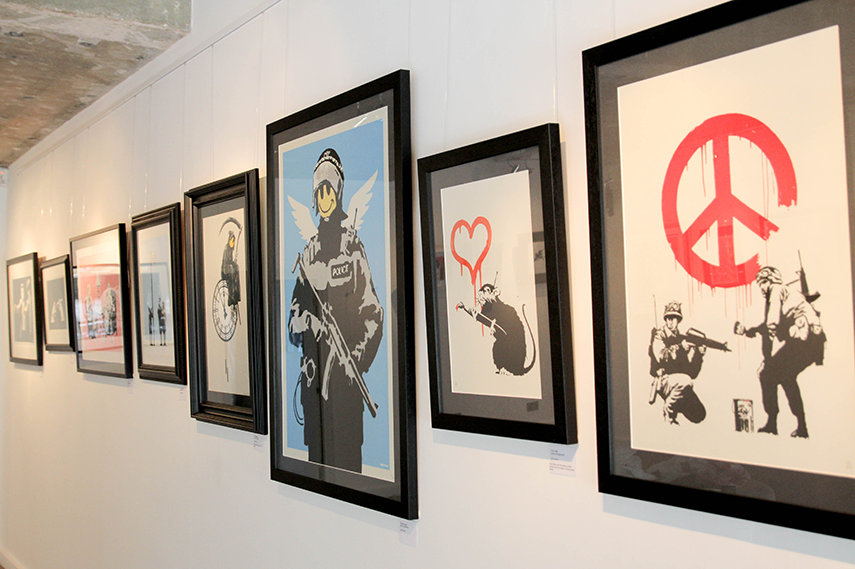 Banksy in South London Area
This Banksy retrospective at Rise Gallery will feature Banksy's work from 2000 until the present day. This includes Banksy's canvases and prints along with the photographs made by the Palestinian photographer Shady Alassar who had the privilege of documenting Banksy's work in Gaza, across the ruins of Palestine. A selection of 21 works created by Banksy is on display, artworks rarely gathered in a single space along with some pieces which are almost never showcased in public. You can expect to see works from various points of Banksy's career from his spoof bank notes to the photos of his Israeli artworks.
Banksy Retrospective at Rise Gallery
The exhibition is expected to draw visitors from many corners of the world to this London borough. And it is not unusual since many of Banksy's long-time fans and admirers are excited to see this array of works and to be reminded of the Banksy's beginnings and street art and graffiti roots. It Began on The Walls exhibition will stay on view until 28th August, 2015 at Rise Gallery in St George's Walk, Croydon, UK. It might not be extensive as the retrospective exhibition held last year, but it is still Banksy's art on view and nobody wants to miss the opportunity to see some of his famous and rarely displayed artworks.
Want to join our community of street art lovers? Then sign up for My Widewalls for FREE!
Featured images:It Began on The Walls retrospective exhibition of Banksy's works All images courtesy of Rise Gallery