Banksy Piece Spy Booth Rests on House Which is Now up for Sale!
"A rare opportunity to acquire a Grade II listed, Victorian, three bedroom end terrace property" – up until this point, it sounds like a regular real estate ad. But then it continues: "with a genuine 'Banksy' on the gable wall". And not just any Banksy – remember the Spy Booth? Collectors and apartment hunters will now have a chance to buy a relatively affordable artwork by the world's most famous street artist, painted on a house in Cheltenham, England which was priced at £210,000 (about $306,000). The property is also known as one of Britain's most photographed homes after Banksy confirmed the piece was his in 2014. Since then, the work has gone to quite a journey, which is why the estate agents, Peter Ball & Co, said: "The property is being offered for sale with no onward chain and requires a comprehensive schedule of refurbishment."
Checkout the Most Bizarre Edward Snowden Tweets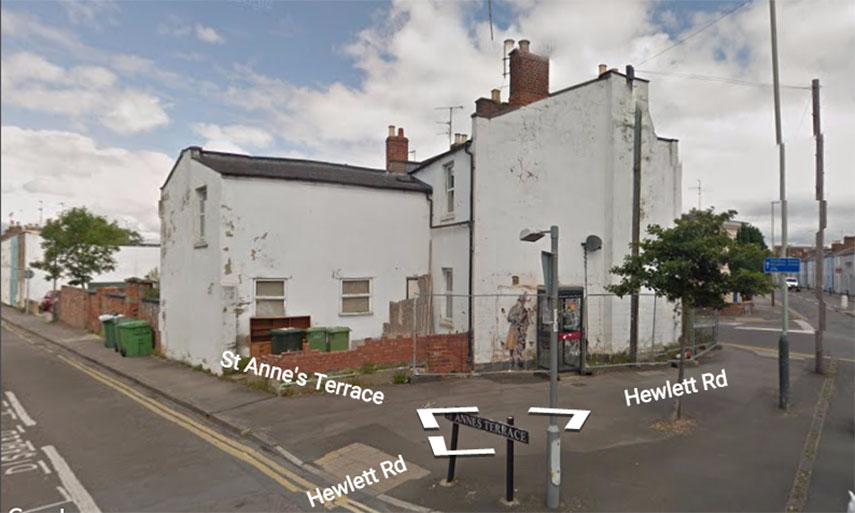 The Banksy Spy Booth House On Sale
The end-of-terrace house in Cheltenham is the home to three investigators arranged around an existing telephone booth, as Spy Booth represents an Edward Snowden-inspired stencil piece. Since the house, which is now on sale, is located conveniently close to the surveillance agency GCHQ, it served as the perfect canvas. The three spooks are wearing trenchcoats, sunglasses and spying equipment, including listening devices which surround the phone booth. The Banksy work saw the light of day after whistleblower Edward Snowden revealed ways of working inside GCHQ and the National Security Agency, causing an international scandal. By purchasing this Grade II estate, the new owner will not be able to remove the work from the house walls and sell it for profit.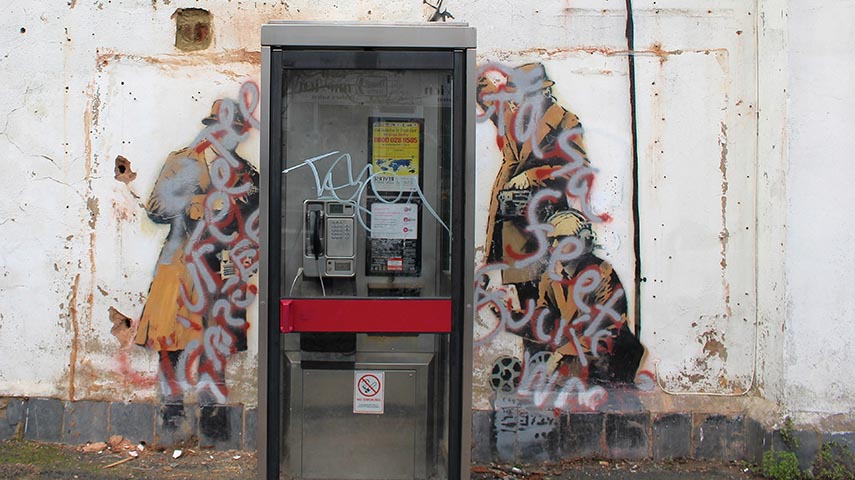 An End of an Era?
The story of Banksy's Spy Booth has been drawing a lot of attention ever since it was created almost two years ago. Once it was established that it was indeed his work, the mural was supposed to be removed and sold to a London art gallery in July 2014 – something the Cheltenham community wasn't at all happy about. But because Banksy had painted the work on a protected property, it was saved by the UK heritage legislation. Only a month after that, Spy Booth was vandalized, when unknown taggers covered the work with silver and red spray paint. Thanks to anti-graffiti products and a couple of experts, the piece was recovered, and eventually protected by large wooden boards which surround the entire building wall. Now, the Spy Booth saga will pass onto someone else as the building owner David Possee put it all up for sale, but the question is: who will be able to preserve the work's legacy? Because we can all agree this is actually a Banksy that comes with a house, rather than the other way round.
What do you think? Leave a comment on our Facebook page!
Featured image: Banksy – Spy Booth, 2014. Photograph by Ben Birchall/PA. All images used for illustrative purposes only.