Painting the Black experience - Barka in an Exclusive Interview
Living and working in London, Barka focuses on narratives from the world around him – the people, places and things. Gathering discarded windows and doors that are left behind the gentrification process running through his beloved city, Barka recycles them and uses them to create works of art. His current practice focuses on documenting the Black experience within the contemporary social fabric of London. Painted in black and white against colorful backgrounds, the subjects in his paintings are strong and his imagery unapologetically black. His unique, vibrant paintings are rich in tone and texture, observation , perspective and history.
Barka's new body of work will be on show at Serena Morton Gallery in London in an exhibition entitled Sugar and Water. Exploring his Jamaican heritage and British ideals, Barka raises questions on the notion of the black identity. The title of the exhibition refers to a mass migration of Caribbean people, historically involved in the sugar trade, and how it affected today's Afro-Caribbean experience in London both socially and historically. Exploring various aesthetic themes from fashion to architecture and design, he paints the Notting Hill neighborhood in bright and live colours. The neighborhood of Notting Hill, a focus of this exhibition, has an important role in the lives of London's Afro-Caribbean community who has first settled here during the 1950s. Through his art, Barka explores their cultural references, history and legacy and how it affected this neighborhood.
We've had a little chat with Barka, and we have asked him about his upcoming exhibition, gentrification in London, the Black experience, his inspiration and influences, his practice and much more. Scroll down for the interview!
Sugar and Water
Widewalls: So, can you tell us more about the concept of your upcoming exhibition Sugar and Water at Serena Morton gallery?
Barka: Sugar and Water is a continuation of my current practice of mixed media on glass, primarily through the use of reclaimed windows and glass doors. The paintings are of contemporary London life, with a particular focus on a few paintings on the Notting Hill area, it's legacy, it's histories and how these narratives still influence our current experience today.
The window is a view into the future, my future, a future, London's future, a complex future, yes, which still has to be defined, but the future is bright and colorful regardless of the current debates on what's next in the city.
Widewalls: You use discarded glass windows and doors as your canvas symbolizing the disposable nature of the gentrification that is hitting London and many other cities around the world. How do you see the role and the responsibility of an artist in this process?
B: Every artist is different, all art is seen to be subjective, so responsibility is with those that choose to express a particular narrative, I enjoy the challenge in attempting to be current, painting with my fingers on the pulse of the capital.
My narrative is on the Black experience in London, gentrification has allowed me to access the materials, so in an abundance of material one must simply react, just create, sometimes just because you can.
London has gone through many challenges in the past, classism, racism and now we see gentrification affecting the city. Gentrification is unique, simply because it has little to do with color in London, it's somewhat blinded, it's just very cut throat, out with the old, in with the new.
Which ironically is bringing people closer together, persons that may not have had any reason to interact with one another maybe 10 – 15 years ago are now finding themselves fighting for the same cause in the local community meetings.
Widewalls: Your imagery is unapologetically black and there is a strong political statement that stands behind it. How do you reflect and articulate the black identity in your paintings, as well as the challenges it faces in the social fabric of the contemporary city?
B: This is all I know. I wake up every day and look in the mirror to brush my teeth. My work is an ongoing investigation into what, when and why, and while painting those questions, answers are found through the process while I create my reality.
The Black experience in Britain and London has been a colorful experience to date. From the 1950's to now, evidence of our contribution to the British society is seen and heard in everyday life. The cultural exchange has now penetrated the English language in London today, with hints and touches of words and mannerisms found in the Jamaican language itself.
One is a product of one's environment and London is an unapologetic environment in all its youthful cultural expressions.
As an artist, I attempt to paint my current reality, using and referencing the legacy of past narratives while documenting current black British ideals and values, with a view into shaping and molding its future identity, not just the black one but of the Londoner.
London As an Inspiration
Widewalls: How does the city of London inspire and influence your work?
B: I find all my material in the city. I use the town as the backdrop to my paintings, the urban plan of the city, the homes, their interiors… I try to find a balance in painting locations from the city while attempting to captivate the color, the noise and energy of the city.
Widewalls: In your work we can see a combination of monochrome hues and bold and bright ones. Can you tell us a bit more about this specific use of colors?
B: I try to find a balance in the colors I use. Black and white photography is my first love, you see the depth, the shadows and richness in tone, especially with darker skinned people. You can cut through the jazz and experience the raw beauty of the photography is black and white.
Being raised in a Caribbean household in London, color is an important part of one's cultural expression, sometimes simply through the food we eat, the red peppers, yellows ackee, greens okra, the exotic fruits, veg, the colors worn, the interiors of our homes. All these things play a part in influencing my palette, but finding that balance, allowing the painting to still breathe, even with the explosion of color.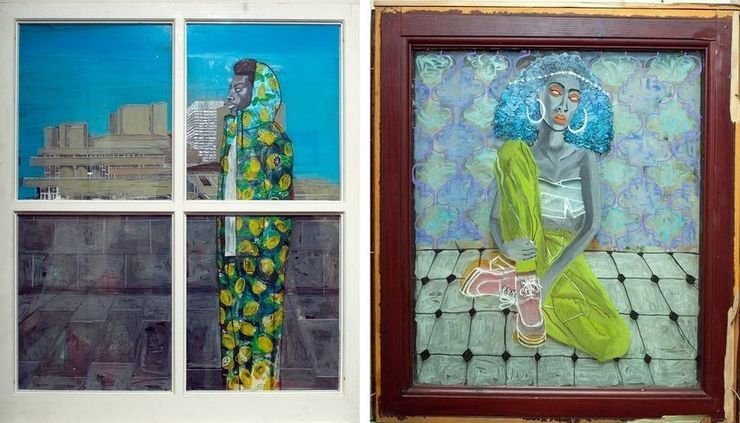 Widewalls: Who are your influences, and whose work do you appreciate the most today?
Currently, London is going through a somewhat renaissance in art, music, poetry, photography and film. An exciting time, I find myself listening to a lot of new music, coming out of the city, I've been flexing with a jazz duo called Yussef Kamaal. Their music is slowly becoming the soundtrack to my daily life.
Widewalls: What are your future plans and projects?
I will be exhibiting at The Royal Academy of West England in late June in a show entitled Jamaican Pulse: Art and Politics From Jamaica and the Diaspora. Also, I'm currently filming a documentary on the London Renaissance with an amazing photographer and filmmaker called Salem Wazaki and in the coming months, I'll be publishing a newspaper print magazine showcasing art and poetry in the city.
Featured images: Left: Barka – Rum and Ginger beer, 2016 / Right: Barka – Nag Champa, 2016; Left: Barka – Lady Luck, 2016 / Right: Barka – The Hybrid, 2016. All images courtesy of the artist.