What Does the Latest Barnebys Online Auction Report on Design Reveal?
The world of design is an exciting one; once reserved for the wealthy, it is now accessible to anyone, becoming a part of one's identity and personality. But how are these changes affecting this creative field at large? Based on 31 million realized prices and 15 of the most searched designers at their platform, the latest Barnebys report on Mid-Century and Modern Design came to highlight an interesting development of the market in recent years. Aspects of design such as mass production and the traditional in-store purchase have now been challenged, giving more and more way to authenticity and online bidding respectively.
The designers reviewed in this Barnebys report showed close to 330% growth in accumulated turnover between 2009 and 2016, amounting to a total market value of €38,3 million last year! Interior and furniture design are slowly becoming items of fine art and the best investment out there nowadays, available at well-curated feature auctions – many of which are held online and are only a few clicks away. In fact, it is the transparency, facilitated by the online revolution, that is boosting prices and drawing more and more attention to design, particularly on unique items and the hot names of the moment.
But what led to this momentum? Which markets will stand out? What should the buyers and sellers pay attention to? We talked to Hanna Schiller of Barnebys, the co-author of the Online Auction Report, about their latest findings.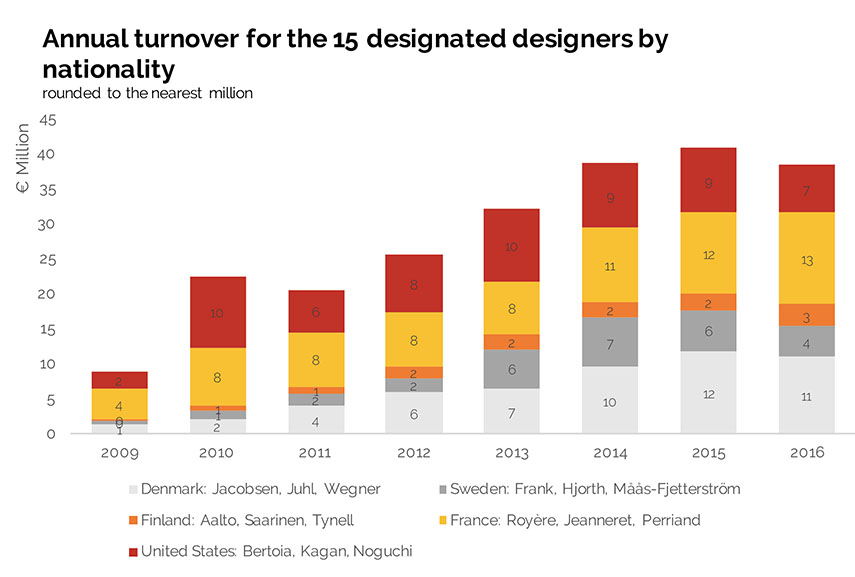 Barnebys Report – The Rise of Authenticity and the Online Design Market
Widewalls: To what does the growth of the online design market owe its success exactly?
Hanna Schiller: The increased access and transparency which has been facilitated by online auctions has opened up the industry to a broader and younger audience. Increased awareness among consumers and a growing interest in interior design has lead to a greater appreciation for well designed, high-quality furniture which tell a story and add personality to an interior. Today, great craftsmanship is increasingly expensive and hard to come by. Buying design items at auction is many times very good value in terms of quality, style and uniqueness.
Widewalls: What brought us to the popularity of the online auctions?
HS: The popularity of online auctions is a natural development as consumers today are constantly online and used to shopping and browsing for information at anytime, anywhere. Auctions offer unique items in all price ranges and with less environmental footprint – an attractive alternative to the generic mass-produced design copies offered at retail chains around the world. Shopping has become a pastime for many people, and buying at auction can also be an exhilarating experience, adding excitement and a sense of accomplishment to the buying process.
Widewalls: You found that "authenticity has become the highest form of exclusivity" – does this mean design pieces could be considered pieces of fine art from now on? Will they push everyone else – mass-production included – out of the game?
HS: Design has indeed acquired a status similar to fine art pieces. Although intended for functional use, over time the artistic qualities of great design is increasingly recognized, which in turn is reflected in prices on top tier items. Just like art, design reflects the stylistic movements of its time.
Auctions provide a sustainable alternative to the mass market, with many quality items available at bargain prices. The growing concern for the environment among consumers makes the auction industry an appealing alternative. Buying at auction means guilt free shopping, advocating a more circular use of furniture and decorative pieces. By providing an easy to use service, relevant communication and transparency, the industry has never had better conditions to broaden its audience and establish auctions as the natural source for interior design. Why buy a poor-quality remake from ikea when you can get the original quality piece for the same price?
Widewalls: How did the dealers create the auction market in the field of design as we came to know it in this report?
HS: It basically comes down to three aspects – information, curation and representation. Dealers have an information advantage and the ability to spot trends before anyone else, sometimes even setting the trends. They provide auction houses with information on the most important pieces and advocate for individual designers or styles by carefully curating exhibitions at fairs and putting together extensive research on a designers work and its importance. Since dealers are active buyers and sellers at auction, they have influence on the supply in the market, and are often the ones introducing lesser known designers to the international scene. By working closely with interior designers and important private collectors, influential dealers dictate what pieces turn up in interior magazines and blogs, consequently setting the coming trends.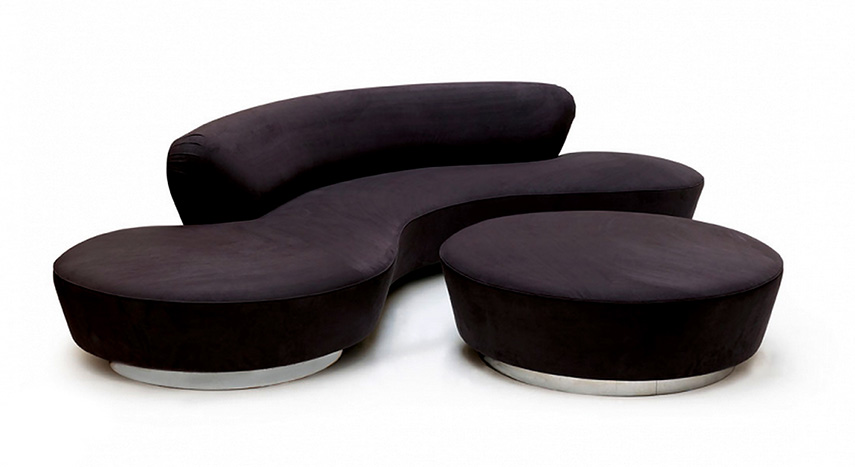 Which are the Up and Coming Markets?
Widewalls: Scandinavian design has always been "a thing", but it seems it is getting the recognition it deserves – in terms of localized market – just now. Can you elaborate on this finding?
HS: Scandinavian auction houses are front-runners when it comes to online adaptation. The increased access and transparency facilitated by online auctions, has made it easier for international buyers to bid online at auction houses outside the main market hubs. Sites such as Barnebys, makes the entire market accessible in one search, eliminating intermediaries and weakening the role of the traditional market hubs as the main source for the best items. Several of the leading Scandinavian houses report that 90% of the top tier items are sold to international buyers. The addition of international buyers with strong finances has caused an increase in prices on these items in local markets. Meanwhile, the status and appreciation for design furniture has increased in the last decade. This in combination with a diminishing supply, leads to stronger demand from domestic buyers as well.
Widewalls: The report mentions Asia, and particularly China, as "the real challenge to the traditional auction market hubs". What are the indicators of this and how do you see it happening in the coming years?
HS: Asian buyers, and Chinese in particular, represent a growing share of the market for auctions in general. With a massive increase of wealthy individuals looking to acquire the traditional status emblems, and tastes becoming increasingly global, design is next in line to appeal to Asian buyers. Several of the leading auction houses have recently announced they are closing down parts of their operations in traditional market hubs to focus on the Asian markets. At the recent Art Basel in Hong Kong, Sotheby's held a selling exhibition introducing design furniture by French giants Charlotte Perriand, Jean Prouvé and Pierre Jeanneret. As our report shows, 1% of the value of Perriand's market for the period was from sales in Hong Kong, a number which is bound to increase.
Widewalls: What would your advice to young design collectors – both buyers and sellers – be? How do they make the best out of current trends?
HS: The same goes for aspiring design collectors as those collecting art – buy with your heart and within your means. There are no guarantees if you are looking for a financial investment, however there are some basic rules to go by. Most important, wether you are buying or selling, is to educate yourself to get a better understanding of the market and what determines value. As every object is unique, there is no universal law. Quality, rarity, condition, provenance, importance and presentation are the main aspects influencing an objects value. However, as the report has found, geographic location and even auction house can also influence an objects price. Make use of the increased market transparency and compare past results between auction houses. Visit galleries and talk to dealers and auction house specialists to find out what is in demand at the moment and what will be the next big thing. If you are thinking of selling, check out Barnebys free valuation service and get in contact with a wide range of auction houses to find your best match.
Barnebys Online Auction Report Design 2017
Featured images: Hanna Schiller by Tina Axelsson; Papa Bear easy chair, by Hans J. Wegner 1950s.Bukowskis Stockholm, Spring Contemporary 567, 2012. Estimate: SEK 12,000 – 15,000 Sold for SEK 39,200; Large 'Bush' sculpture with integrated welded fountain form interior, ca 1970. Phillips New York, 15 December 2010. Estimate: $120,000 – 140,000 Sold for: $170,500; 'The Goodyear Table', for A. Conger Goodyear, by Isamu Noguchi, 1939. Phillips New York, 16 December 2014. Estimate: $2,000,000 – 3,000,000 Sold for: $4,450,500; Mahogany cabinet, by Josef Frank. Covered in Frank's floral chintz fabric 'Fatima'. Svenskt Tenn, circa 1937. Bukowskis Stockholm, Modern Autumn Sale 569, 2012. Estimate: SEK 75,000 – 100,000 Sold for: SEK 343,000. All images courtesy Barnebys.