Bates: Style in Progress
Partisan Creative Corner, located in Soest, Germany, has announced a new solo exhibition by veteran Danish graffiti artist Bates. Style in Progress will be his debut with art is just a four letter word, the contemporary underground art consulting agency responsible for the Partisan Creative Corner gallery space. Bates was a leading street artist in the mid 1980's hip-hop scene in Copenhagen and was considered one of the top names in the European graffiti scene of that era alongside names such as Loomit, Mode2, Bando, Delta and Shoe. The prolific graffiti writing skills of Bates have taken the urban artist on many journeys, having painted on all five continents in more than 30 different countries. Style in Progress draws on thirty years of experience in the urban art scene, presenting his latest works as a way of showing the progress he has made in that time. Partisan Creative Corner specialises in exhibiting street art and graffiti, past shows including Getting Up by Jan Kaláb and the wonderful The Monk and the Rascal by Cone The Weird.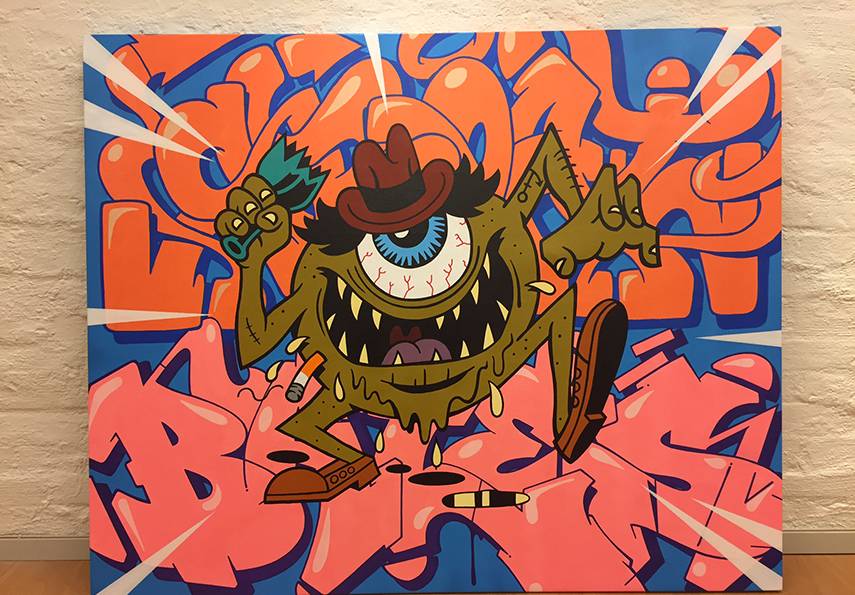 Bates at Partisan Creative Corner
Style in Progress, the new solo exhibition by Bates at Partisan Creative Corner, is a celebration of the progress the artist has made in thirty years of graffiti writing. The show also points to new future directions for the Danish artist, showing openness to work on new concepts and take in new influences to help develop his work in new ways. The graffiti writing style of Bates takes much influence from the traditional graffiti writing styles developed in New York, but imbues it with the essence of Europe, including sharp lines and graphic elements. The new show in Germany demonstrates the almost flawless spray can control of Bates, who makes his colourful creations look as if they are simple to make, when in reality it comes from thousands of hours of practice. In that time Bates has developed his graffiti writing style, combining it with fun graphics and cartoon characters for Style in Progress.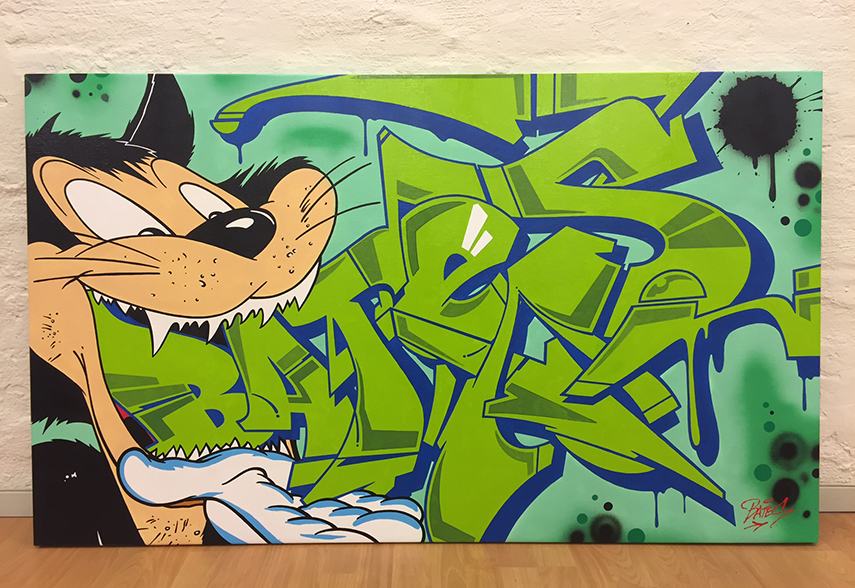 Graffiti Writing of Bates
The graffiti writing of Bates is a must see for those that like their graffiti in the old school style, with the new solo exhibition at Partisan Creative Corner providing a great opportunity to see the work of one of the leading exponents of the style. The new body of work by Bates being presented in the show splits into three main areas, the first being that of pure graffiti writing in which the artist demonstrates his highly polished skills in pieces such as Green Drips and Throw ups Times Three. The second style of paintings combines writing with fun cartoon style characters, such as with Bubble Bubble, Wolf and Purple Mickey. The third series of works finds Bates exploring more abstract compositions, as with Abstract Sketch and Abstract Multi Outline, in which the artist plays with looser background themes while still keeping the elements of sharp lines. Style in Progress offers a perfect balance of both the history of graffiti writing and where it can be taken in the future by Bates. For other recent graffiti writing inspired exhibitions, take a look at Concrete Alphabets at 886 Geary and Sowat in Geneva.
Art is just a four letter word presents Style in Progress by Bates, at Partisan Creative Corner, Soest, Germany. The show runs from 22nd May, 2015 until 19th June, 2015.
For all the latest exhibition news sign up to My Widewalls today!
Artwork images in main slider:  Detail from I dream, I write. Mixed media. 2015 & Abstract Sketch. Mixed media. 2015.
All images courtesy of Partisan Creative Corner.