The Extraordinary Lives of Ordinary People - Ben Edge in an Interview
One of the things that art teaches us is the fact that everything around us is exceptional, worth our attention, special. This, of course, includes people as well: outsider artists, musicians, circus performers, climbers, Arctic explorers, fighters and poets, all of those individuals who live beyond generally accepted social and cultural norms. Their personalities and characteristics are captured in the meticulous figurative paintings of Ben Edge, a young London-based artist whose work is currently on view at CNB Gallery, through April 16th. The Folk Renaisance exhibition gathers portraits derived from a critical and psychological insight into "a unique human story, through recurring themes such as otherness, masculinity and the artistic impulse." The poignant expressions of Ben Edge's subjects, whether that of Peter Freuchen, a Danish explorer, author, actor and anthropologist, or the ones of himself, invite us to look deeper into our own lives and get to know ourselves a little bit better, while at the same time discovering the world which surrounds us.
In an interview for Widewalls, Ben Edge talks about his practice, his inspiration, and his highly controlled painterly style.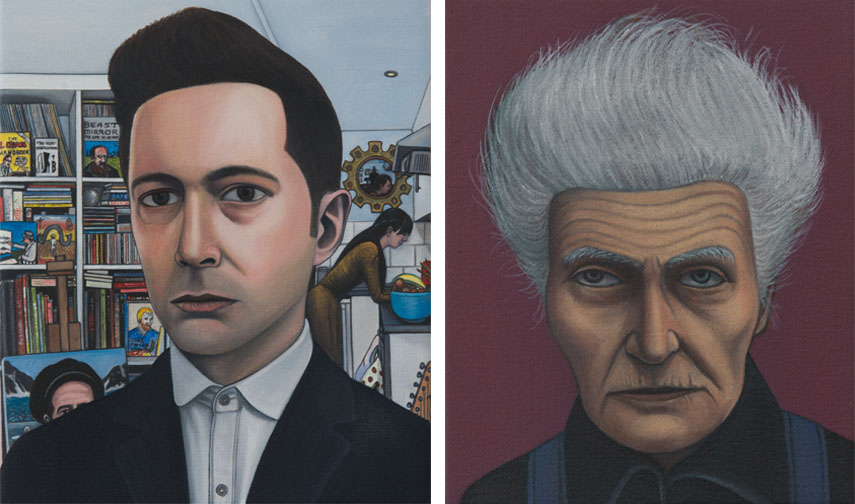 Ben Edge – Folk Renaissance
Widewalls: How did your fascination with the "ordinary" man come to be?
Ben Edge: I was lucky enough to grow up around some great characters and storytellers that inspired me. They also had interesting hobbies such as wood carving, fishing, cabin building, animal handling and drawing. I think this gave me an outlook that even people that you are passing by in the street, that could be deemed as 'ordinary', have remarkable things to share about their lives and experiences. It also gave me a genuine interest in people and finding out about whats beneath the surface. So I suppose what interests me about individuals that could be described as 'ordinary' has also led to my interest in the biographies of outsider artists and how they often had secret lives as creators. I suppose its not ordinary people that fascinate me, its finding out about the extraordinary things that ordinary people do with their lives. You never know who you are sitting next to. I guess I don't believe anybody is ordinary and perhaps this is what my work explores.
Widewalls: Speaking of your latest body of work, who does it focus on? And why?
BE: The exhibition [in London] focuses on paintings of outsider artists, musicians, explorers, fighters, and circus performers. With each of my paintings I am generally interested in what the person has decided to do with their life and then I work back through their biographies in an attempt to unravel the life experiences that shaped them as a person. For example, with Robert Peary, the arctic explorer, I was interested in what makes a man want to be the first person to reach the North Pole. So in my piece, The Life of Peary, I was fascinated to find out that as a child his mother dressed him as a little girl to which he reacted by becoming overly masculine. I can't help but see a connection. I think it's a very masculine thing to want to be the first person to reach the North Pole. In other works, such as my series depicting outsider artists, I was interested in the motivations behind their artistic impulses. So my work is often an exploration of biographies, human impulses and how people respond to the world around them – the human condition.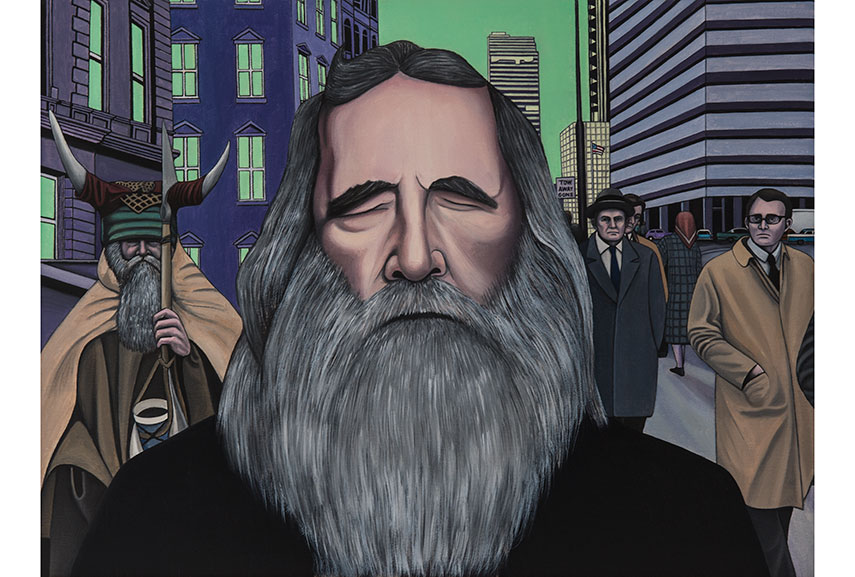 Exploring the Figurative and the Ordinary
Widewalls: How do you come across your subjects?
BE: I just spend a lot of time researching things that captivate and interest me and from this process my ideas are born. Each subject also seems to lead to the next. So it's an ongoing process that I really enjoy.
Widewalls: Your painterly style is described as highly controlled. How would you elaborate on that? What does it reflect on?
BE: I think this refers to my carefully executed style of painting. I am very particular when applying the brushstrokes; that gives the paintings a very smooth and clean finish.
Widewalls: What are your thoughts on the state of figurative painting today?
BE: There are a lot of really strong and interesting figurative painters around today and I think that figurative painting will always be important. I think its survival reflects that. There have been periods in recent times where the relevance of figurative painting has been questioned and dismissed but despite that it always endures and survives and right now I think it's making a big comeback. Trends come and go but the fascination with depicting the figure has never stopped and I don't think it ever will.
Widewalls: Who are the artists, or styles, that inspire you?
BE: I am very interested in outsider art and folk art and have been informed by the way these artists seem to find styles that are very unique to themselves and not necessarily academic. I am also inspired by Northern Renaissance painting. I love the religious iconography and the way the artists created compositions to tell stories. I am also inspired by Post Impressionist painters such as Paul Serusier and Van Gogh particularly for their use of color. The portraits of Alice Neel and the illustrations of Robert Crumb have also been an influence on my work.
Widewalls: Where do you see your art in the coming years? Is there anything you'd like to explore?
BE: I see myself pushing my art compositionally and delving further into symbolism and storytelling. I have just begun a new series that will focus on London and British culture. This is something that I have been thinking about for a while. I would also like to make a stronger connection between the art and the music that I make. So this is also something that I am also exploring at the moment.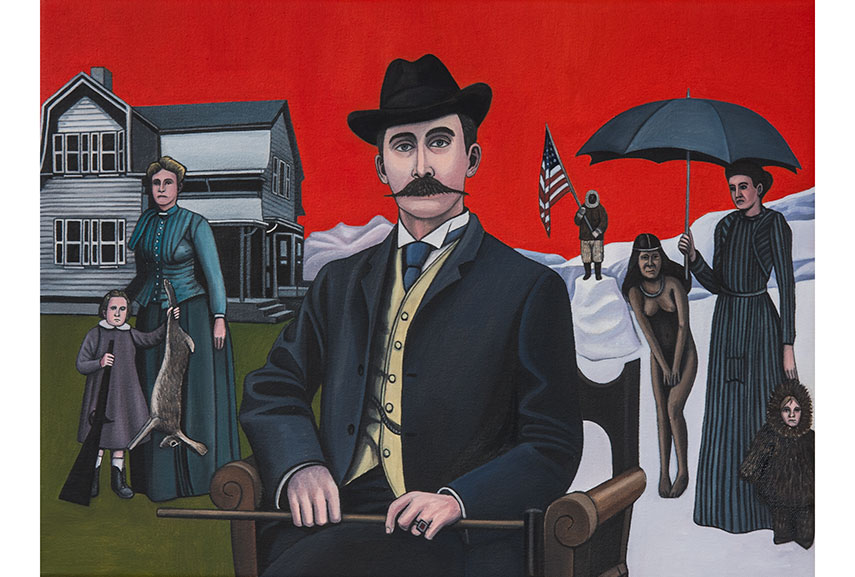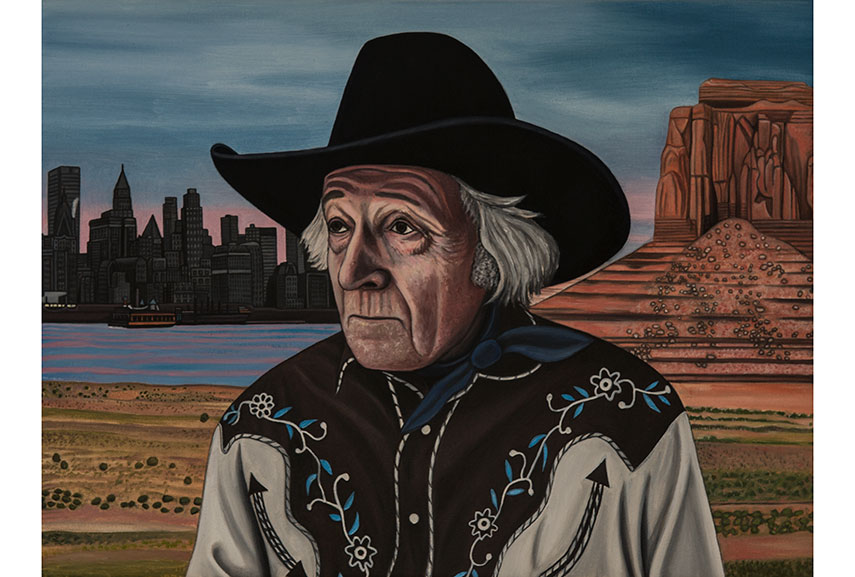 All images courtesy the artist.