EINE in Jail
Having been arrested fourteen times at the tender age of 14, under the accusation of graffiti vandalism, Ben Eine has grown into a legal street art practitioner and one of the most influential figures in typography art today. His illicit actions stopped way back when a group of his fellow writers was arrested and sent to prison. Since that time, the British street art whiz developed into a permit seeking artist, whenever he desires to create a public piece. With all that being said, the latest move of the street art ace is not in any way surprising, although it is worth the praise. Ben Eine was invited by the warden, Antonio Cuin, to execute a large prison art piece in the yard of Rikers Island Juvenile Detention Center as a part of the new motivation program for the young prisoners. The biggest curiosity is that the artist paid for the mural himself.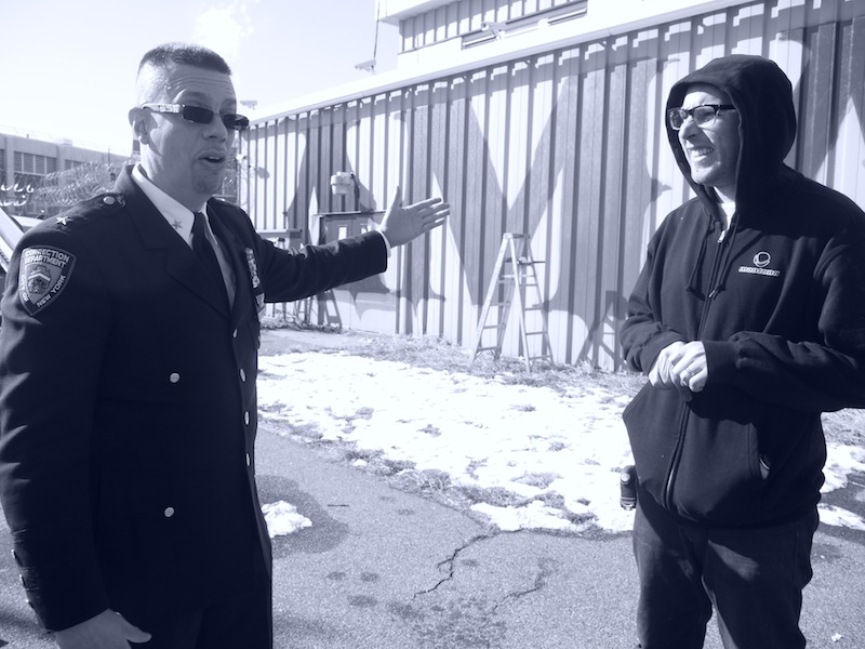 Rikers Island Juvenile Detention Center
Rikers Island of New York has a bad reputation. It is the home of a huge prison complex, housing ten separate jail facilities. The reports of prison violence, rapes, riots and killings never seem to stop, and in 2013 alone there were 73 assaults with cold weapons committed there. Notorious for its brutality, Rikers Island houses one of the biggest correction center for minor delinquents, who are sent there for any number of reasons, as the majority is stripped of any chance of a decent future. General notion of correction facility is that it should offer the program of reform, but in practice this is rarely the case. This is why various animation projects are conducted, for if only one young inmate responds well, then they are worth the effort.
AMAZE Video
AMAZE
Ben Eine painted on the back of the prison gym with the help of his three assistants. He was in luck to find a warden who is a graffiti fan himself, and who permitted this unusual project to be conducted on the premises, even more so since the general idea of graffiti is often associated with illegal actions. The giant word AMAZE now adorns the prison wall, addressing all of those who look into tomorrow, hoping for the better. The word is packed with the unsaid messages of optimism and support, as the recognizable Eine style frames the prison art piece perfectly. Having mixed feelings about painting in the place that locked down many of his fellow writers, Eine left no signature, but names of his friends who were arrested for the same thing he is doing legally today.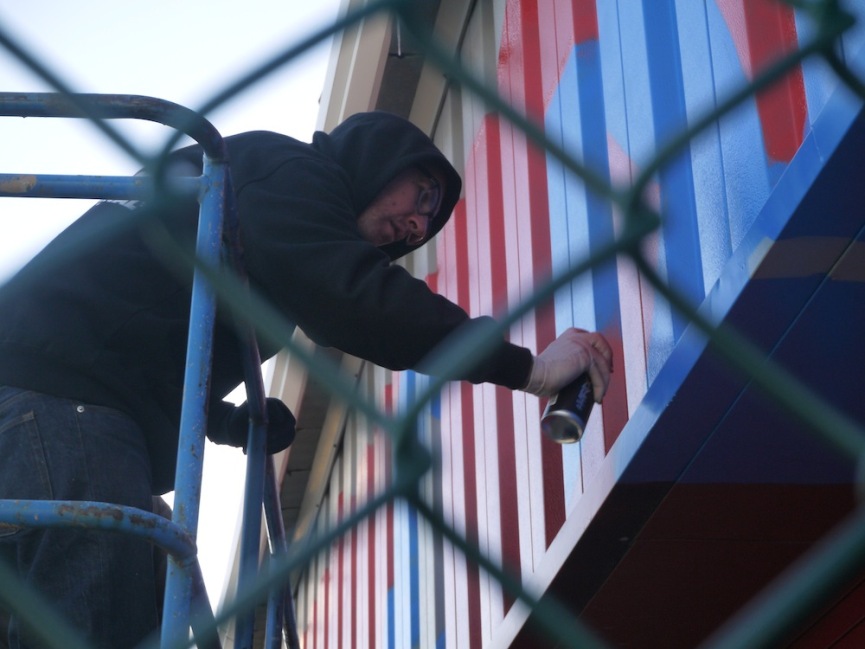 This is not the first occasion Ben Eine performed in what is considered to be a dangerous environment. He did a piece on the West Bank Barrier, along with Banksy, which was a considerably more perilous affair. Eine was also not the first to be invited by rthe warden to do a piece inside Rikers Island Juvenile Center. Work of JR covers the entire exterior of one building, and REVOLT painted an eager mural that caused some turmoil, so it was quickly erased. Antonio Cuin stated that his goal is to change the adolescent inmates in the positive way and to motivate them to draw and be creative, and to stop thinking about doing crime. Thanks to this warden who is thinking outside the box in his efforts to make a change, Rikers Island Juvenile Facility is the only prison who has graffiti art in it. Finally, this British street art activist, whose art was presented to Barack Obama by the British premier, David Cameron, did not only paint a mural. He conjured a source of inspiration for all the locked up kids looking forward to a future.