Benjamin Bichard Exhibition Opening Soon at Galerie Geraldine Banier
Evolutionary biology tells us that mimicry is a similarity of one species to another, evolved to protect one or both. But going much against the commonly perceived notion that mimicry addresses only the visual aspects of sensation, this similarity can actually be in appearance, behaviour, sound or scent. The evolution of it is driven when a group of mimics evolve to share perceived characteristics with the models. Benjamin Bichard is a French contemporary artist who focuses on camouflage and the development directed by the selective action of a signal-receiver (dupe) in order to imitate nature and remind us of its emanating, inborn grace. He designs deeply alluring items inspired by cohabitation's emergent property to blend, and apparently dissolve from sight, objects which inhabit the same territory for extended periods of time. In his works, as in nature, three players are included: imitator, imitated and deceived. As a measure of backup for comprehension, Bichard developed his coevolution strategy with everyday objects. Artist's nostalgia birthed by our separation from nature is evident through his references to the sort of "naturalistic pastiche". He evolves sculptures based on usage of common objects that he adapts to curious consumer products, and in doing so spawns new forms by means of aggregation, torsion, cutting and joining. These transmogrifications disclose to us the aesthetic capacities of everyday objects. Benjamin acts out a new, attractive, form of artisanship, one that questions the canons of art history.  And from the middle of March, Galerie Géraldine Banier will be presenting the Frenchman's solo exhibition.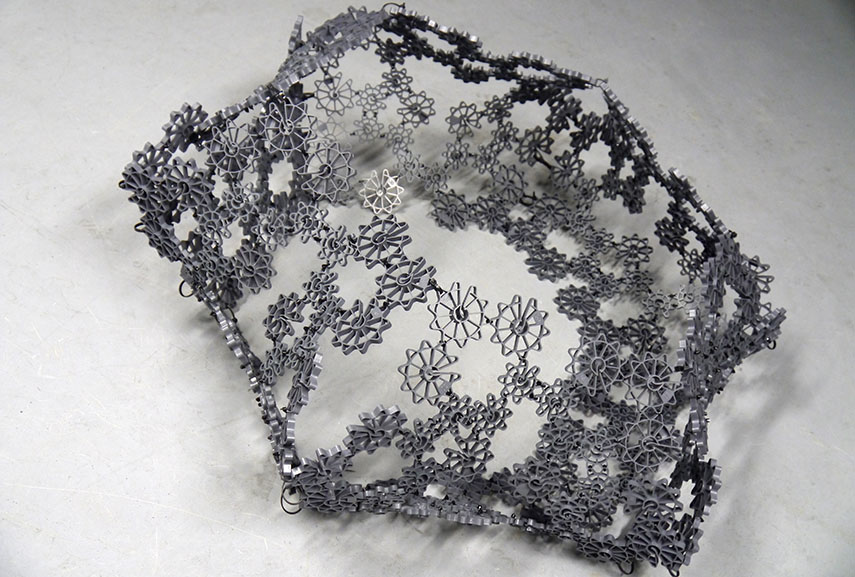 Benjamin Bichard, Beauty in Everyday Objects
Benjamin Bichard keeps track of a multitude of forgotten and common items and makes them seem "organic" and new. Crude and useful objects, objects for which, due to the fact we use them daily, we lost sight for, are made anew. Further inspection of his sculptures, like crystal chandelier and dripping fountain erected at the center of a gallery, reveals that, for us, their past forms had no obvious intrinsic beauty, a beauty that comes fully revealed by simple means of camouflage. The fountain sponges are synthetic and the chandelier is made out of plastic knives. The visual illusion is very effective and compels the observers to rethink their views of the objects that inhabit our daily lives. They remind us of negative strength that mass production and serialism exude upon our appreciation for the simplistic beauty of common objects, the fragility of life and invaluable banality of days that accumulate. Bichard rightfully recognizes that those objects witness the most intimate acts of our lives, and breathes in them new values that force us to, once more, appreciate their refinement.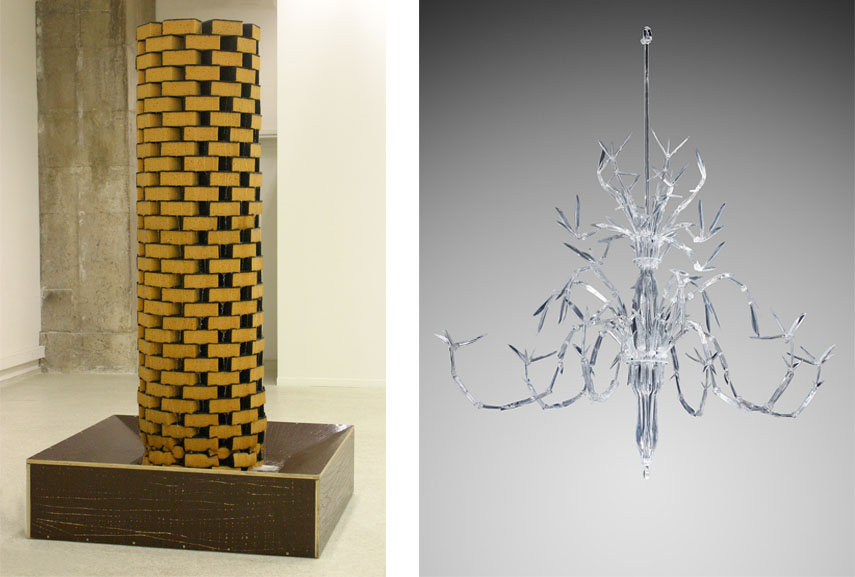 Forsaken Simplicity
Pencil peelings covering the bench, the smell of ligneous flakes, the sound of a pencil sharpener and abstract flowers we unintentionally made by discarding the wooden shavings, all remind us of our carefree childhoods and delicacy we have so easily forsaken. Accessing Bichard's world feels as if we are recovering lost time and are filling in the void made by the absence of adolescent innocence, it dissipates with time and makes us feel like coming home. Just like chrysalis the butterfly leaves behind disappear, we tend to forget the very existence of the tracks that preceded our venture into adulthood that brought with it a complete loss of appreciation for innate beauty that simple, palpable objects radiate.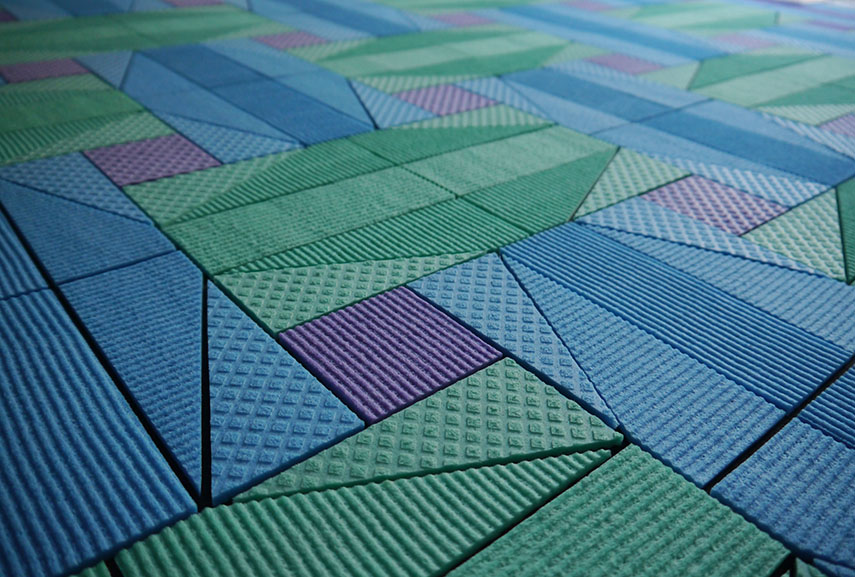 Benjamin Bichard Exhibition at Geraldine Banier
With an obvious tendency for monomania, the artist accumulates all things disposable and stands at the pulpit giving praise to the beauty of insignificant and ephemeral. The show will be available for all to witness starting on March 17th and ending on April 23rd, 2016, at Galerie Géraldine Banier, Paris.
Featured image: Benjamin Bichard – Confidence, 2016. Wood,pencil,peelings, 90x152x65; Crapaudines, 2016. Plastic, variable dimensions. All images Courtesy Of Géraldine Banier gallery