Is Beyonce a Copycat - Is this Another Proof of her 'Borrowing' other Artist's Ideas?
Beyoncé's new album Lemonade has already caused quite the stir, from racial and political debates surrounding her first released single Formation to the exclusive Lemonade film that has been recently aired on HBO. The official album release has set the Internet on fire, as fans were dissecting the lyrics of her new single Hold Up to reveal the details of Jay Z's supposed infidelity. The video for the single caused no less drama and it has already inspired numerous articles, debates and memes, but now it became the focus of accusations of plagiarism. And this is not the first time Beyoncé is facing accusations of stealing somebody else's work.
Beyoncé's Hold Up and Pipilotti Rist's project Ever Is Over All from 1997
A Striking Similarity
The infamous video for the single Hung Up shows Beyonce walking down the streets of what seems to be New Orleans wearing a couture dress and smashing cars joyfully with a baseball bat. With explosives going off in the distance as her rage builds up, the video is certainly a spectacle. It now appears that these scenes are not that innovative or original, since Bey has been accused of stealing the visuals from Swiss artist Pipilotti Rist's project Ever Is Over All from 1997. Rist's video project shows the artist walking down the street in a flowy dress and smashing cars with an oversized flower. With a lot of minor differences, the general angle of these two videos is alarmingly similar, with somebody even making a side-by-side comparison.
Pipilotti Rist – Ever Is Over All, 1997
Beyoncé The Copycat
These speculations are following previous plagiarism accusations Beyoncé has faced. In 2011, the leading choreographer Anne De Keersmaeker has accused her of stealing her dance moves in the video for Countdown. Later that year, she was accused of copying a Lorella Cuccarini production for her famous Billboard Awards 2011 Who Run The World (Girls) performance, which led to Beyoncé admitting she has been 'inspired' by the said production. In 2014, Hungarian folk singer Monika Miczura Juhasz aka Mitsou, accused her of using an unauthorized vocal sample of her song Bajba, Bajba in her song Drunk In Love. Even the single Formation caused controversies in February this year, as two filmmakers claimed that Bey had used their documentary footage on New Orleans without permission, but the singer's camp denied the accusations claiming they had been paid.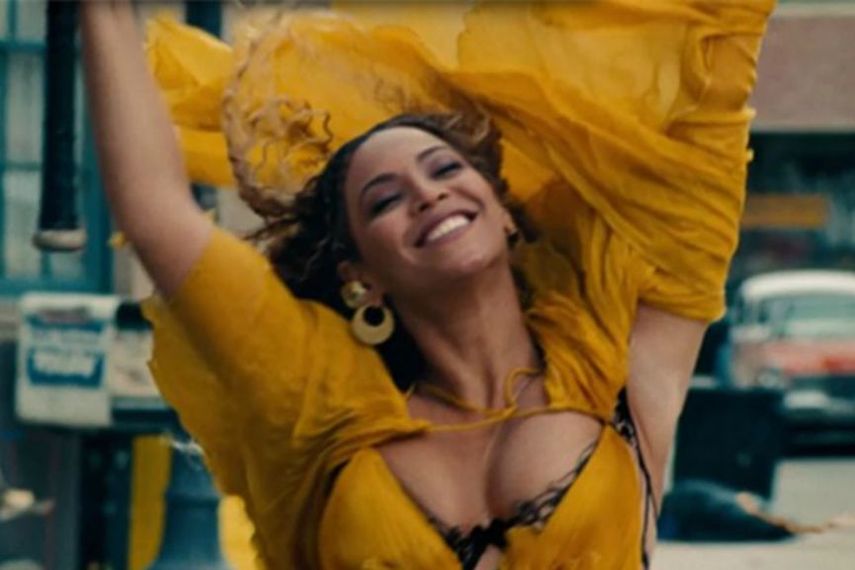 The Number One on The Charts
Beyoncé has yet to comment on the matter, but it seems she has bigger things to concern herself with, with her $450 million estimated Lemonade tour underway. Meanwhile, her new album has hit number one in the UK and US, her sixth album to do so.
Featured image: 'Hold Up' screenshot, via youtube.com