The 15th Biennale de L'Image en Mouvement. From Yuri Ancarani to Loulou Cherinet
Under the artistic direction of Andrea Bellini (Director of the Centre d'Art Contemporain Genève), in collaboration with Cecilia Alemani (Curator and Director of High Line Art, New York), Caroline Bourgeois (Curator of Fondation Pinault, Venice) and Elvira Dyangani Ose (Curator of the Göteborg International Biennial 2015), the Biennale of Moving Images 2016 featured 27 unpublished and ad-hoc productions, presented between 9th and 13th November 2016, is obviously worth visiting until January 29th 2017. The 15th Biennale of Moving Images featured an exhibition of multimedia installations at the Centre d'Art Contemporain Genève and Mamco, a series of performances at the Théâtre de l'Usine (TU) and inside l'Usine, premieres and encounters with artists at the Cinema Dynamo and Cinema Spoutnik.
Boychild, Wu Tsang, Emilie Jouvet, Pauline Boudry & Renate Lorenz or Phoebe Boswell projected works questioning the notions of gender, the female figure and empowerment. Artists as Salomé Lamas, Karimah Ashadu, Bertille Bak, Hicham Berrada and Bodil Furu investigate the exploitation of human and natural resources in various locations around the world. These projects, along with Yuri Ancarani's documentary on the exuberant leisurely activities of the Qataris and the anthropological researches made by Trisha Baga, Tracey Rose, Cally Spooner and Kerry Tribe, underline the polarities of our world. Additional new works by Sophia Al Maria, John M. Armleder & Stephan Eicher, Brian Bress, Loulou Cherinet, Massimo D'Anolfi & Martina Parenti, Alessio Di Zio, Jenna Hasse, Evangelia Kranioti, Cinthia Marcelle & Tiago Mata Machado, Boris Mitic and Emily Wardill have also been commissioned and produced for the occasion.
All of these performing artworks created a dialogue around today's world from an often feminine point of view. Moreover, the 2016 edition of the Biennale of Moving Images introduced the return of Generations: a prize aimed at encouraging young film directors studying in prestigious local and international art and cinema schools Following this call, projects 64 students' projects from 12 schools across the world were submitted and the winner has been invited to participate in the Biennale of Moving Images 2018, receiving a production grant of CHF 10'000. During the Biennale's inaugural days, Widewalls interviewed BIM2016 Artistic Director, Andrea Bellini, in order to get deep into issues, iconologies, geographies and, of course, narrations behind a very unique kermesse.
Biennale de l'Image en Mouvement 2016
The Story of the Biennale of Moving Images in Geneva
Ginevra Bria: Could you please define/introduce BIM 2016 through its three main aspects: as an art exhibition, a film festival and a movie producer?
Andrea Bellini: BIM, the Biennale of Moving Images in Geneva, has become a sort of hybrid event –as you say, it combines an art exhibition with a film festival, while also acting as a place for the production of new works, and it's also a performance festival. I believe that, in a sense, this hybridisation reflects the spirit of our times: artists – but also young film directors – who work with moving images no longer see any great differences between the various disciplines. Film directors often ask us to install their works in our spaces, while artists increasingly create works that are designed to be shown on one screen… This Biennale is designed as a platform that's open to everyone, where people can experiment freely with new ways of interpreting moving images. We don't pose the problem of having a curatorial "theme" – which I must say I find increasingly anachronistic – but instead we focus on producing new works.
GB: In 2016, what exactly has BIM become? Also, in terms of the reception of video art by different audiences, how has BIM improved since 1984?
AB: BIM 2014 was an important testing ground for us, for we needed to make sure we had got the new format right. It was a huge success, for not only did the exhibition travel but all the works we produced were then shown in dozens of other biennales, institutions and film festivals. This naturally encouraged us to continue along the same lines. In terms of its format, BIM 2016 is not different from that of 2014. The artists are different, of course, and this has naturally meant that the general atmosphere of the exhibition has changed. BIM 2014 was in a certain sense more spectacular – here I'm thinking of the works by Ed Atkins, James Richard, Jeremy Shaw and others. For BIM 2016 I chose three co-curators to select the artists and I asked them – all three of them women – not to neglect female artists. In the end, over 70% of the artists invited were women… I'd say this Biennale is to some extent more political, more focused on what's going on in the world today, but also with a sort of dark, mysterious side to it. It's as though the artists were intent on capturing the shadowy areas of the contemporary world, shining a light on a dystopic and sometimes rather worrying reality…
GB: For the artists selected, is BIM usually a relevant reference platform for international film festivals in Europe? Could you give some examples?
AB: Well, I certainly hope it is. Many directors of film festivals and cinema lovers came to the opening this year. The fact that all the works have never been screened before naturally generates huge interest in our event. We've become the place to go to when looking for new faces and for new works to show in the various film festivals – and not just in Europe – and this makes us think we're moving in the right direction.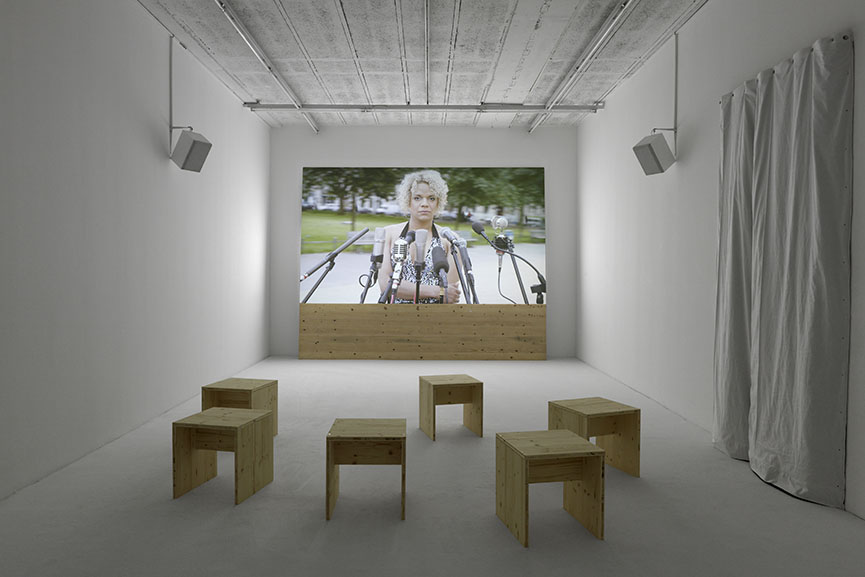 Promoting Female Artists
GB: Talking about the co-curators you selected, Cecilia Alemani and Elvira Ose, could you outline how they investigated women's art practices/worlds and, consequently, their vision of reality? Is it possible to detect some clear issues/themes/insights?
AB: As I was saying, I wanted a majority of female artists for 2016. I find it scandalous that, also in the world of culture, women artists are still a tiny minority when it comes to organising group exhibitions and large-scale events. The women who take part in BIM come from places and cultures that are very different from each other, which means we have a great variety of approaches and, strangely enough, there is also a common atmosphere. This is a biennale that has really very little interest in "formal" matters, taking a more empathetic approach to contemporary reality: it's a poetic and political biennale in the most noble sense of the term. We're showing stories of the most downtrodden on earth and of the exploitation of labour, but also stories linked to matters of gender, sexuality, and the rights of minorities.
GB: Producing 27 new movies, how did you manage/deal with the artists' copyright and what sort of support did you offer them? Could you give some examples?
AB: We're a curious exception even in the world of production, for we don't demand rights on the works we produce, we don't ask for fees when works are screened, and we don't ask the artists to give us the originals. We only ask them to give us screening copies for the city's video collection, which is in the hands of the Fond Municipal d'Art Contemporain. You could say we help provide free production, but then the works go their own separate ways, both on the cinema circuits and on that of galleries and museums, in the case of visual artists.
GB: Could you please talk about the international and institutional partners who actively interacted with the BIM 2016 programme?
AB: Producing – or even just co-producing – 27 works requires a huge economic effort. That's why I try to work with a number of parties who are interested in creating new works with us. Two partners who have been important for BIM 2016 are the Faena Art Foundation based in Miami and Buenos Aires, and Beatrice Bulgari's Between Art and Film. Both of them worked with us to put this enormous project together.
GB: How did Bertille Bak, Phoebe Boswell, Pauline Boudry & Renate Lorenz, Alessio Di Zio, Brian Bress and Cally Spooner enter into a dialogue?
AB: Our way of installing the works isn't necessarily based on the development of a theme, or on some formal relationship. Through a dialogue that goes on for months, we choose the spaces to meet the particular needs of the works to be shown. We could say that BIM isn't so much a group exhibition as a constellation of solo exhibitions. And that for various reasons and by some strange alchemy, the works also interact with each other. And, of course, they're works produced at the same time, for the same event, often on the same budget, which means there's a sort of shared atmosphere that's very consistent and suggestive. I find that the fourth floor that we've installed at Mamco, the museum that has so kindly offered us its premises, is very coherent, almost as though forming a single, organic unit – so there's talk, for example, of women's bodies as a place of political resistance, as an instrument of protest (Phoebe Boswell), and there's talk of gender issues and civil rights (Pauline Bourdy and Renate Lorenz), of the body in the capitalist system (Cally Spooner), and so on.
GB: BIM 2016 often investigates the limen between cinema, performance and video art: in your opinion, how is it changing over time?
AB: Everything's changing at the speed of light. New technologies are transforming us anthropologically. We're no longer who we were, and we no longer communicate in the same way. In this sense, the Biennale of Moving Images is the litmus test of the transformation that's under way – and thus an event that helps us understand not just where the world of moving images is going, but where the world itself is going.
Interview conducted by Ginevra Bria.
All images courtesy the Biennale of Moving Images 2016.