Therapeutic Value of Art at Black Book Gallery: Jeremy Fish's Anger Management
Artist Jeremy Fish was a stressed-out workaholic, often working ten hours a day before an aneurysm made him slow down. This condition forced the artist to change his habits, take anger management classes but also inspired his new exhibition. Anger Management solo show will be on display at Black Book gallery in Denver. The process of artistic creation helped Jeremy Fish manage his temper, stress and high blood pressure in order to avoid massive stroke or death. The exhibition will consist of artworks that were created between two brain surgeries recently undergone by the artist.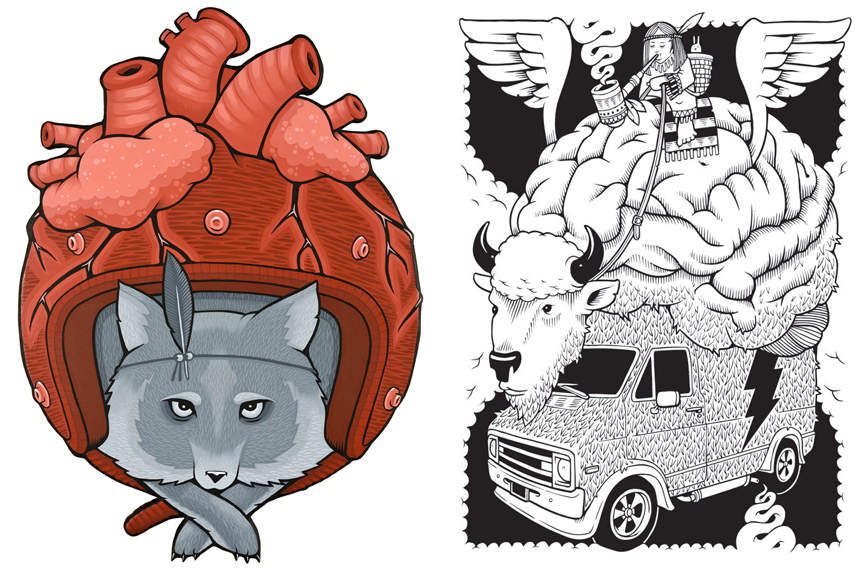 Artictic Healing Through Anger Managment
Jeremy Fish's works come from the need to heal oneself through the process of artistic creation. He is a clever storyteller and every one of his works has elements the people can identify with and an accompanying tale. With bold outlines and cute characters Jeremy Fish creates his fantastic worlds, where brains grow on trees and landscapes reside in belies. Cute animal characters in Anger Management works are entangled in gray matter and turned into helmets and vehicles. The upcoming exhibition presents a combination of things that upset the artist and those that relax him, the mixture of stressful and calming memories. Flesh like color is dominant but the artist also presents a series of black and white ink paintings and the monochromatic prints. Anger Management strongly depicts both fear and hope created by the potentially deadly medical condition. Jeremy Fisher is quite fascinated with social media and has dedicated works to them. Facebook, Twitter and Instagram are the artist's favorite because them make him less dependent of galleries and enable him to spread his artworks to millions of people across the world.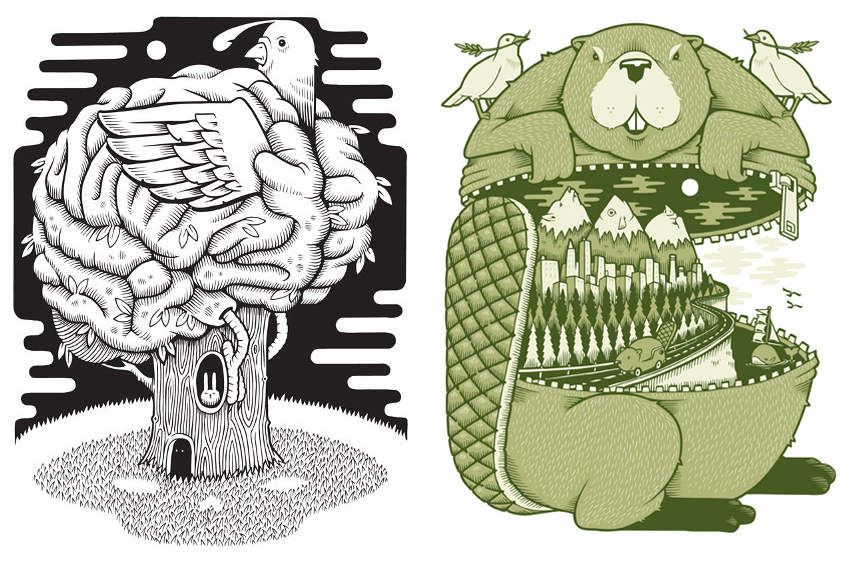 Adorable and Creepy Tales by Jeremy Fish
Jeremy Fish likes to tell stories using a variety of characters and symbols. His works are inspired by the cartoons from the seventies and skateboard graphics and often resemble the illustrations for the children books. Music and film are also a stimulants for the artist who often turns to rap and strange documentaries for inspiration. Jeremy Fish illustrates animals, characters and symbols underlining the need for balance between adorable and creepy. He masterfully employs fantasy while incorporating striking, anime-influenced imagery into his narrative artworks. His most recent source of inspiration is MRS Brown Cat Fish. Cute, new pet is often presented on Anger Management artworks while the artist tries to adopt its laid back approach to life .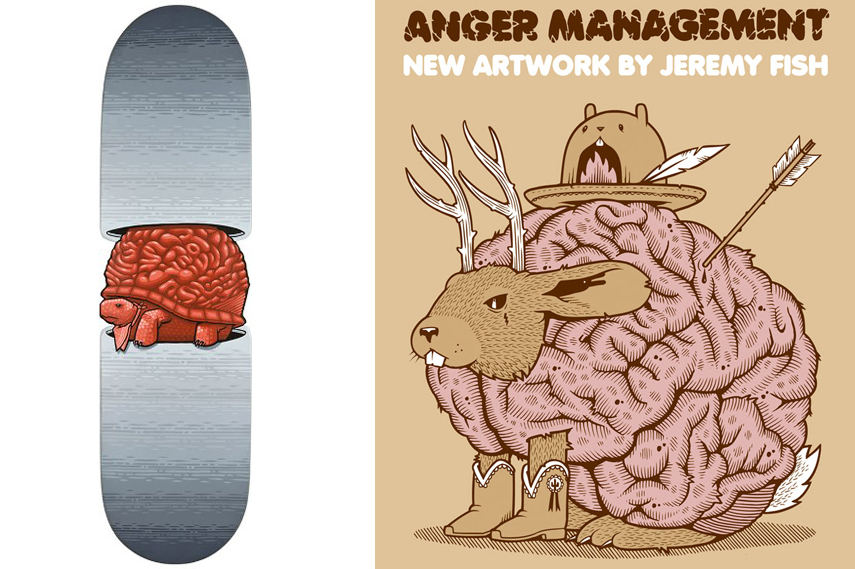 Manage Your Anger at Black Book Gallery
Anger Management show will open on Friday, July 3rd at Black Book gallery in Denver. Exhibition includes paintings and drawings but also a limited edition of skateboards, prints and full color zine. Public reception with the artist will be held on the opening day from 6 pm to 10 pm. Anger Management will present 18 new pieces inspired by the life changing diagnoses and anger management classes, that helped the artist rearranged his life and improve his health. Jeremy Fish's latest works will be on display till July 25th, 2015 in Black Book gallery in Denver.
Adopt a new daily habit and reduce stress levels for FREE by singing up for My Widewalls
Images courtesy of Black Book gallery