Artist of the Week - Blek le Rat
When Banksy says that his art originates in someone else's, he must be talking about an icon. And when being arrested for art doesn't stop one from finding the ways to make it, you know that nothing is going to stop them. Blek le Rat is the French pioneer of stencil art, a street art master whose work was both influenced by the New York graffiti style and picturesque architecture of Paris. His pseudonym has a lot to do with the first motive he happened to depict on the streets, and that was, obviously, a rat. Parisians will probably not forget the giant rat that he painted in their city, which had special symbolic meaning for Blek le Rat. Rats were inspirational to him because they are, like he said himself, the only free animals in the city, but they also spread the plague rapidly, and it is something he finds analogous to street art. Xavier Prou, which is his real name and we can now say it loud and clear because his identity was revealed back in 1991, continues to influence many street artists, and to amaze us all to this day.
The Father of Stencil Art Depicts Both Mice and Men
Blek le Rat now exhibits in galleries with greater frequency, but still he doesn't stay away from the streets either. He avoids using sprays, however. He rather chooses to express himself through prints, due to the legal problems he had in the past. The subject of his depictions has changed a bit, and we could probably find reasons for that in his maturity and experience. He is now more focused on questions that regard social consciousness, politics, and environmental problems. Through his human-scale, real-size stencils and prints, he continues to communicate with the public, but also to raise awareness of some important problems in the society, on a general and individual level. He seems to spend less time depicting rats and cats; instead he portrays beggars and refugees, ordinary people with real problems, and he also made posters of the journalist Florence Aubenas at the time when she was kidnapped in 2005.
Blek le Rat - Propaganda at Wunderkammern, Milan
"The rat is my emblem, it's my coat of arms" is what the artist once poetically explained. Blek le Rat does not hesitate to use sensitive words and to take on sensitive subjects, and that became evident on the very beginning of his engagement with the art world.. He adopts the possibility for street art to be both a state of freedom and propagation, and it is what his latest exhibition aims to demonstrate. Curators Giuseppe Ottavianelli and Jacopo Perfetti have prepared an exhibition of Blek le Rat's work, and it will be on view in Milan until March 5th, 2016. The exhibition is titled Propaganda, and it will focus on ambiguous meaning of the term. It showcases a collection of his most iconic and famous pieces from the past three decades, but also includes the brand new ones, and as a special addition to the collection, the artist will present the original stencils he had used in the past. It is a great opportunity for his admirers (and there must be many of them) to take a survey of his versatile yet consistent oeuvre.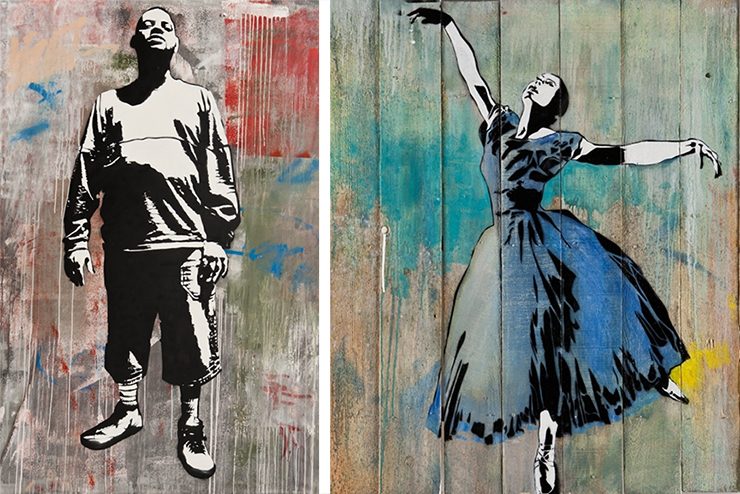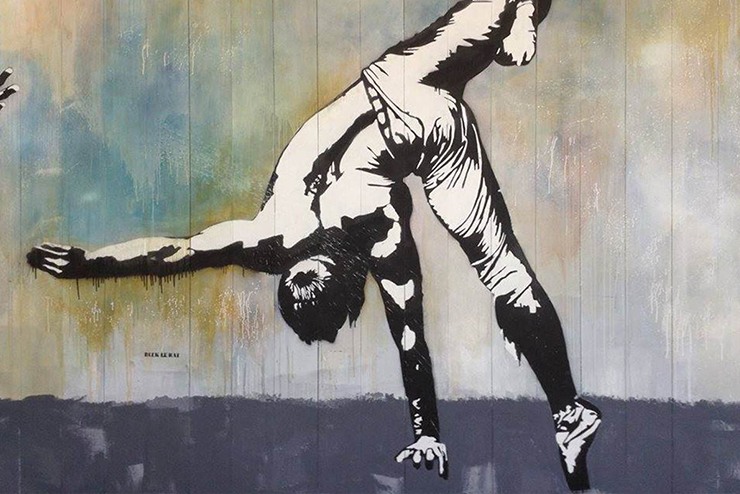 Featured images: Portrait of Blek le Rat, courtesy of the artist; Image of an abandoned Bagnac Castle where the artist works, courtesy of the artist; Blek le Rat – The Man Who Walks Through Walls, London; Blek le Rat – Space Cowboy.