Bonhams: Prints and Multiples
A rather unusual auction has been held on Wednesday, March 4th, in London, at auction house Bonhams. Under the name Prints and Multiples there were some works of Old Masters – for instance, Albrecht Dürer, Rembrandt Harmensz van Rijn and Francisco José de Goya y Lucientes – some 19 Century artists (Samuel Palmer and James Abbott McNeill Whistler, Camille Pissarro, Edouard Manet), a lot of works from the Modern period (Eric Gill, Robert Colquhoun, Henri Matisse, Fernand Léger, Marc Chagall, Salvador Dali, Joan Miró, Pablo Picasso, to name a few), but also several examples of Post-War (John Bellany, Karel Appel, Sir Peter Blake, Sol LeWitt, Zao Wou-Ki) and Contemporary art (Damien Hirst, Tracey Emin, Faile, Banksy, Zhang Xiaogang). In a word, a complete auction mash-up.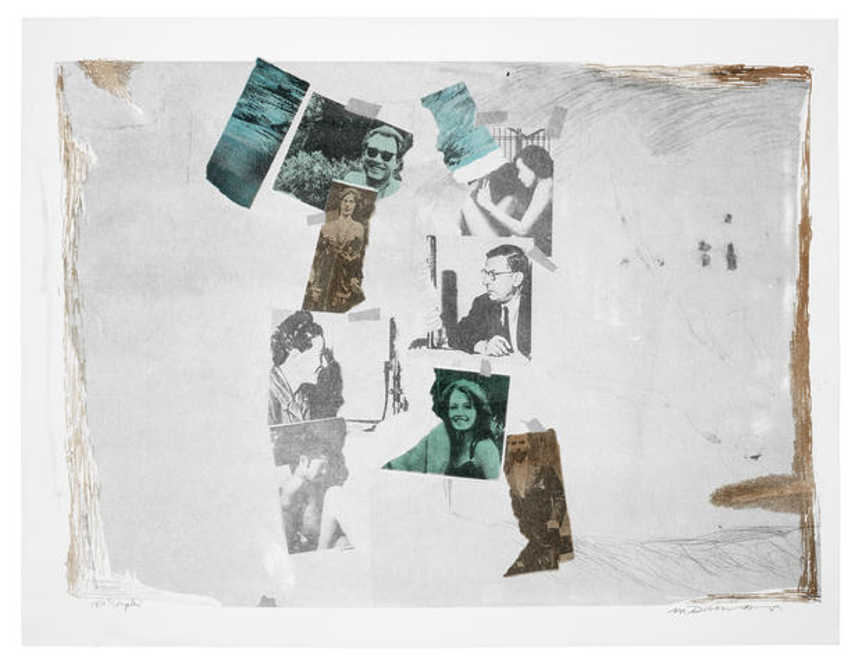 Characteristics of Bonhams: Prints and Multiples Auction
What could these kind of auctions mean for art collectors around the world? First of all, art works from many different period in one auction means that this auction will attract many different art collectors, and not just one specific segment of the art market. For instance, if this was only Post-War and Contemporary art auction, it would have attracted "just" Post-War and Contemporary art collectors – but the whole lot of them. Surely, this kind of an auction would have not attracted collectors of 19 Century art, let alone the Old Masters collectors – they are just not interested in Contemporary art: different kind of art, different people, different collectors. But, when you have this kind of auction mash-up, there is a chance that some (or many) of collectors won't notice it, so some of art works could go under the radar. That would mean that demand on that particular auction would be lower, and so would prices. And that is the way to get some valuable Contemporary piece of art, for a reasonable price.
| | |
| --- | --- |
| Sol Lewitt – Sette Stelle, 1984 (Lot 341) | Jim Dine – Imprint from Dorian Grey's Stomach, 1968 (Lot 347) |
Bonhams: Prints and Multiples Auction – the Overview
Although this auction had total of 351 lots, we won't concentrate on every one of them, but just on Contemporary and Post-War art pieces, and there were 89 of them. Out of these 89, 60 lots were sold, or 67.4 percent. Out of these 60 lots that were sold, 20 of them had hammer price above the high estimated price – 33.3 percent out of the number of sold ones, or 22.5 percent out of the whole lot of them. Then, 21 lots were sold in range of estimated values (35 percent of sold lots), and the rest – 19 lots – had their hammer prices under low estimated prices (31.7 percent of sold lots). In total, 60 art works that were sold achieved the total price of $117,094 – 6 percent lower than the sum of high estimated prices, but 37.4 percent higher than the sum of low estimated prices.
| | |
| --- | --- |
| Faile – Failing for Faile, 2009 (Lot 310) | Faile – Burning Bright, 2009 (Lot 305) |
Bonhams: Prints and Multiples Auction in Details
The best result at Bonhams on Wednesday had Banksy's work; actually, two of them – Golf Sale unframed and Have a Nice Day were sold for $10,727 each. Damien Hirst's Cephalothin was sold for $7662, and Zhang Xiaogang's Big Family (Girl) for $4,750. Two Tracey Emin's works was at number 6 and 7, as far as hammer price goes – his Kate Moss 2000 was sold for $3,524 and Sometimes I feel lonely, but it's OK for $2,911. The biggest difference between hammer and high estimated price had Paula Rego's Scarecrow (136.8 percent). Zhang Xiaogang's Big Family (Girl) was second (106.5 percent), while Nicolas de Staël's Mediterranée was third at 83.9 percent. José Parlá's St Giles had 81.1 percent difference, and Paula Rego's other work – The Baker's Wife I – had also 81.1 percent. On the other hand, Jim Dine's Imprint from Dorian Grey's Stomach didn't go very well, as it was sold with -74.9 percent difference between hammer and low estimated price.
Sign up now for My WideWalls and be up-to-date with contemporary and street art.
| Total number of lots: | 89 |
| --- | --- |
| Number of sold lots: | 60 |
| Sold lots [%]: | 67.4 |
| Number of sold lots over high estimate: | 20 |
| Over high estimate (Total) [%]: | 22.5 |
| Over high estimate (Sold) [%]: | 33.3 |
| Number of sold lots in range of estimated values: | 21 |
| In range of estimated values (Sold) [%]: | 35 |
| Number of sold lots under low estimate: | 19 |
| Under low estimate (Sold) [%]: | 31.7 |
| Results were under estimate spread of [%]: | 30.8 |
| Lot No. | Artist Name | Artwork Name | Low Estimate $ | High Estimate $ | Hammer Price $ | Hammer High Estimate Difference [%] | Hammer Low Estimate Difference [%] |
| --- | --- | --- | --- | --- | --- | --- | --- |
| 263 | David Hockney | In Despair | 2300 | 3100 | Not Sold | Not Sold | Not Sold |
| 264 | David Hockney | French Shop | 3100 | 4600 | 2758 | -40 | -11 |
| 265 | David Hockney RA | Illustrations for fourteen poems from C. P. Cavafy | 1200 | 1800 | 1302 | -27.7 | 8.5 |
| 266 | David Hockney | Portrait of Felix Mann | 1200 | 1800 | Not Sold | Not Sold | Not Sold |
| 267 | David Hockney | XIV Olympic Winter Games, Sarajevo | 1100 | 1500 | Not Sold | Not Sold | Not Sold |
| 268 | David Hockney | George Sand : Gustave Flaubert | 1200 | 1800 | 1379 | -23.4 | 14.9 |
| 269 | David Hockney | Room Full of Straw | 920 | 1200 | 1379 | 14.9 | 49.9 |
| 270 | Damien Hirst | Cephalothin | 4600 | 7700 | 7662 | -0.5 | 66.6 |
| 271 | Damien Hirst | For the Love of God; Beyond Belief | 920 | 1200 | 1302 | 8.5 | 41.5 |
| 272 | Damien Hirst | Happy Christmas (Skull) | 770 | 1100 | 1302 | 18.4 | 69.1 |
| 273 | Anthony Caro O.M. | Leaf Pool Vol unframed | 1100 | 1500 | Not Sold | Not Sold | Not Sold |
| 274 | Gilbert & George | The Red Boxers Cards | 1100 | 1500 | Not Sold | Not Sold | Not Sold |
| 275 | Gilbert & George | Pink Elephant | 1800 | 2800 | Not Sold | Not Sold | Not Sold |
| 276 | Paula Rego | Prince Pig and the Second Sister : Prince Pig gets married | 920 | 1200 | 1685 | 40.4 | 83.2 |
| 277 | Paula Rego | Turtle Hands | 770 | 1100 | 1149 | 4.5 | 49.2 |
| 278 | Paula Rego | Scarecrow | 770 | 1100 | 2605 | 136.8 | 238.3 |
| 279 | Paula Rego | Girl Reading | 770 | 1100 | 766 | -30.4 | -0.5 |
| 280 | Paula Rego | Unicorn | 770 | 1100 | 766 | -30.4 | -0.5 |
| 281 | Paula Rego | Girl with basin | 770 | 1100 | 766 | -30.4 | -0.5 |
| 282 | Paula Rego | Crying | 770 | 1100 | 766 | -30.4 | -0.5 |
| 283 | Paula Rego | Untitled | 1500 | 2300 | 1532 | -33.4 | 2.1 |
| 284 | Paula Rego | The Baker's Wife I | 770 | 1100 | 1992 | 81.1 | 158.7 |
| 285 | Paula Rego | Frightened Fox; Woman and Lion; Hypnotizing a Dog; Woman and Marabou | 1500 | 2300 | 1455 | -36.7 | -3 |
| 286 | Julian Opie | Still Life with Yellow, Red and Green Peppers | 1200 | 1800 | 1302 | -27.7 | 8.5 |
| 287 | Mark Wallinger | Ghost | 2300 | 3100 | 2758 | -11 | 19.9 |
| 288 | Antony Gormley RA | Bodies in Space (White) | 2300 | 3100 | 2298 | -25.9 | -0.1 |
| 289 | Tracey Emin | Death or Glory | 1500 | 2300 | 1149 | -50 | -23.4 |
| 290 | Tracey Emin | Sometimes I feel lonely, but it's OK | 1200 | 1800 | 2911 | 61.7 | 142.6 |
| 291 | Tracey Emin | Small Bird | 770 | 1100 | 996 | -9.5 | 29.4 |
| 292 | Tracey Emin | Kate Moss 2000 | 2300 | 3100 | 3524 | 13.7 | 53.2 |
| 293 | Tracey Emin | HRH | 770 | 1100 | 1379 | 25.4 | 79.1 |
| 294 | Jake & Dinos Chapman | Jake not Dinos; Dinos not Jake | 920 | 1200 | 1302 | 8.5 | 41.5 |
| 295 | Antony Micallef | We Come in Peace | 770 | 1100 | 1225 | 11.4 | 59.1 |
| 296 | Antony Micallef | Judgement Day | 770 | 1100 | 689 | -37.4 | -10.5 |
| 297 | Antony Micallef | Dirty Deluxe | 1500 | 2300 | 1685 | -26.7 | 12.3 |
| 298 | Antony Micallef | Lovemaker | 770 | 1100 | Not Sold | Not Sold | Not Sold |
| 299 | Antony Micallef | Uzi Lover I & II | 770 | 1100 | 735 | -33.2 | -4.5 |
| 300 | Antony Micallef | Minotaur Weapon | 1200 | 1800 | 1103 | -38.7 | -8.1 |
| 301 | Antony Micallef | Angel Bomber I & II | 770 | 1100 | 689 | -37.4 | -10.5 |
| 302 | Antony Micallef | Bomber Girl | 1200 | 1800 | Not Sold | Not Sold | Not Sold |
| 303 | Antony Micallef | Mythic Weapon - Improvised Minotaur | 770 | 1100 | Not Sold | Not Sold | Not Sold |
| 304 | Antony Micallef | Head : Self Portrait | 770 | 1100 | Not Sold | Not Sold | Not Sold |
| 305 | Faile | Burning Bright | 1200 | 1800 | 1225 | -31.9 | 2.1 |
| 306 | Faile | Faile Size Visions | 1200 | 1800 | Not Sold | Not Sold | Not Sold |
| 307 | Faile | Death Ends Faile | 770 | 1100 | Not Sold | Not Sold | Not Sold |
| 308 | Faile | Tender Forever | 770 | 1100 | Not Sold | Not Sold | Not Sold |
| 309 | Faile | Savage Dreams | 1200 | 1800 | Not Sold | Not Sold | Not Sold |
| 310 | Faile | Failing for Faile | 1200 | 1800 | 1225 | -31.9 | 2.1 |
| 311 | José Parlá | St Giles | 770 | 1100 | 1992 | 81.1 | 158.7 |
| 312 | José Parlá | One Eighty Fourth Street | 770 | 1100 | 1685 | 53.2 | 118.8 |
| 313 | José Parlá | World Touring Letter | 770 | 1100 | 1685 | 53.2 | 118.8 |
| 314 | Banksy | Golf Sale unframed | 7700 | 11000 | 10727 | -2.5 | 39.3 |
| 315 | Banksy | Have a Nice Day | 6100 | 9200 | 10727 | 16.6 | 75.9 |
| 316 | D*Face | A*Hole | 3100 | 4600 | Not Sold | Not Sold | Not Sold |
| 317 | Chiho Aoshima | City Glow | 920 | 1200 | 919 | -23.4 | -0.1 |
| 318 | Chiho Aoshima | Hot Spring | 920 | 1200 | Not Sold | Not Sold | Not Sold |
| 319 | Chiho Aoshima | Mushroom Room | 920 | 1200 | Not Sold | Not Sold | Not Sold |
| 320 | Chiho Aoshima | Piercing a Heart | 920 | 1200 | Not Sold | Not Sold | Not Sold |
| 321 | Chiho Aoshima | Japanese Apricot 2 | 920 | 1200 | Not Sold | Not Sold | Not Sold |
| 322 | Niki de Saint Phalle | Le Couple | 460 | 770 | 582 | -24.4 | 26.5 |
| 323 | Ger Van Elk | Adieu, a double perspective | 1200 | 1800 | Not Sold | Not Sold | Not Sold |
| 324 | Jörg Immendorff | Alles was ihr bekommt von mir | 2800 | 3400 | Not Sold | Not Sold | Not Sold |
| 325 | Georg Baselitz | Orange Eater (Kon-go) | 2300 | 3100 | Not Sold | Not Sold | Not Sold |
| 326 | Nicolas de Staël | Mediterranée | 1100 | 1500 | 2758 | 83.9 | 150.7 |
| 327 | Günther Förg | Alba | 610 | 920 | Not Sold | Not Sold | Not Sold |
| 328 | A. R. Penck | Spirit of Europe | 1200 | 1800 | 1225 | -31.9 | 2.1 |
| 329 | Antoni Tàpies | Relief Sable | 1800 | 2800 | 1838 | -34.4 | 2.1 |
| 330 | Antoni Tàpies | Objects | 2300 | 3100 | 2298 | -25.9 | -0.1 |
| 331 | Antoni Tàpies | One plate from Suite 63 x 90 | 460 | 770 | Not Sold | Not Sold | Not Sold |
| 332 | Antoni Tàpies | Senanque II | 1200 | 1800 | Not Sold | Not Sold | Not Sold |
| 333 | Antoni Tàpies | One plate, from Poems from the Catalan | 1200 | 1800 | 1225 | -31.9 | 2.1 |
| 334 | Antoni Tàpies | Untitled | 920 | 1200 | 842 | -29.8 | -8.5 |
| 335 | Marlene Dumas | Couples | 2300 | 3100 | Not Sold | Not Sold | Not Sold |
| 336 | Marlene Dumas | Portrait of a Young Nelson Mandela | 2300 | 3100 | 2145 | -30.8 | -6.7 |
| 337 | Marlene Dumas | The Magic Gardens | 770 | 1100 | 919 | -16.5 | 19.4 |
| 338 | Joseph Beuys | Initiation Gauloise | 770 | 1100 | 919 | -16.5 | 19.4 |
| 339 | Joseph Beuys | Aufruf zur Alternative | 770 | 1100 | 689 | -37.4 | -10.5 |
| 340 | Joseph Beuys | From the Eurasien Staff | 610 | 920 | 612 | -33.5 | 0.3 |
| 341 | Sol LeWitt | Sette Stelle | 1500 | 2300 | 1532 | -33.4 | 2.1 |
| 342 | Frank Stella | Les Indes Galantes V | 1200 | 1800 | 2451 | 36.2 | 104.3 |
| 343 | Alexander Calder | Flies in the Spider Web | 1200 | 1800 | 1685 | -6.4 | 40.4 |
| 344 | Sol LeWitt | Bands of Lines in Four Directions (Square Plate) | 1500 | 2300 | 1379 | -40 | -8.1 |
| 345 | Robert Rauschenberg | Promise | 2300 | 3100 | Not Sold | Not Sold | Not Sold |
| 346 | Christo | Surrounded Islands, Project for Biscayne Bay, Greater Miami, Florida | 1500 | 2300 | 1838 | -20.1 | 22.5 |
| 347 | Jim Dine | Imprint from Dorian Grey's Stomach | 610 | 920 | 153 | -83.4 | -74.9 |
| 348 | Jim Dine | Multicoloured Robe (for Seoul) | 1200 | 1800 | Not Sold | Not Sold | Not Sold |
| 349 | Zhou Chunya | Peach Blossom (Two figures) | 3800 | 5400 | Not Sold | Not Sold | Not Sold |
| 350 | Zao Wou-Ki | Untitled unframed | 1500 | 2300 | 2758 | 19.9 | 83.9 |
| 351 | Zhang Xiaogang | Big Family (Girl) | 1500 | 2300 | 4750 | 106.5 | 216.7 |
| | | TOTAL: | 126200 | 182300 | 117094 | -35.8 | -7.2 |
| | | TOTAL (Sold lots): | 85200 | 124610 | 117094 | -6 | 37.4 |
| | |
| --- | --- |
| Robert Rauschenberg – Promise (Foster 65), 1968 (Lot 345) | Jim Dine – Multicoloured Robe (for Seoul), 1988 (Lot 348) |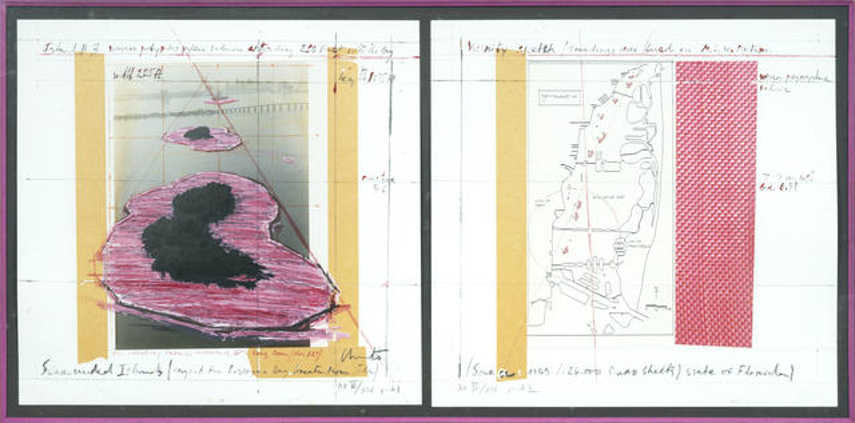 Featured image: Marlene Dumas – The Magic Gardens, 1984 (detail) (Lot 337) All images courtesy of Bonhams [mc4wp_form]