Bowry Lane 3
Walking down the Bowry Lane 3, a yearly group exhibition at the Judith Charles Gallery in New York, one encounters a variety of expression and media pertinent to the contemporary artistic practice. From vivacious, patchy mural, over humorous, yet gut-wrenching statements, to fleecy synthetic installations, viewer can relish in the spirit of the moment conjured by Jason Woodside, George Horner, Mauro Bonacina and Shoplifter. Two of the showcased creatives are represented by the gallery and the other two selected from the rich local scene.
Bowry Lane 3 is the place that satisfies the craving for eclectic contemporary art, on view through August 9, 2014, while opening reception is scheduled for July 16.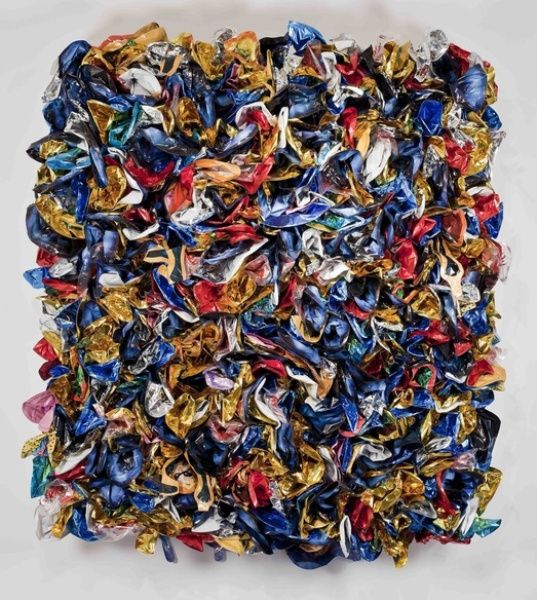 Mauro Bonacina
Versatile body of work of Mauro Bonacina delves into sculpture, painting and performance equally, while often combining media. His pieces investigate the significance of a single gesture, idea, or an object, focusing on extracting the dramatic value from the concept. His works are often absurd, yet always refined, never abandoning the aesthetics so universally related to the world of art. His Lost in Space III is made of thousands of deflated helium balloons, evoking their original purpose and the tendency to get lost in the sky if we release them for only a moment, while it simultaneously creates a new formulation of beauty, in which these aerial objects were never meant to dwell. The drama of losing one's joy has now been transformed into a joy of another.
Mauro Bonacina is a London based artist originally from Milan, present at the British scene since the beginning of 2000s.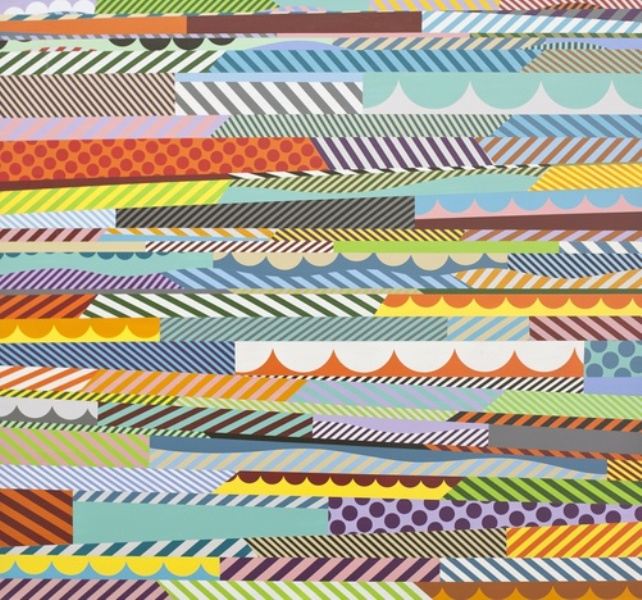 Jason Woodside
Exuberant large-scale patchwork created by Jason Woodside is perhaps the most visually imposing part of the show. The artist has so far adorned many indoor and outdoor spaces and merchandise with his kaleidoscopic visions, dispersing buoyant abstract messages on various levels. Founded on clear geometric patterns, Woodside's mural is carefully painted, while it explodes in color nevertheless, challenging the viewer to explore and dive into the imaginative world of sheer happiness. Patterns give his work a sense of order, as he follows them religiously and breaths life into it with color.
Somewhat flashy, yet decorative, Jason Woodside's work was included in collaborative projects with Adidas, Obey, Michel Roux, and the New Museum, to mention only a few.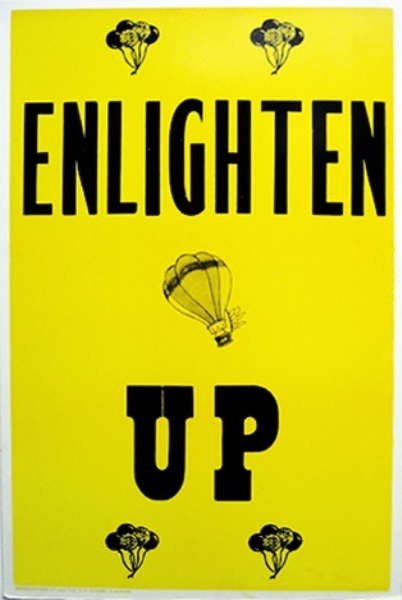 George Horner
Achingly funny. That is the oeuvre of George Horner, described in two words. Selecting a visual arts to convey his powerful messages, Horner delivers insults along with downers, all packed in a shiny wit, with an intelligent bow on top. He touches the deepest concerns and fears in everyone, mocking them gently, in such a charming way that laughter is an inevitable reaction. Oeuvre of George Horner consists predominantly of neon writings and posters, the latter exhibited at Bowry Lane 3,  uncompromising and even brutal in essence, putting even the snottiest among us in their place, or simply inviting the masses to – "enlighten up". The base for reduced style, focused on letter forms, is rooted deeply in the conceptual art movement, as Horner pays an homage to the father of concept, Marcel Duchamp, in one of his pieces. Since the mid-70s, this wonderful artist has been lifting the spirits of the art world across the USA and Europe alike.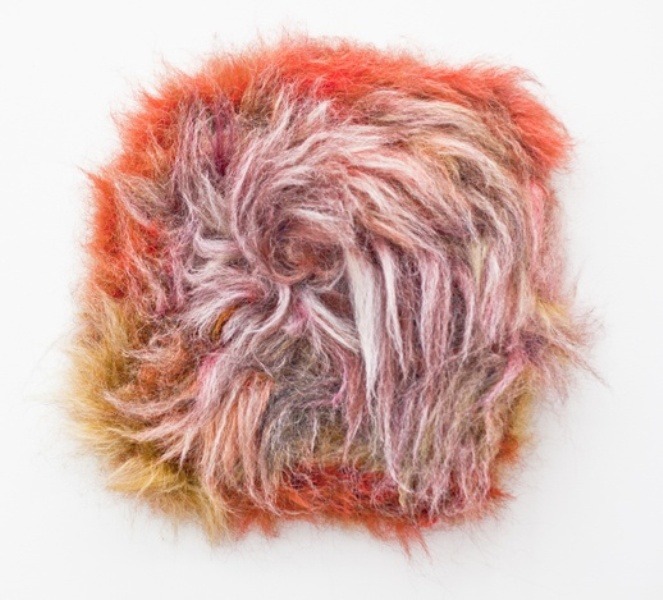 Shoplifter
Shoplifter is the moniker of  Hrafnhildur Arnardottir, an artist whose medium of choice is either synthetic or real hair. Her works at Bowry Lane 3 are warm and tactile, invoking fuzzy gut feeling and familiarity. Passionate about textile, Shoplifter has exhibited internationally and realized numerous collaborations, including the ones with  Björk, Adidas and the fashion brand VPL.