Brad Robson at Woodward Gallery
If you're wandering around New York these days you'll have a hard time missing one of Brad Robson's artworks as they are displayed all over the Big Apple. Woodward gallery has organized not one, but three solo summer shows by the Australian artist running simultaneously under the joint title Urban Screams. Apart from the 15 foot mural created on the walls of Woodward gallery Project Space, his canvas artworks are presented both at the iconic Four Seasons Restaurant and at the Gourmet Garage. Cityscapes, industrial zones and pop-culture references are a recurrent topic in Brad Robson's artworks but he's also known for depicting gestural portraits and food imagery.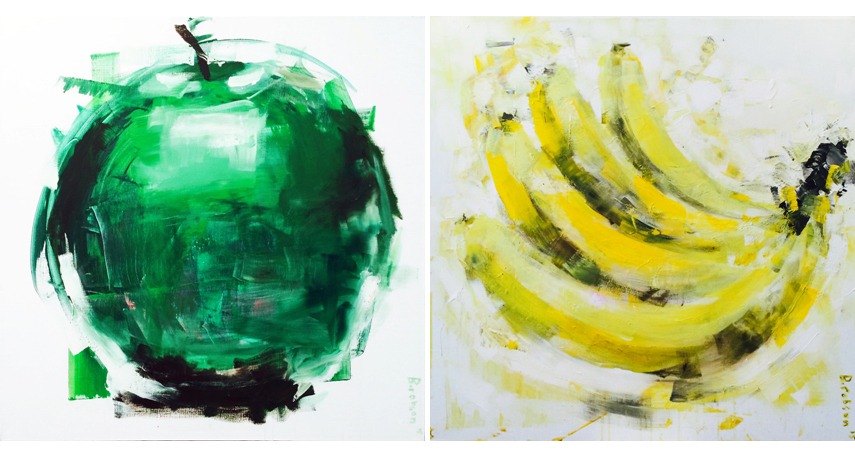 Brad Robson's Urban Landscapes
Brad Robson was born and currently lives and works in Sydney, the megalopolis that often inspires him. He has always believed that art should be intuitive and free a sort of an unrestricted process of portraying an instinctive vision. The years of experience in design has allowed the artist to quickly adapt to new mediums and various surfaces. While creating his lucid fragmented pieces Brad Robson uses squeegees, and other unorthodox art tools. The artist's unique style employs large strokes and vibrant colors to proficiently connect the shattered pixel-like pieces of his compositions into one.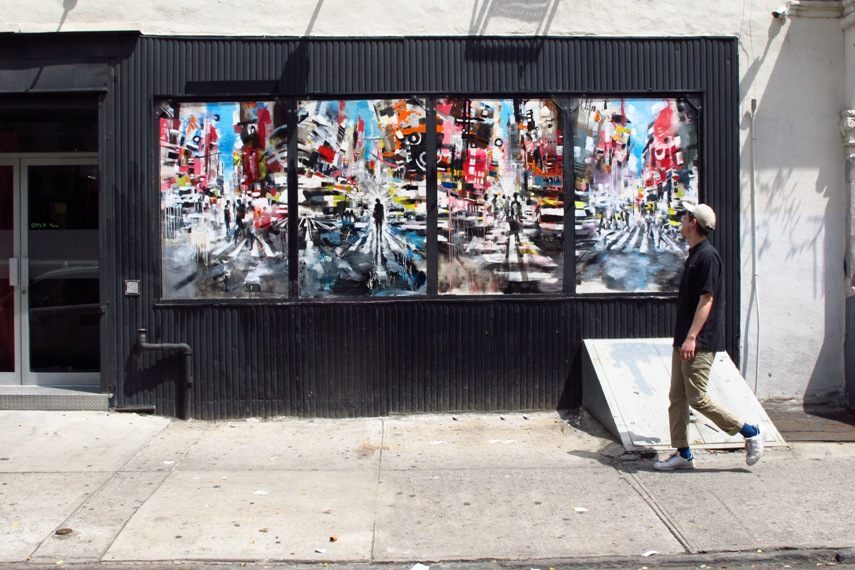 Urban Screams by Brad Robson
Brad Robson abstract artworks are inspired by the experience of living in a large city such as Sydney or New York in which artist recently resided. Large canvas paintings depict the megalopolis, as manifestation of energy and light. Brad Robson's artworks are vibrant and lively with a sense of urgency so typical for a big city. The focus of Urban Scream imagery is on perspective, as the artist places his lone subjects into a whirlpool of colorful background brush strokes. His urban landscapes represent snapshots of moments in time that deal with the felling of "being present". Emotions of loneliness and isolation prevail as Brad Robson's subjects roam the streets trying to find their place in the urban jungle of the metropolis. His abstract works are both striking and impermanent similar to ideas that linger in the air momentarily before they slip away from consciousness.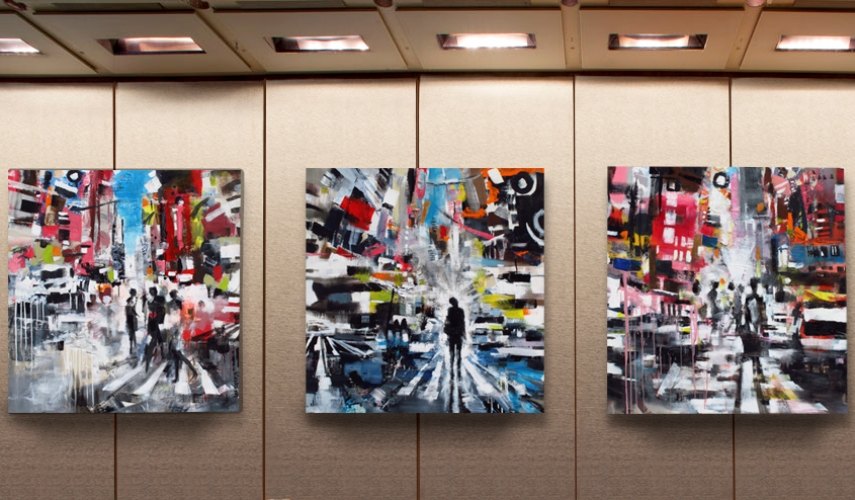 Three Simultaneous Solo Exhibitions in New York
Brad Robson's Urban Screams will be on display throughout summer of 2015. The exhibitions is currently featured in three separate locations in New York City. Brad Robson's mural is presented on exterior wall of Woodward gallery Project Space. Project Space is located directly across the gallery at Ghost, bar and exhibition space, that features exhibitions both inside and outside its walls. Four Season Restaurant will host the artist's large abstract canvases inspired by the urban culture of Australia in its Pool Room Mezzanine. Third exhibition is located at the street-level SoHo windows of Gourmet Garage and it features a series of Brad Robson's food paintings.
Listen to the Urban Screams every day by signing up for My Widewalls for FREE.
All images courtesy of Woodward gallery
Follow These Galleries
New York City, United States