B & B Winter Group Show
Bradbury & Blanchard Gallery in Sheffield opened its first Winter Group Show on December 12. The exhibition still runs through January 18th. The selection of artists includes some of the most wanted young creators from around the globe, and works presented encompass numerous media, from printmaking, illustration, photography and painting to animation and sculpture. B&B Gallery is open Saturdays 12-6pm, or by appointment during the week.
Artists
Artists represented at the Winter show are Aida, Amandine Urruty, Anacao, Asuka Ohsawa, Ben Suckout, Bob 2, Chris Jarratt, Daniel Sparkes, Dominic Kesterton, Emilie Taylor, Faunagraphic, Florence Blanchard, Ged Wells, Ghostpatrol, Giro Day, Hedof, Horphe, HuskMitNavn, James Green, Jan Garet, Jerome Campbell, Jo Peel, John Atherton, Jon Boam, Jon Cannon, Jonathan Wilkinson, Kid Acne, Kyle Hughes-Odgers, Mark Drew, Mina Hamada, Nelio, Nug, Ozzy Lister, Petro, RCF1, Russell Maurice, Sarah Hardesty, Sophie Alda, TADO, Tara Mcpherson, Theo Simpson, Tom J Newell and Zosen.
Artwork
This colorful and populated show offers a vast variety of small-scale artwork, directed toward public interested in purchasing contemporary urban art. There are drawings, prints, paintings on canvas and wood and other conventional and innovative representational techniques.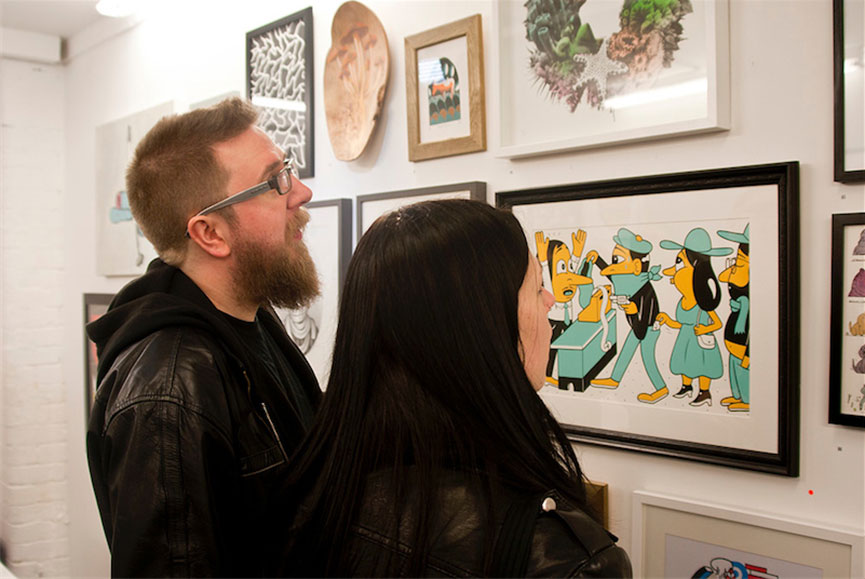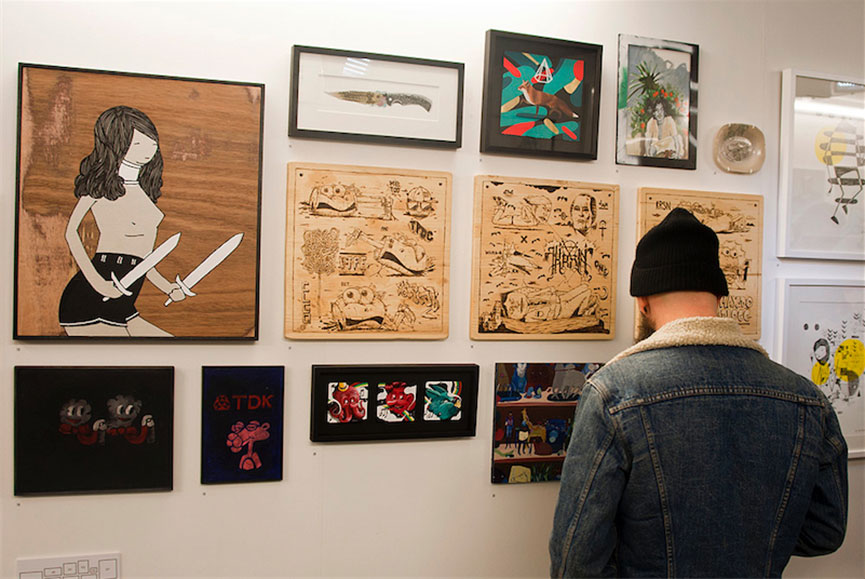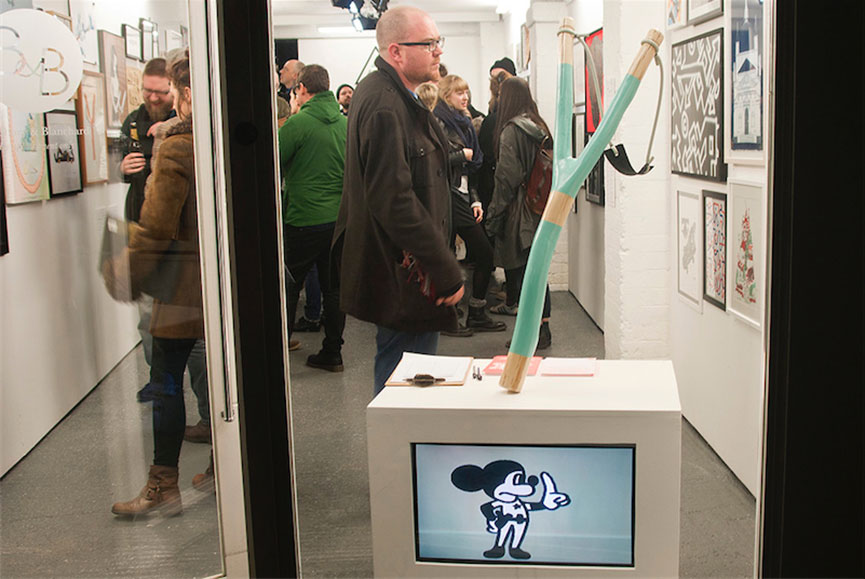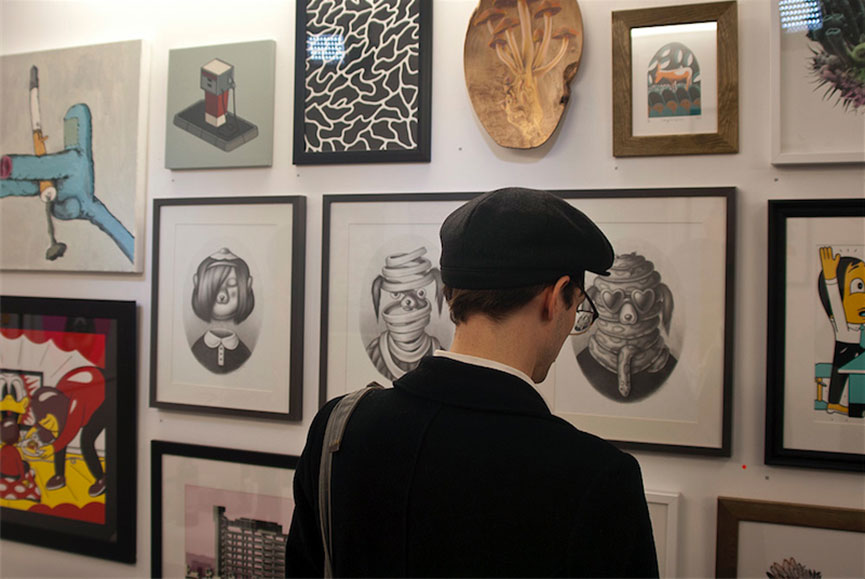 HuskMitNavn
One that is especially eye-catching among the presented multitude of interesting artists is Dane, HuskMitNavn. He is represented at the show with several of his signature pieces,  TV Dinner being one of them. This hand-pulled screen-print is an ironic commentary on the current culture of overprotecting and adoring children, who get spoiled and, practically, raised by TV. HuskMitNavn made an impact on his local and global art scene with his witty and politically colored, controversial images. His characters came from the world of comics and cartoons, they are both naive and reminding of the harsh social problems that are happening globally. He uses a number of different methods to portray his ideas, from graffiti street art, to illustrations, prints, drawings and interior/exterior murals. HuskMitNavn (Remember My Name) operates from his native Copenhagen, Denmark.
Bradbury & Blanchard – Background
Bradbury & Blanchard is an artist run screen print studio that also has a residency program. The gallery is orientated towards promoting work of emerging and acclaimed contemporary artists by the means of collaborative editions, exhibition program and global projects.
Pictures retrieved from: Bradbury & Blanchard
Follow These Galleries
Jersey City, United States