Free Light - US Premiere Solo Show by L7m
Romantics, as much as activists, have always been creating in the streets with an approach just as socially conscious, but leaning onto idealistic views instead of irony. Brazilian street artist L7m is one of these romantics, born to enliven dull city walls with vibrant depictions of birds, breathing life into inanimate areas. Californian C.A.V.E. Gallery showcases street art based work, and it brought to the United States' public the inau gural show by Brazilian street artist in the country. The exhibition was titled Free Flight, opened on January 11, it will soon close this Sunday, on February 2.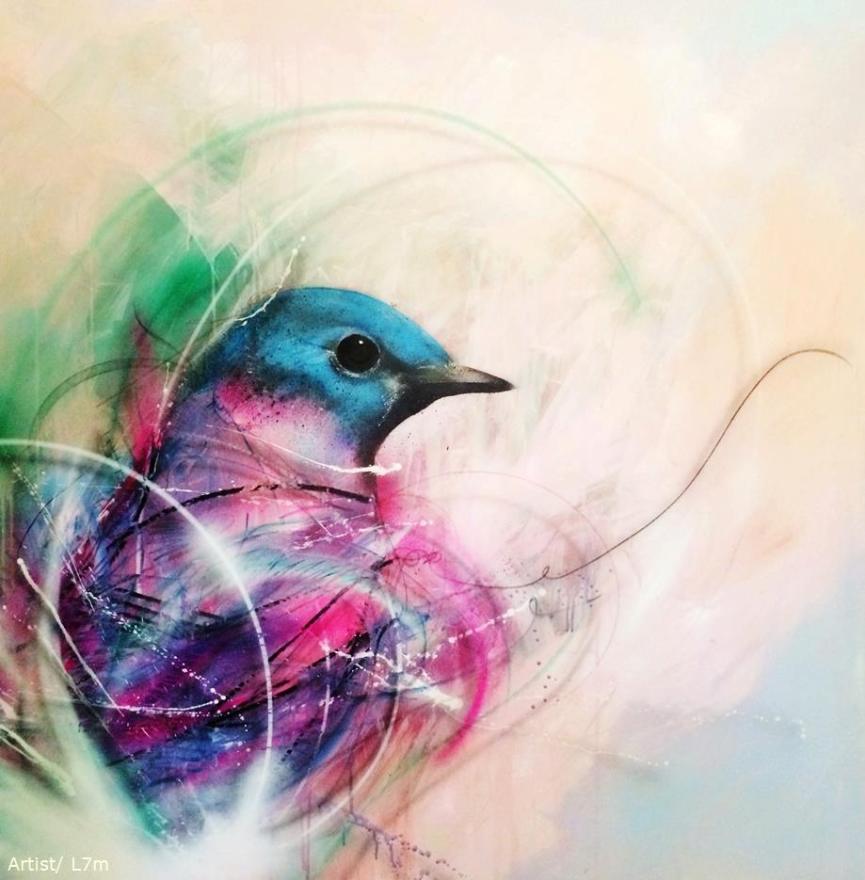 Representational, but expressive L7m's depictions of feathered creatures have been noted by urban art enthusiasts around the globe during a relatively short period, while major part of L7m artwork has been executed on the street, in the cities worldwide. His lively pictures, packed with energy, contain a strong reference to nature, freedom and beauty, they change the depressing and chaotic atmosphere of cityscape, and are a wonderful addition to highly prolific Brazilian street art scene.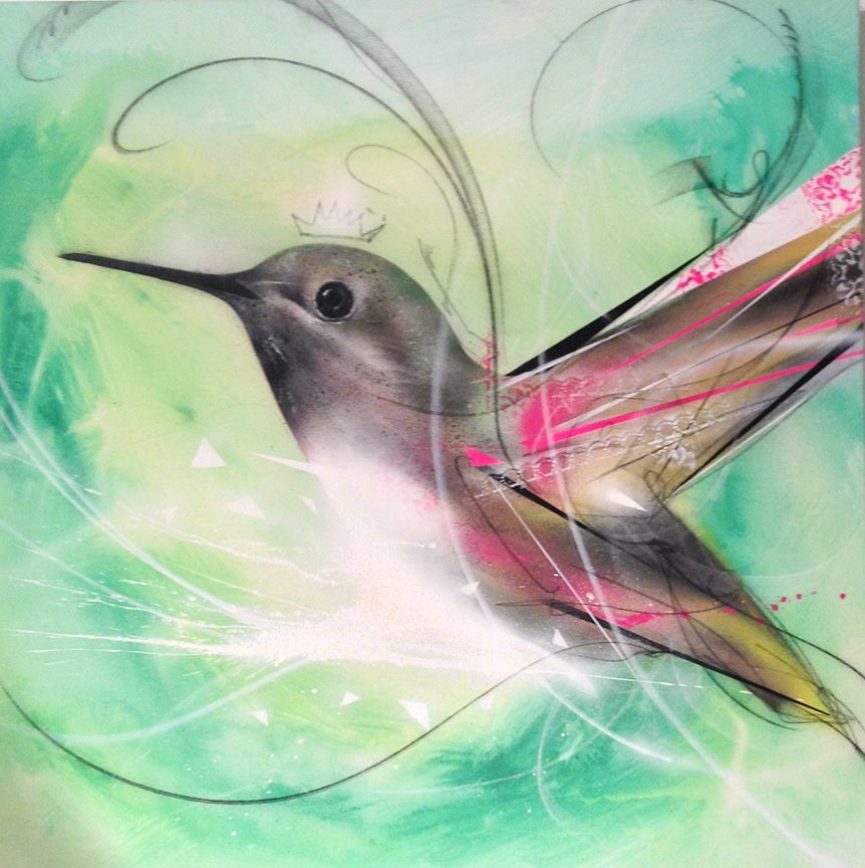 Free Flight exhibition
Free Flight exhibition at C.A.V.E. showcases 6 new canvases by L7m, transferring his pictorial dynamics onto studio painting size and introducing a somewhat smoother naturalistic traits than his street art work. Storms of bright color deliver realistic portraits of imaginary birds, delicately drawn and toned down in chromatics, trying to vitalize the beauty that is hidden in polluted city confusion. The L7m skill with aerosol technique is impressive. He uses the advantages of the medium to emphasize the best characteristics of his art, in soft color transitions and blends, in big strokes and sheer light radiating from his pieces.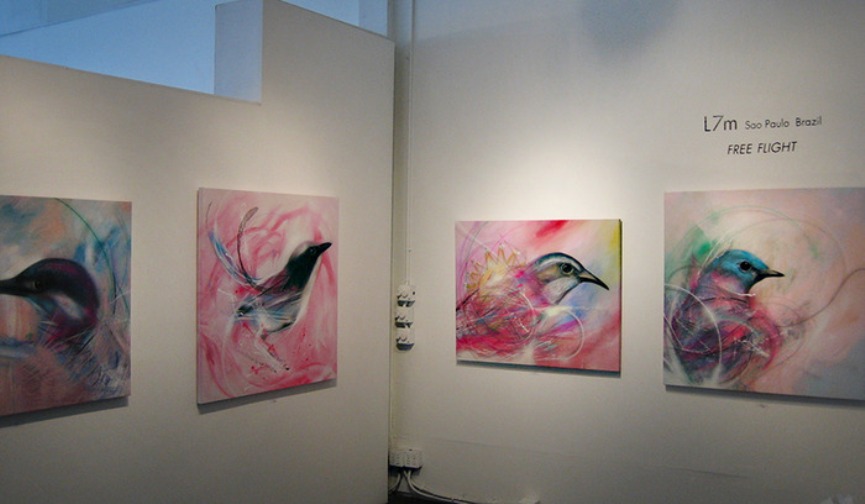 L7m – Background
L7m was born and raised in the outer area of Sao Paulo, and since childhood he was always drawn to art. At the very start of his teens, he became acquainted with spraycan technique, opening him up to other free media and experiments in ink, latex, pastels and acrylic color that came later. Deeply struck by the chaos and injustice of the urban turmoil of Sao Paulo, he started acting as a street artist, attempting to express his revolt and to bring some light into Brazilian streets. His gentle animal depictions strongly contradict the geometric elements of his works, emitting opposing expression, as he tries to invoke various feelings in the viewer by the bold use of color. L7m is oriented toward independent work, commissions and free urban practice, while his urban actions remain a stunning addition to Brazilian street art.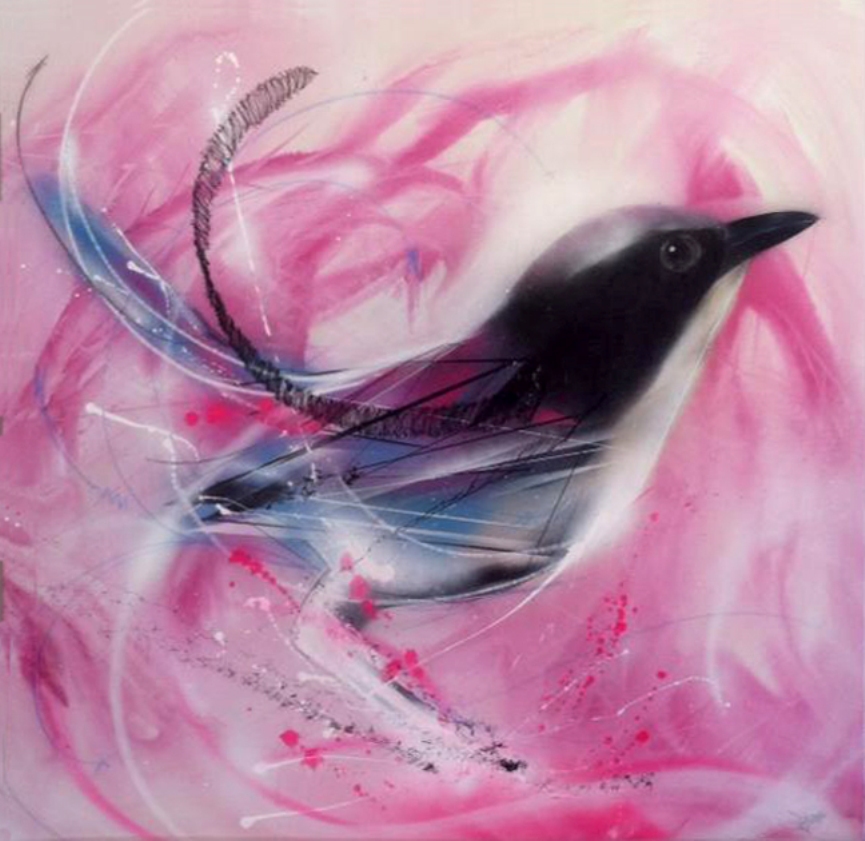 C.A.V.E. Gallery
C.A.V.E. Gallery is dedicated toward promoting the new contemporary art movement, urban art and street art work, executed by both emerging and established creatives who seek to expand their individual artistic limitations. Exhibitions at C.A.V.E. are put on monthly, always showcasing fresh artists who create in many different media, selected from the international contemporary art scene.
Follow These Galleries
Dortmund, Germany

London, United Kingdom