Bricksy.
How many times have you seen a LEGO display and thought – I want this? Even those who did not play with these magical toys as little must admit the limitless fun potential the small bricks provide. Exactly this potential, as well as their versatility, were reached by an award winning photographer Jeff Friesen and his daughter as they were making a series dedicated to one of the greatest street artists of our time – Banksy.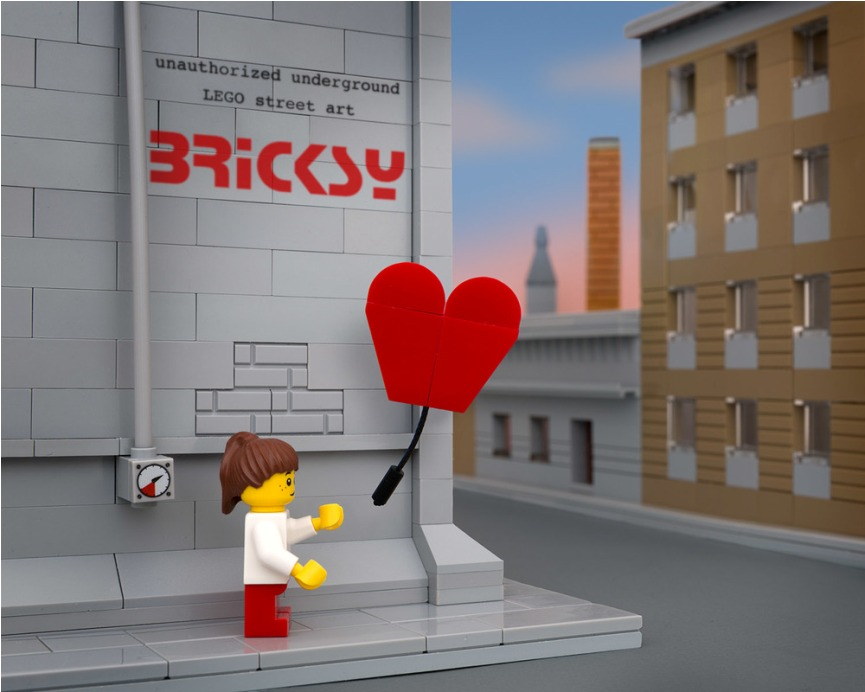 Banksy in LEGO
Cleverly entitled Bricksy, the latest photographic series by Jeff Friesen (and June) brings to life 20 most famous street art works of the famous artist, by creating small dioramas with LEGO. Bricksy is here represented as "an edgy, underground LEGO street artist, rumored to have inspired Banksy's iconic works". The witty word-play is here allowed, as the game ends making everybody, not just the photographer's kid, very happy.
The inspiration for the diorama work came to Friesen as he was spending time playing with his daughter, and while his childlike self loved the fun, his grown-up self needed to make use of it. The series resulting from this game is not only a wonderful homage to Banksy, but the best ever portrayal of joining work and play.
The first photo session Friesen made was using dollhouse furniture and plastic animals as diorama subjects. LEGO was picked as the best toy to photograph in summer 2013, and the series dedicated to the artist's hometown of Winnipeg, Manitoba and other followed. Along with the Bricksy series, this Canadian creative made a large series depicting the 50 USA states, since the Canadian states allowed him only 10 photographs.
The states series was finished last November, and since it was featured throughout the web, on the Huffpost, Wired, Buzzfeed, Mashable and ABC News.
Bricksy LEGO photographic series opens with one of the most spread Banksy images, the Balloon Girl. It continues to Banana Pulp, Bouquet Thrower, Kissing Coppers, Old Skool and many others, while it ends with Monkey Business. Not all of these dioramas follow the original Banksy pieces to the beat. They rather use these world-known images as inspiration, while creating the same atmosphere by arranging small LEGO figurines in particular situations. The result is smile provoking, but still engaged enough. Finally, this may be the best way to explain and bring closer Banksy, street art and engaged art to the kids.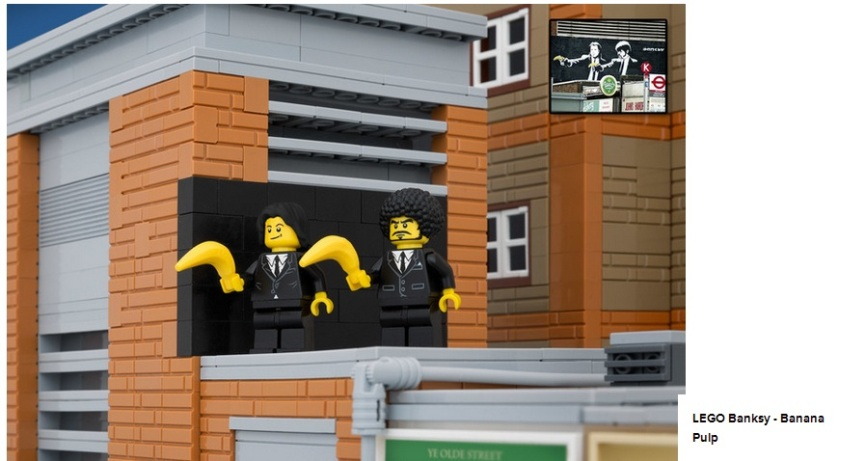 Jeff Friesen
Jeff Friesen is an acclaimed photographer based in Nova Scotia, Canada. His photographic work encompasses a wide variety of subjects, from vast, almost abstract landscapes, to contemplative depictions of natural phenomena and staged landscapes. He exhibited his photography in the USA, Canada, Europe and Japan, while his pictures were featured in publications such as America Photo, Popular Photography, Photo District News, Canadian Geographic, and National Geographic Adventure. His photographic series often start off as personal projects, before the artist sends them into the world.