Broken Fingaz in LA with Howard Griffin Gallery
Broken Fingaz latest exhibition, titled Journey Galactiko, is currently being hosted by Howard Griffin Gallery in their new showing space in Los Angeles. The exhibition opened on June 20th and it is the first time for Broken Fingaz to display their works in the U.S. This Israeli street art crew is taking us on a spiritual journey through their recent body of work inspired by their travelling experience from India to L.A.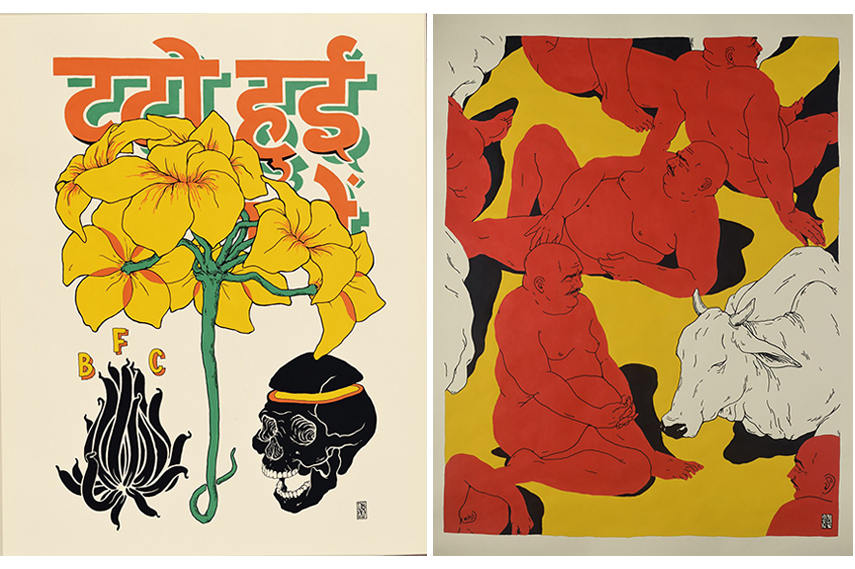 The Cultural Journey of Broken Fingaz
Broken Fingaz, Israeli artist collective has been present on the urban and contemporary art scene for more than a decade working on numerous projects in various techniques, from graffiti and mural painting, to poster design, illustration and animation. For their first time showing in the USA they have prepared an outstanding installation to serve as a host to their paintings and to highlight the main concept of the exhibition. Journey Galactiko focuses on emotional, spiritual and physical journey between eastern cultures and western ways of life and this juxtaposition is depicted through the placement of an immense 150 cubic meter temple in the middle of the gallery space. This temple provides the context through which we can interpret other artworks exhibited, and is also a unique artwork itself.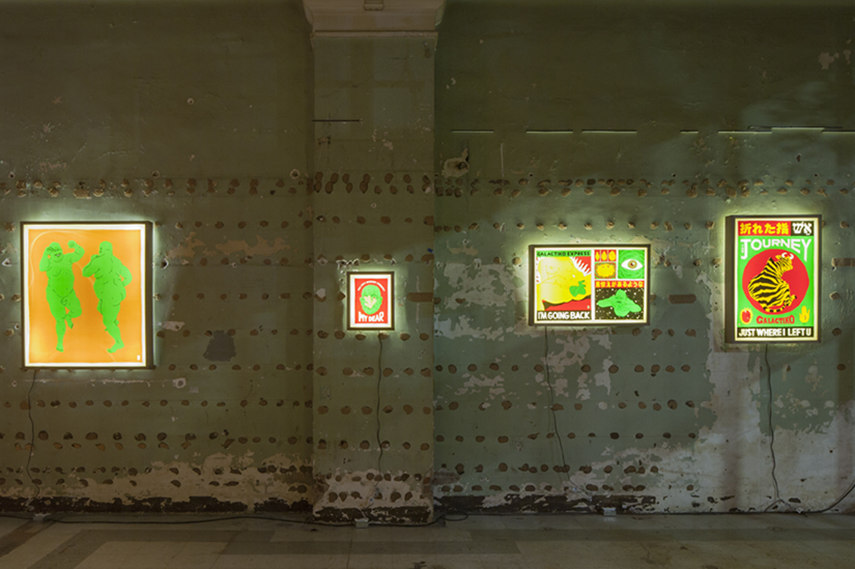 Spirituality and the Collision of Civilizations
In Journey Galactiko Broken Fingaz crew decided to explore the ways in which different cultures use distinctive iconography in order to represent ideas, ethical values and set particular viewpoints for their members. Each culture rests on highly recognizable imagery which is subconsciously integrated into one's identity and ways of looking at the world. On their voyage across India, these artists had the opportunity to experience eastern spirituality and to confront it with the consumerist way of life, widely associated with the western civilization. The construction of temple from simple materials found nearby counteracts with the exterior world full of neon advertisements, urban noises and marketing campaigns. This exhibition explores many dualities between interior spirituality and exterior appearances, East and West, intimate and public. However, the question of cultural differences is a perplexed one and Broken Fingaz collective is not trying to simplify it. The important notion of Journey Galactiko is that ideology works in similar ways, even in antagonistic cultures, and visual representations and artistic imagery have a significant role in them.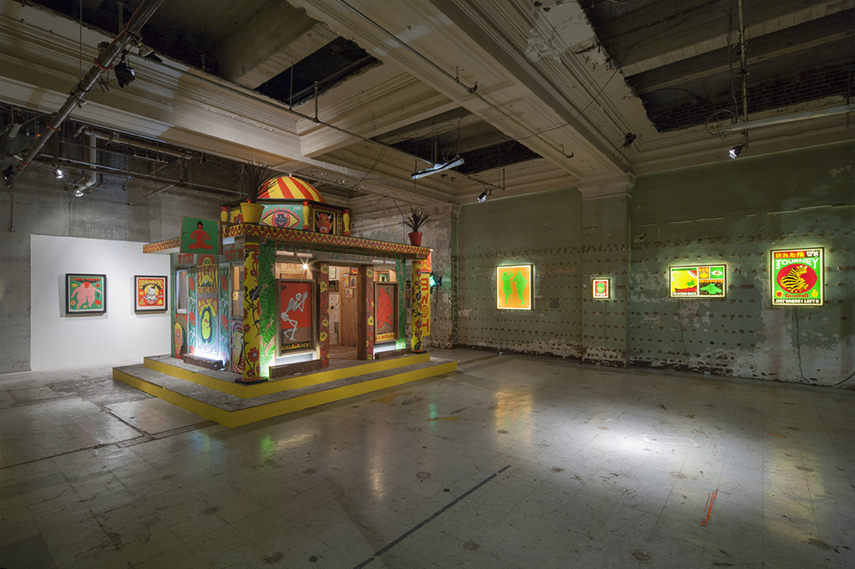 Broken Fingaz at Howard Griffin Gallery LA
As mentioned earlier, Journey Galactiko exhibition is in progress. Although you might have missed the opening ceremony you sure have lots of time to visit Howard Griffin Gallery in their new showing space in Los Angeles and enjoy this exceptional opportunity to take an inspirational trip through Broken Fingaz artistic vision. The exhibition will stay on view until July 25th, 2015.
Take a free journey through the world of contemporary art and sign up for My Widewalls.
Featured Images: Broken Fingaz – Journey Galactiko – Poster – 2015.
Tant – Acrilic on paper, detail, 2015.
Tant – The Swamps Yellow, 2015.
Broken Fingaz – Temple interior, 2015.
All images courtesy of Howard Griffin Gallery