Bryan Illsley and his Company Limited Coming to Marsden Woo Gallery
The diverse practice of Bryan Illsley spans across a variety of artistic disciplines, including painting, sculpture, book manufacture, design, print, and jewelry making. The latest body of work, Bryan Illsley has produced for the occasion of his new exhibition, which is focused on the artist's distinctive abstract painted copper works and abstract paintings. Following on from his 2014 show Fun and Games at Marsden Woo Gallery in London, Illsley has created a new series of seven paintings called Timepieces. Joining Illsley for the occasion of his new exhibition, are three artists he has brought together from the gallery stable – Alison Britton, Robert Marsden, and Nao Matsunaga, whose selected pieces will be on show alongside Illsley's new series of paintings.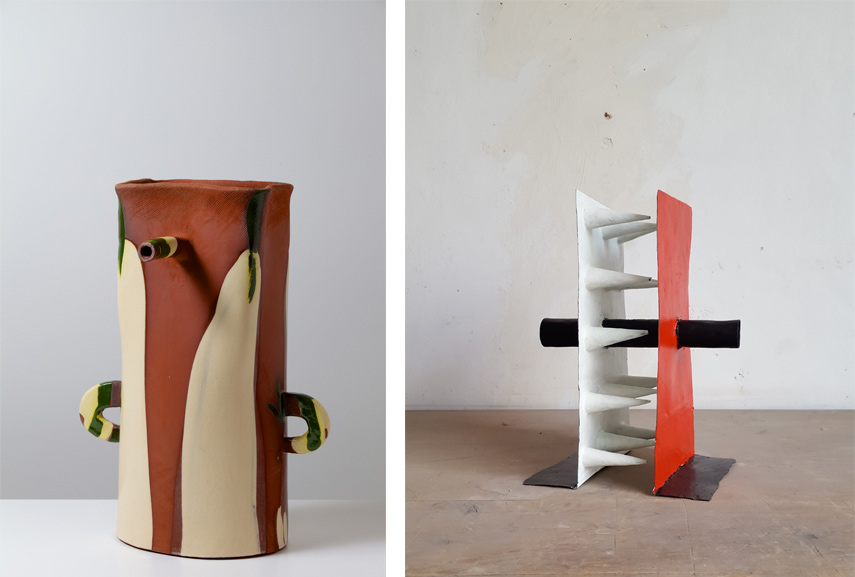 The  Place Between Sculpture and Painting
As one of the important places for experimentation and forceful expression,  past works produced in ceramic, and for the occasion of this exhibition metal sculptures  of Bryan Illsley, blur the lines of the medium and are seen to reflect the Russian Constructivism. Working without provisional sketches or model lends a vigorous feel to his work. The choice of materials and the approach to creation, all follow a natural feeling of abstract and impulse thinking which refers to Illsley's way of reflection about the creative process, that he states as ' creation demanding deconstruction'. Illsley's Company members and fellow artists are also celebrating the small ceramic works, and various in size metal sculpture pieces. Robert Marsden is best known for his metal minimalist sculpture, but he is known to work in a variety of scales, from tabletop sculptures to monumental outdoor pieces. Alison Britton, one of the leading figures among the generation of innovative British ceramicist, sees the pot as both the ordinary and recognizable object and as a great vehicle for playing and blurring the line between sculpture and painting. Also focusing on the play between two art disciplines are ceramic pieces of Nao Matsunaga. His elusive sculpture and works on paper are often inspired by ceremonial objects and spaces, and focus on examining the dualities that include the use of clay and wood, and the juxtaposition of matt surface, glassy glaze, organic and geometrical elements.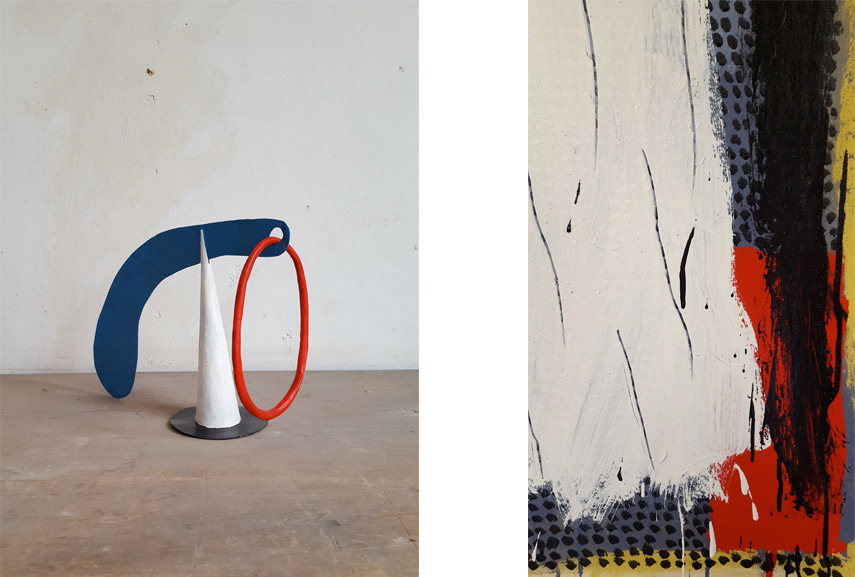 The New Paintings of Bryan Illsley
Taking inspiration from his unique style of book manufacture, Illsley's paintings are colorful collages but for the occasion of his new exhibition at Marsden Woo Gallery, new series of paintings are produced in the predominately monochrome palette. The need for the forceful expression and the ad hoc manner of approaching the painting medium, this time, takes a small backward step to the need to express the character. Illsley has taken this step and has deliberately moved from his previous collage paintings, giving priority to abstract, stripped-back paintings on paper created with the use of focused dots and lines. The repetitive mark making and creation of consistent strokes reflect a change of pace and movement, in the words of the artist ' they take time and mark time'.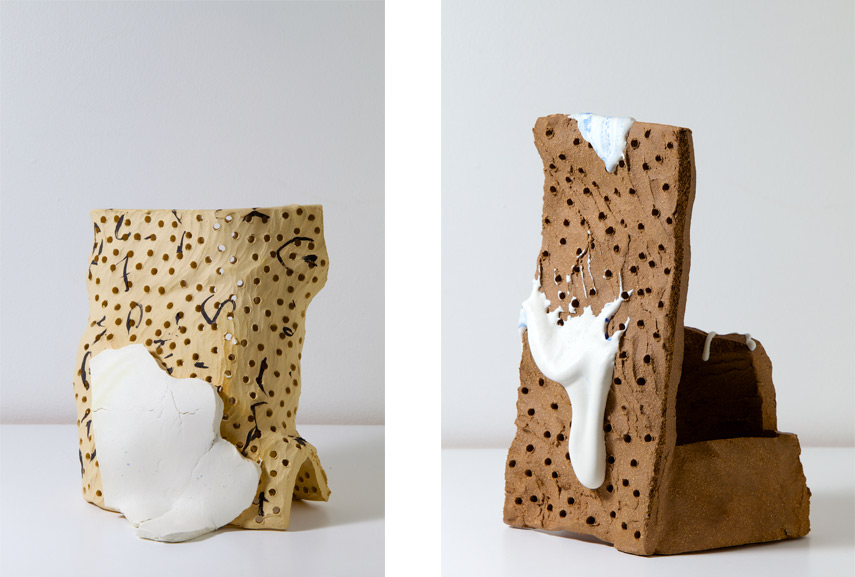 Bryan Illsley Exhibition at Marsden Woo Gallery in London
The new series of paintings, alongside the selected works of the Company artists, will offer the London's public an opportunity to experience the variety of works by the acclaimed artists. Lasting from 18th of May to 11th of June 2016, Marsden Woo Gallery in London will become a place that celebrates art and expression across a variety of mediums. New series of paintings Timepieces and the unique expression of Bryan Illsley are just one of the reasons for visiting this gallery and experiencing this show.
All images courtesy of Marsden Woo Gallery. Featured images in slider: Bryan Illsley, Riveting (left) and Loopy (right) (2016), image © Bryan Illsley, painted copper; Alison Britton, Weir (2012) image © Philip Sayer, courtesy of Marsden Woo Gallery, ceramic; Nao Matsunaga, Mattress Studies III (2016) image © Philip Sayer, courtesy of Marsden Woo Gallery, ceramic and plaster; Bryan-Illsley,Timepiece 6 (detail) 2015, image © Bryan Illsley, painting on paper.