Your Selfie is Not the Best? Buy Someone Else's!
Want to expand your art collection by purchasing some new and fashionable piece of art? Well, why don't you buy a selfie? Selfies are traveling beyond the limits of the internet culture and pushing their way into the world of fine art. And we are not talking Richard Prince here, at least not for now. We are talking about the website specialized in a selfie merchandise where you can buy selfies of other people for 150 US dollars? These selfies are printed on archival museum etching paper in 10'' x 10'' dimensions. The people behind the SELLFIE project guarantee the originality of selfies, since once sold they are never to appear in their database again and, therefore, you are the only lucky proprietor of a particular selfie of the person unknown to you who happens to have the perfect selfie on Instagram.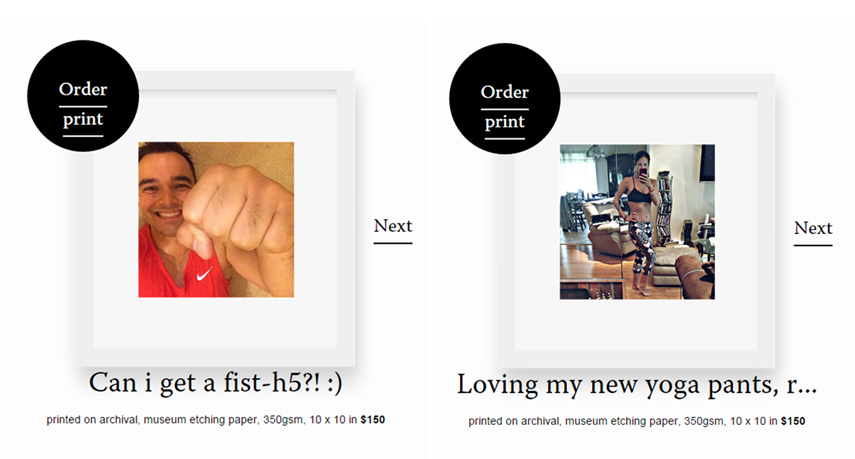 Buy Selfie Website: Perfect Selfie of Somebody Else Online
So what is the motto of SELLFIE website? Well, if we judge based on the quotes by Kim Kardashian and Richard Prince on their About page we see that the creators of the website are dedicated to finding those perfect selfies, the results of an exhausting "art-making" practice, because we know that one does not simply make just one selfie in the process. Further on, this perfect selfie allows their makers to be the art stars for a limited period of time by cutting the middleman like art galleries, art fairs and museums and getting directly to those interested buyers. So how does it work? Well, the only thing you need to do is to tag your Instagram selfie with #selfie and people on the website will do the rest. The selection process is based on the infinite stream of random Instagram pictures and, as mentioned earlier, once the photo is printed and sold it will never be in the possession of somebody else. The making of a unique print is supposed to guarantee the originality of the artwork, but this is where things get complicated.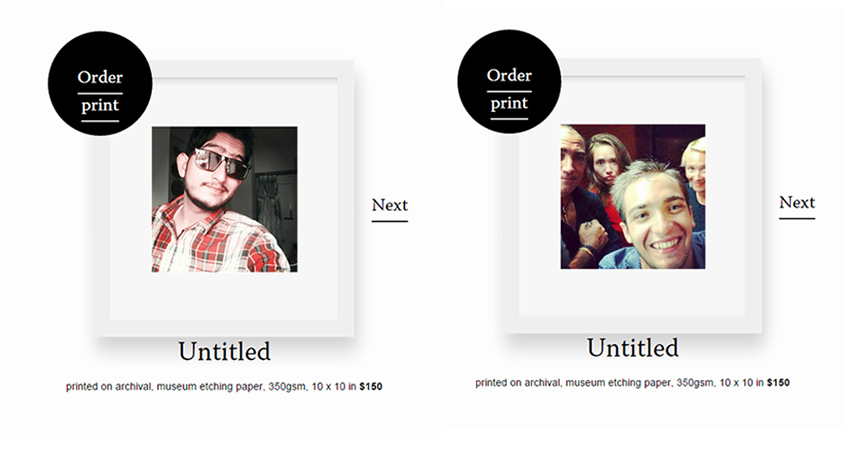 Art of Selfies: Originality and Authorship
As we had the chance to witness in a recent Richard Prince versus Suicide Girls affair it seems that there are no rules when it comes to the use of internet content. Once your photo is out there it starts the life on its own and it seems that there are no ways of telling where that journey will end. In this case probably on the wall of some individual who happens to be interested in a selfie of a person unknown to him, but packed in a high quality framework resembling those found in the gallery or museum exhibition spaces. Appropriation is now a legitimized process of art practice and if it's allowed in the world of art, recognized by many leading institutions, then why should it be different in the most public domains like internet websites? And since it is on the internet, available for all, than is it a big deal when someone is appropriating images initially made for self-promotion, making artworks out of them while also collecting some money in the process. Is it stealing or creating a platform for promotion in a more artistic medium?
While you are considering these questions and taking selfies in the meantime, before you put them on Instagram, just for a second think how you want to tag them, because if you use #selfie hashtag then your perfect face might be the next in line to start smiling from the walls of some individual anywhere on this planet. And you will probably never know…
Tell us what you think about this buy selfie online initiative on our Facebook page!
And for more news from the world of art sign up for MyWidewalls! It is free of charge!
All images are obtained from sellfie.co and used for illustrative purposes only.