Neon Geometry
This Friday, Prescription Art presents Carl Cashman's first UK solo exhibition. Cashman's new works continue to develop his distinctive brand of Op-Art he has named 'Neometry'; geometric based Op-Art made with a primarily neon based palette. Following his debut solo exhibition last year at Breeze Block Gallery in Portland, Oregon, which completely sold out, Cashman has been seriously expanding his concepts. At Prescription Art he will present an all-new series of work consisting of Cashman's intricately woven acrylic patterns and motifs on a range of media including bespoke wooden panels, found paintings and re-purposed objects.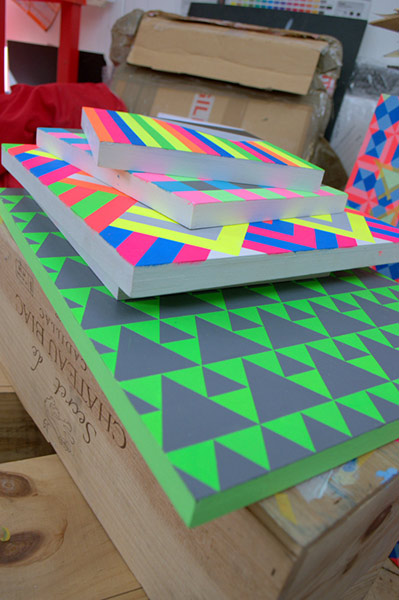 Free-Hand
Cashman's work is inspired by a wide range of sources, from pioneering artists such as Bridget Riley, Victor Vasarely, M C Escher, and more recently the Beautiful Losers artists to nostalgic memories of his youth in the form of early pixelated video games. His precisely painted lines may deceive the viewer upon first glance, inducing him to think that the paintings were not carried out by hand. On a contrary, they are clear evidence of Cashman's skilled draftsmanship since all of his work is painted meticulously by hand. "I think making this work has definitely taught me to be patient…Most ideas start from the sketch book, then a graphic pad before being drawn onto the surface. I don't use a computer for any of the process, as I like the idea of learning a proper skill along the way like draftsmanship. I guess the only thing I really rely on is my tape, I have started practicing each day and working free hand – kinda like a brain exercise before I start working," Cashman explains. Go and see for yourself this Friday!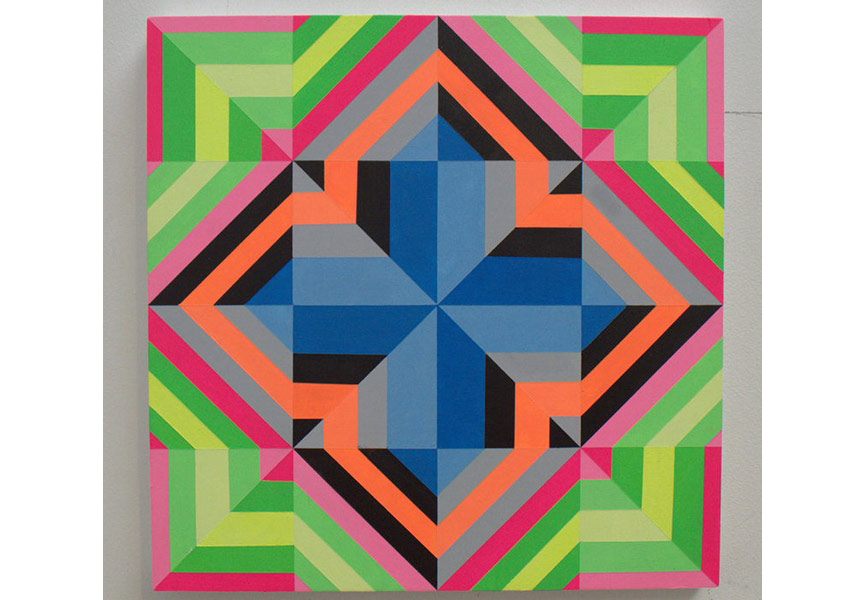 Dimensional Portals
When it comes to Cashman's mastery with color, the artist uses flat blocks of paint arranged in such a way to present a series of dimensional portals that leap off the wall through by his use of tonal balance, creating the illusion of dimension and depth and challenging our perceptions of volume and space. Though Cashman is comfortable painting small to medium sized works in his studio, he is equally at home painting outdoors on the street where he has completed a number of large mural works over the last 2 years. Cashman's "Neon Geometry" is instantly recognizable, and is gaining increasing acclaim from both the street art scene and the wider contemporary art world.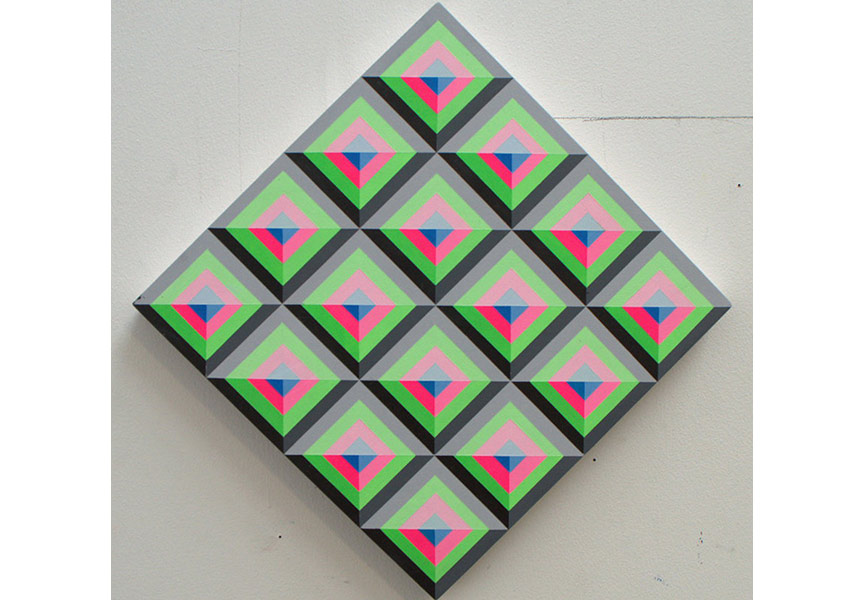 Davis and Cashman
Neometry show is curated by Sven Davis, an art collector, curator and UK director for the internationally staffed online arts magazine Arrested Motion. In September 2012 he curated an architecturally themed group exhibition entitled Space//Form at Breeze Block Gallery with over 100 participant artists and site specific installations from Michael Murphy & Mark Dean Veca. This exhibition led to an ongoing relationship with the gallery and throughout 2013 and early 2014 he curated Breeze Block Gallery's artist program, which included Carl Cashman's debut sell-out exhibition. Current Space//Squared group exhibition at White Walls Gallery is another curatorial success by Mr. Davis that features Cashman's work alongside more than 100 contemporary artists.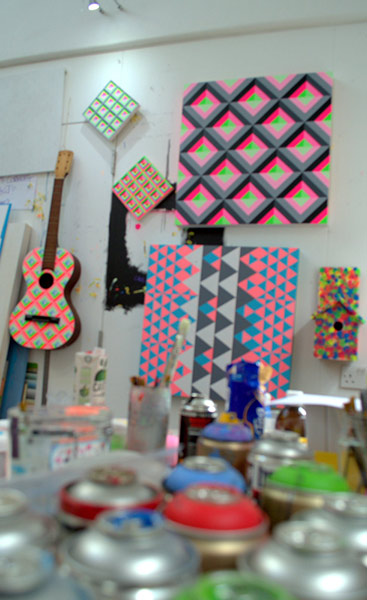 Screen Prints
Neometry at Prescription Art is definitely an exhibition not to be missed! And there's more! For those who will attend the opening ceremony on Friday, the gallery has prepared a spectacular screen print edition of 60 prints signed by the artist. Go and grab a copy!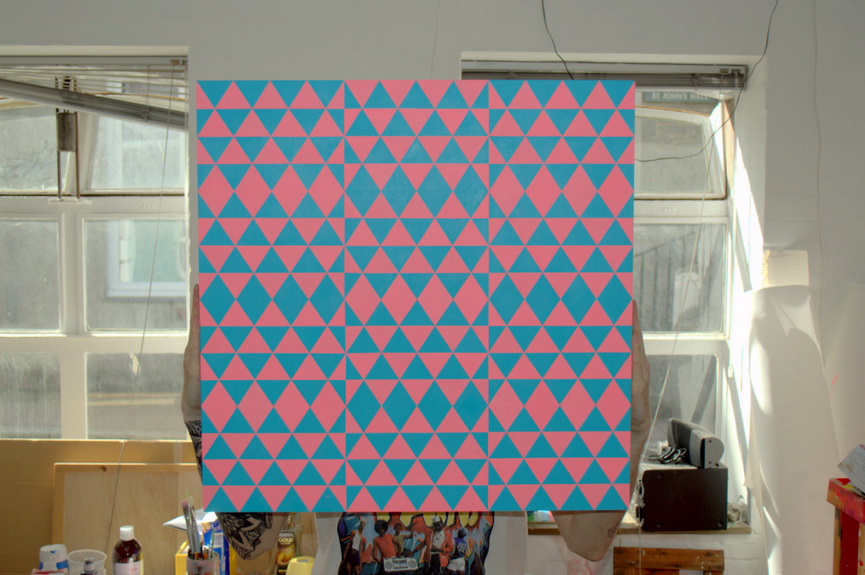 About Prescription Art
Since 2007, Prescription Art has been forging a reputation for discovering and supporting international street art talent through pop-up exhibitions in London, a notorious 9 month residency in Brighton's 'Old Music Library', and now a permanent gallery space in Brighton's up and coming Preston Park area. Along with established artists such as Erica Il Cane, Aroe, Zeus and Insa, Prescription Art is particularly proud to have been the first gallery in the UK to exhibit or print work by artists such as DAIN, ROA, Gaia, Charming Baker, Mighty Mo, Ludo, Aakash Nihalani, Shaka, ROID, Bom.K, L'Atlas, Run and Lush…. all of whom have gone onto achieve significant global success.