Complete Charles Dellschau Exhibition at Stephen Romano Gallery
Works of one of the earliest known visionary artists in America; Charles A.A. Dellschau, are presented in a very special and historic exhibition at Stephen Romano Gallery. Even though widely considered as an outsider art master in the same league with Wolfli, Ramirez and Darger, Dellschau has been included in many prestigious collections. This show is only the third ever solo exhibition compiled out of the vast body of work of the creative genius behind Charles A.A. Dellschau. His earliest known work is a diary from 1899, while the latest includes an 80-page book dated 1921-1922. He may not have had a long-lived artistic career, but it was an impactful one nonetheless. Art of Charles Dellschau has inspired plays, art performances, music pieces, a fashion line, a role playing game and many other related artforms. Ultimately, his work represents an oeuvre of a dreamer, optimist and a visionary, and undoubtedly one of the earliest documented self-taught artists known in America.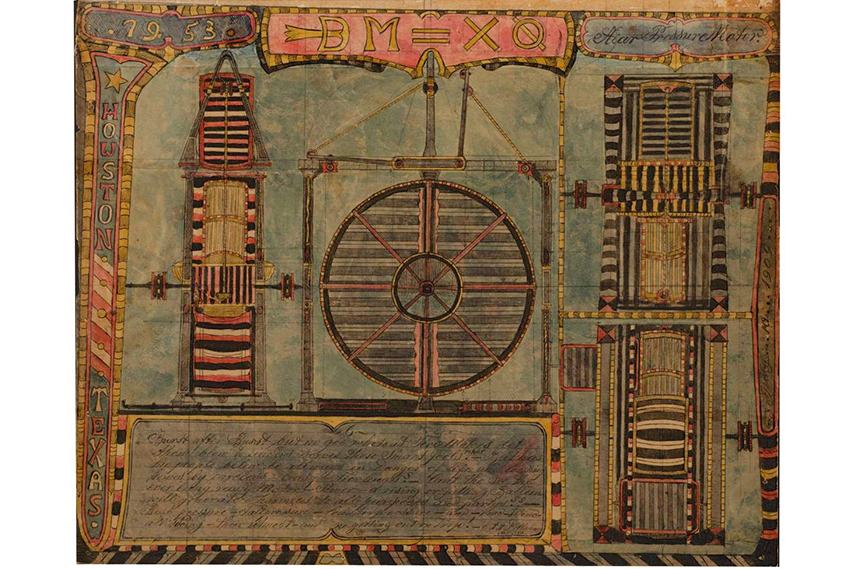 Life and Work of Charles Dellschau
Born in 1830, in what was then Prussia, Dellschau emigrated to the United States at the age of nineteen. Settling down in Texas where he worked as a butcher and a saddlemaker, a series of family tragedies occurred to Charles. He even fought in the Civil War on the Confederate side, and lived long enough to witness the First World War in his eighties. It was in the fall of 1899 when the retired butcher embarked upon a project that would almost be his sole focus for the following two decades. It started as an illustrated manuscript describing his experiences in the California Gold Rush, but soon became an obsessive project resulting in 12 large, hand-bound books with over 2,500 drawings related to one of his greatest passions; airships and the development of flight. Much of his posthumous reputation rests upon these extraordinary visionary drawings of fanciful airships and intricate designs made during the last years of his life. The works gathered dust for decades in an attic before being discarded, luckily, twelve of them were recovered and eventually sold to an antiques dealer. In the following years, the compilations sparked the attention of collectors, curators and other interested researchers. Now, eight of them found their place in museum collections in Texas, while the other four ended up on the art market, where the individual two-sided pages still continue to change hands among dealers and collectors.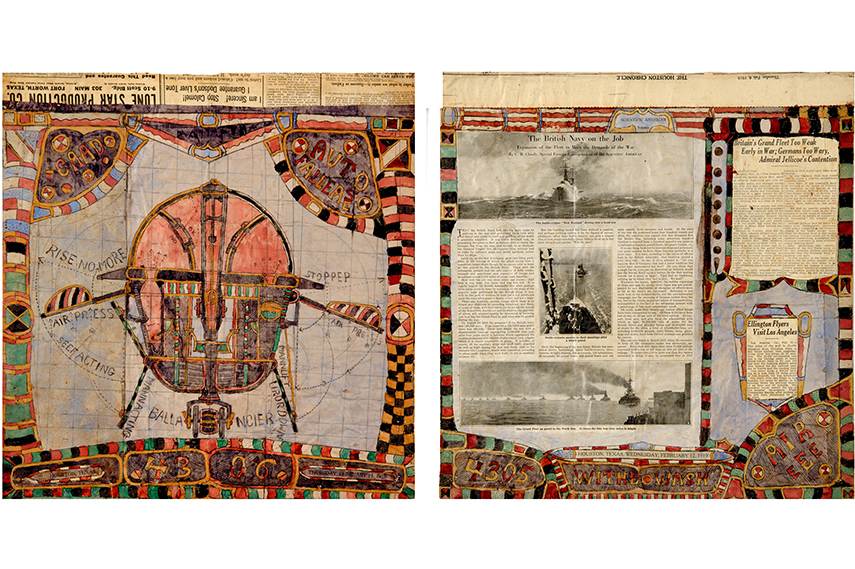 Intriguing Designs of Aeronautical Vehicles and First Navigable Aircrafts
With an intriguing posthumous fate of the artist's work, involving a huge fire, ending up on a sidewalk barely salvaged by a used furniture dealer, the story of Dellschau's work only adds to its value. One of the central points of his essays are the activities of the Sonora Aero Club, which was allegedly an informal group of amateur airship designers, which the artist was a member of in California in the 1850s. Researchers and critics often differ with their views about the club, and whether it actually existed at all, or if it was purely a product of Dellschau's vivid imagination. His writings describe the club as a secret group of flight enthusiasts who met at Sonora, California in the mid-19th century. Most of his work was presented as a record of the group's activities. Allegedly, one of the members had discovered the formula for an anti-gravity fuel, which they named NB Gas, and one of the group's missions was to design and build the first navigable aircraft using the NB Gas for lift and propulsion. With numerous intricate designs and detailed drawings of "Aeros", as Dellschau referred to these flying machines, he specifically identified himself as only the draftsman for the Sonora Aero Club, not claiming to have been a pilot of any of the airships.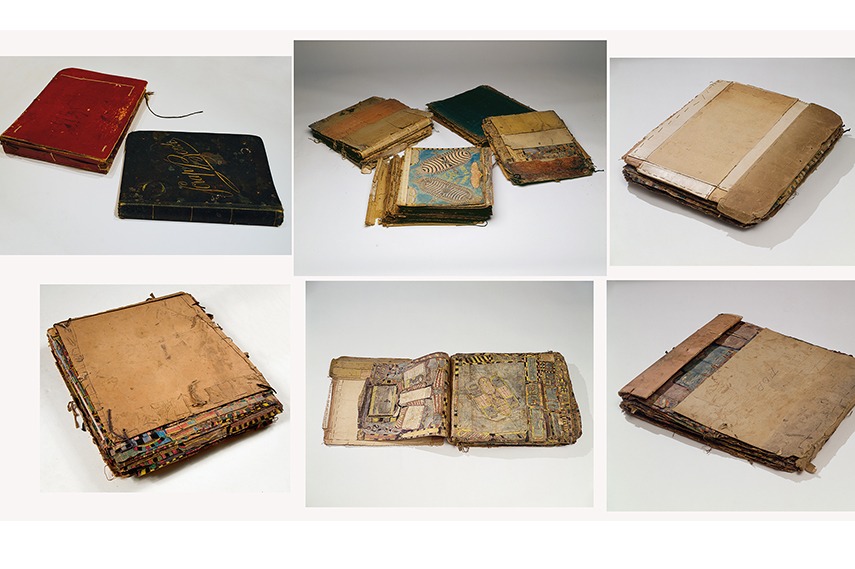 Charles A.A. Dellschau (1830-1923): American Visionary Exhibition at Stephen Romano Gallery
Over the course of 23 years, Charles Dellschau produced close to 5000 watercolor paintings, isolated in a back room of his niece's house in Houston, Texas. Bound into 12 volumes, most of these works were preserved and ended up in prestigious collections, such as the American Folk Art Museum, The Philadelphia Museum of Art, The High Museum, Atlanta, The Museum Of Everything, London, ABCD Art Collection in Paris, and many other esteemed locations. Collages made by Charles include newspaper clippings – press blooms, of the news articles from the period between 1908 and 1922 regarding aeronautical advances and disasters. It is speculated that Sonora Aero Club could most likely be a combination of encounters the artist experienced in real life as well as fiction. Be it as it may, works of the prolific American artist remain as an intriguing insight into the past and development of aeronautical vehicles and other various experiments. Charles A.A. Dellschau (1830 – 1923): American Visionary exhibition is on view from December 17, 2015 – January 30, 2016 at Stephen Romano Gallery in Brooklyn, New York.
All images courtesy of Stephen Romano Gallery Featured images: Charles A.A. Dellschau at Dellschau at Turin's Pinacoteca Giovanni e Marella Agnelli exhibition of "The Museum of Everything" April 2010 – 29 August 2010; Charles Dellschau in OPUS HYPNAGOGIA at Morbid Anatomy Museum, Brooklyn, July – October 2015; Charles A.A. Dellschau – PAGE 4 GOOSE; Charles A.A. Dellschau exhibition at Stephen Romano; Charles Dellschau -PLATE 2333 ON WATHER ON LAND AND UP TO THE CLOUD, 1911
Follow These Galleries
New York City, United States