Frequent Moderate Violence
Charlie Anderson, probably the best-looking man in urban art, is exhibiting at StolenSpace in London. The gallery will be exhibiting the work of Anderson in their front gallery space concurrent with the Rone 'Wallflower' show. The show entitled 'Frequent Moderate Violence' will present brand new works by Charlie Anderson. In this new body of paintings, Charlie Anderson questions the social role of art as entertainment, playing with the relationship between image and words and how their meaning changes when their context shifts: Playing with lowbrow melodramatic imagery and presenting it in a highbrow context. Suggesting something the viewer might experience, the social role of art of physically bringing a group of people to a certain place in time. The exhibition opened April 4th and runs through May 4th.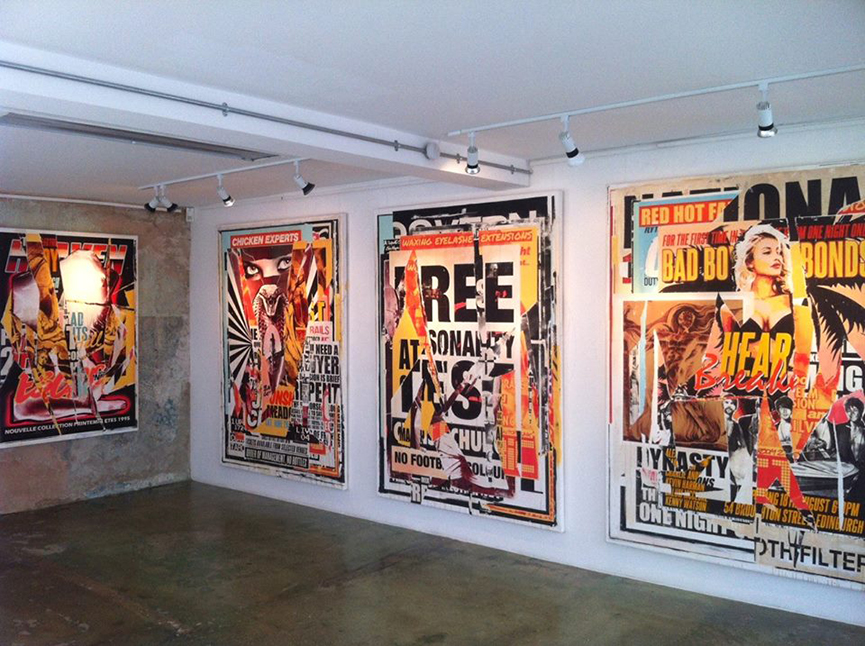 Post-Punk
Charlie Anderson is known for his epic scale paintings composed of layered fragments from advertisements, postcards, posters, newspapers, street flyers and magazines.  The post-punk effect achieved through this intensive process of layering stencils and paint results in a vibrantly textured and visually stimulating portrait of contemporary culture.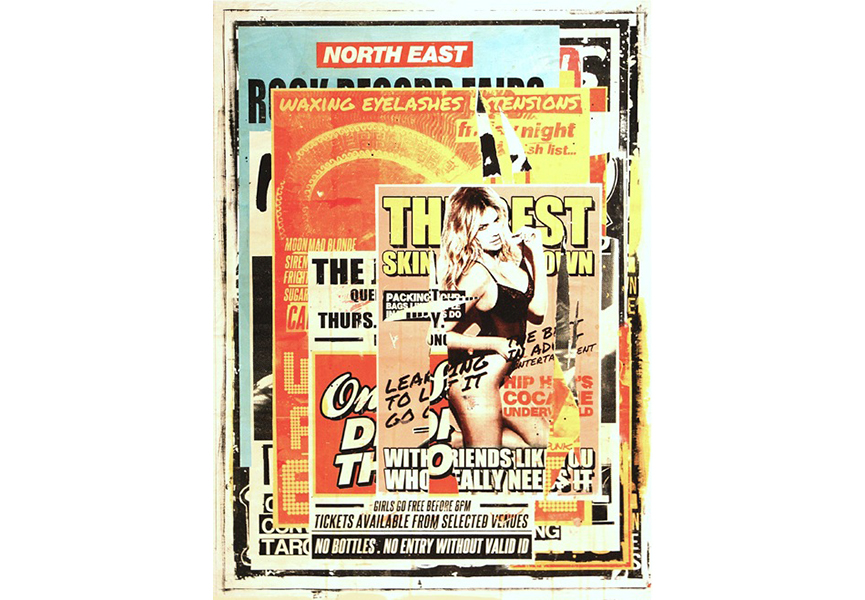 Documenting Urban Life
Inspired by cityscapes, music, kitsch, pop culture and the creative process itself, Anderson's work re-contextualizes familiar, often discarded images, in order to glorify the transient aspects of our daily experience. Anderson's work samples elements of history and society to document urban life, refocusing on the subtle details that our contemporary attention span sometimes fails to appreciate.  His provocative and engaging subjects inspire an exciting visual experience, inviting and implicating viewers into his playful and compelling commentary.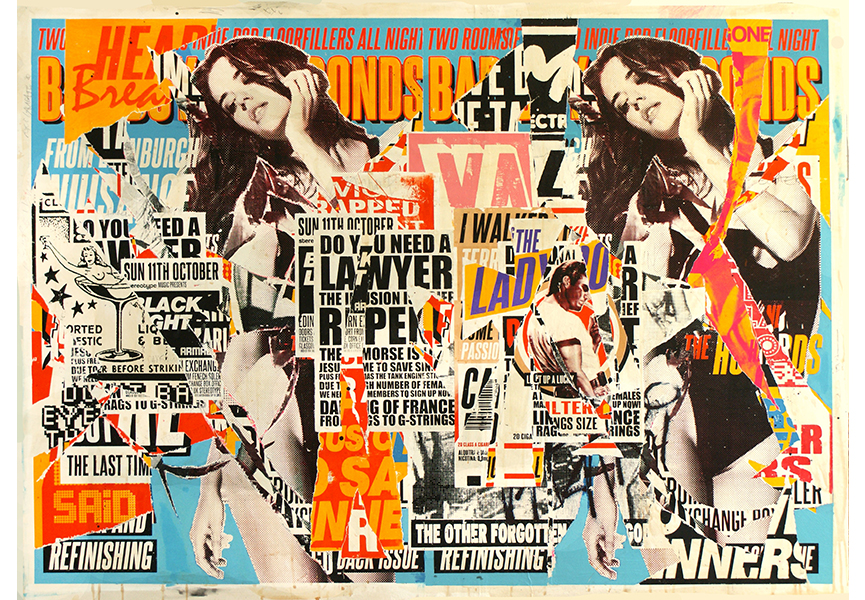 About Charlie Anderson
Scottish artist, Charlie Anderson is a painter. Anderson celebrates the throwaway nature of contemporary culture by painting images from sources such as magazines, flyers, advertising and political campaigns. By painting image on top of image and fragmenting the discernible text and forms, Anderson draws parallels to the fleeting nature of life. The process of manually reproducing images from mass media echoes the history of painting as a form of documentation, and his use of the female form recalls the tradition of figurative painting in art. Exhibitions include Edinburgh, London, Berlin, Lugano and Los Angeles. Anderson has been awarded the British Airways degree show (2009), shortlisted for the Jerwood Contemporary Painters (2010), and been awarded the Meyer Oppenheim Prize by the Royal Scottish Academy (2010). Notable collaborations include Ringo Starr, Ricky Hatton, Amir Khan, Speedy Graphito and The Dirty Tees.