Charlie Godet Thomas Installs "Cloud Study" in Bermondsey Square
A rather gloomy London evening saw the launch of SCULPTURE AT's second public sculpture commission for Bermondsey Square, in south-east London. Ominous clouds gathered above the heads of a devoted crowd of art lovers determined not to let the weather get in the way of their appreciation of the work. The atmosphere could not have been more apt, however, to unveil the new sculpture by the London-born, Mexico-based artist Charlie Godet Thomas.
Entitled Cloud Study, Charlie Godet Thomas's work uses the form of a weather vane to represent states of emotional well-being. A cartoon-like speech bubble sits atop the two-meter high vane, which turns in the wind revealing the phrase "- yo" is stuck in "thar fo'ever li'l gray cloud.!" that has been laser cut into the bright yellow steel shape so as to be visible from both sides.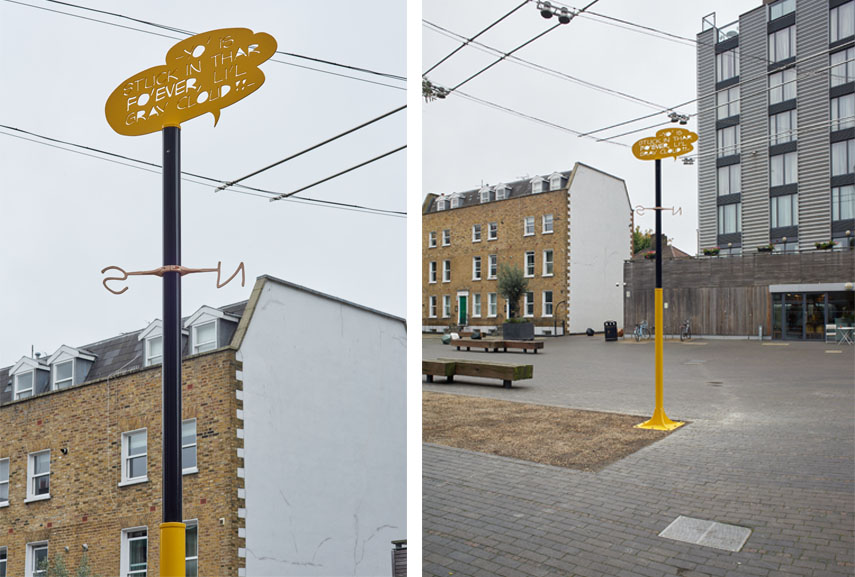 Drawing Inspiration from Li'l Abner
The featured quote comes from the widely syndicated American cartoon "Li'l Abner" created by Al Cap that ran between 1934 and 1977. Cloud Study draws on the comic character of hapless Joe Btfsplk and his ever-present cloud – one of the most iconic images in "Li'l Abner". He is well-meaning, but is the world's worst jinx, bringing disastrous misfortune to everyone around him. A small, dark rain cloud perpetually hovers over his head to symbolize his bad luck.
Godet Thomas's sculpture references one episode, where having trapped the cloud in a cave, Joe is freed from his bad luck, as yo is stuck in thar fo'ever li'l gray cloud!. The moment is, however, short-lived, and Joe is later forced to release the cloud and its ensuing misfortune. The use of the comic book imagery references Godet Thomas's personal interest in the subject – growing up, he used to exchange letters of cut outs of comic strips with his Bermuda-based grandmother – but more widely, the exaggerated emotions and visual modes of communication in cartoons.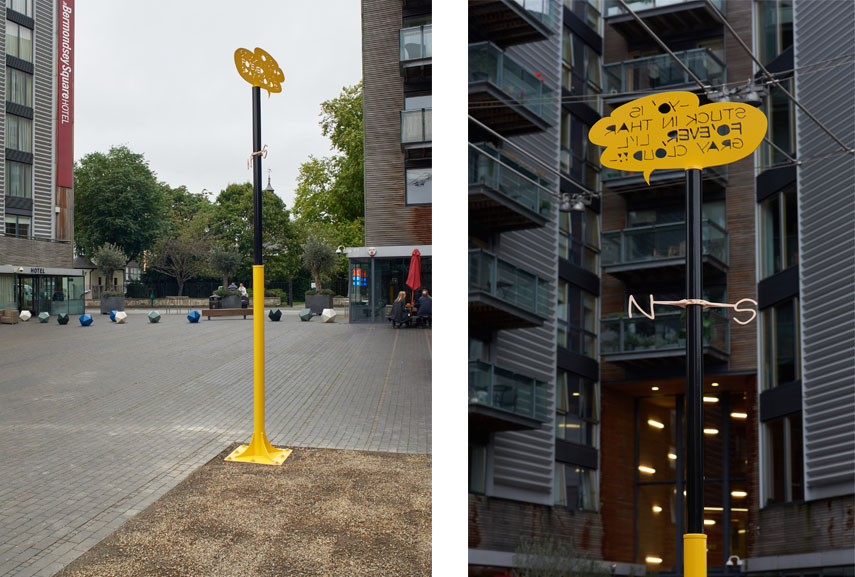 Cloud Study
The almost melancholic tone with which Godet Thomas captures Joe's "li'l gray cloud" is nevertheless undercut by the work's humor and boldly colored construction. A playfully metaphorical work that embraces the personal and political, Cloud Study invites the viewer to meditate on the tragicomic nature of life, with the movement of the vane mirroring these oscillations as it twists and turns in the wind.
As Godet Thomas says: "In 'Cloud Study', I hope to evade what I see as the traditional hallmarks of public sculpture: for an imposing quality to be substituted by quietness, heroism by the everyday, stillness by function, sternness by humour, and vulnerability in the place of grandstanding."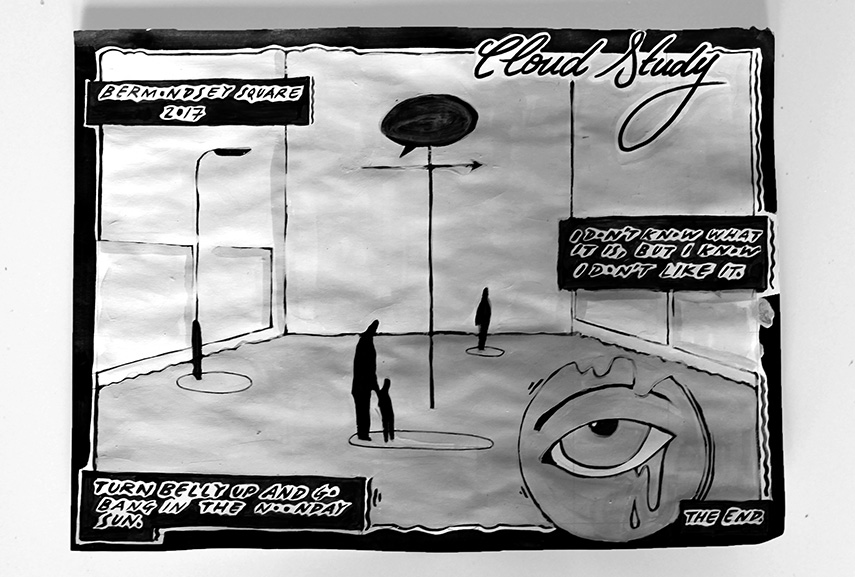 Charlie Godet Thomas in Bermondsey Square
Rather than expecting his audience to recognize the L'il Abner cartoon, Charlie Godet Thomas is interested in the use of appropriation – the way in which isolating and reframing something existing can open up new meanings for the viewer. The work builds upon his previous use of found text, and is a striking piece of public sculpture that brightens up Bermondsey Square even under the grimmest autumn sky.
Cloud Study is in-situ until March 30th, 2018, and you can also catch Godet Thomas's first solo exhibition in Switzerland, entitled Roman-fleuve, at VITRINE in Basel until December 3rd, 2017.
Written by Eric Block.
All images courtesy the artist and VITRINE.