Loose Juice by Charlie Immer
On April 4th, La Luz de Jesus Gallery in L.A. will be presenting Charlie Immer's new abundant paintings. The exhibition, titled Loose Juice, is his first show with the gallery and features paintings focused on Endurance. The viewer will have the opportunity to take a walk into the absurd, brightly colored world bubbling with fantastic imagery. Immer's paintings look almost to have been made digitally, but in fact they are all done by hand using oil paint. He is known for applying the paint in many thin layers in order to achieve the proper effects. The show will be on view until April 27.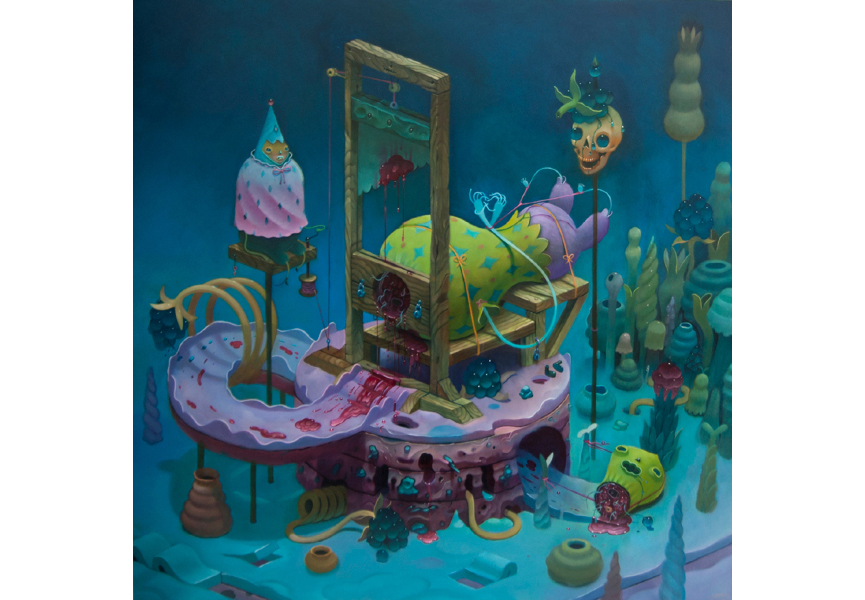 Skeletons and Skulls
There's something both humorous and unsettling about the work of Charlie Immer. His pictorial world is full of funny skeletons, skulls, strange puppets and wide-eyed spooky creatures playing around and pulling each other to pieces placed in scenery reminiscent of the candy factory from cartoons. Inspired heavily by horror monster movies, cartoons, nature, candy stores, and video games, Charlie Immer's striking and surreal work simply leaves us enchanted. He somehow manages to deftly infect us with his own fascination.
Video Game's of the 90's
The artist describes his new body of work as being inspired "by the isometric perspective seen in many video-games of the 90's. I've reintroduced buckets of "juice" which have been mostly absent from my recent work. Liquid is so alluring and dynamic. The subjects of the work are jiggling jesters and dripping skeletons enduring pain free violent acts. The nervous system has evaporated in this world and blood is in infinite supply. I've always found over the top violence to be appealing when stripped of pain and possibility of death."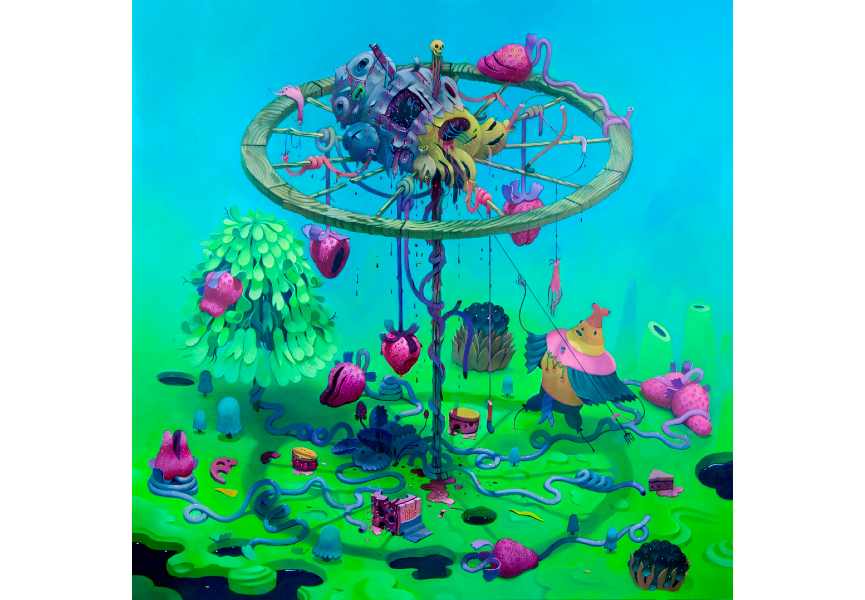 About Charlie Immer
Charlie Immer is a fine artist and an illustrator. He received his BFA in illustration from the Rhode Island School of Design in 2008. Immer's works have been shown in galleries worldwide and he has been featured in numerous magazines such as Blisss!, Juxtapoz, and HiFructose. Immer recently collaborated with Wayne Coyne of The Flaming Lips on an album cover.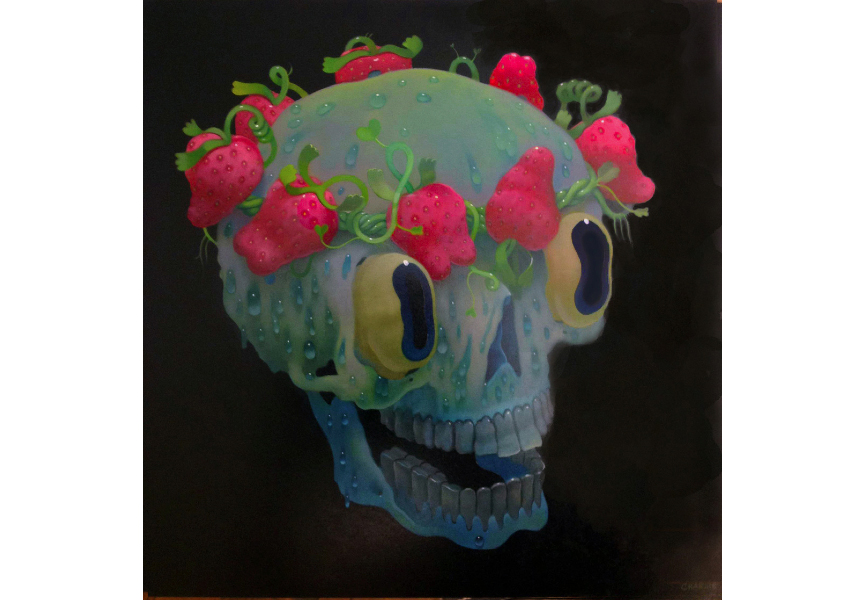 About La Luz de Jesus Gallery
La Luz de Jesus Gallery was established in 1986 as the brainchild of entrepreneur and art collector Billy Shire, considered largely responsible for fostering a new school of California art. Showcasing mainly figurative, narrative paintings and unusual sculpture, the exhibitions are post-pop with content ranging from folk to outsider to religious to sexually deviant. The gallery's objective is to bring underground art and counter-culture to the masses. A new exhibit opens on the first Friday of each month, with an opening reception that DETAILS Magazine calls "the biggest and best party in Los Angeles."