Charmaine Olivia: Bloom
Vibrant, energetic bursts of color dress the environment around models of archetypal contemporary beauty in the paintings of Charmaine Olivia. Third solo exhibition of this American artist is opening today at the Shooting Gallery in San Francisco under the title Bloom, in which the blossoming palette with the luscious portraits is indeed going through a revival. This exhibition of Olivia's new works will run through July 5, 2014.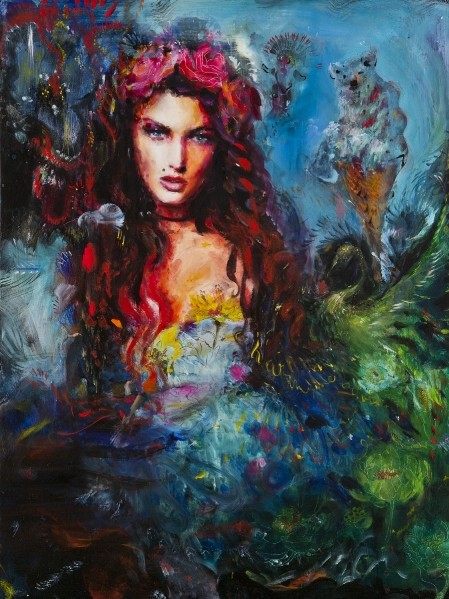 Olivia's Bloom
Known for her skill in the technique of oil painting and for her singular and highly aestheticized expression, Charmaine Olivia has grown into an important figure on the local and international art scene. As a self taught artist, she developed her talent in oil on canvas by depicting portraits of beautiful women, emphasizing their ethereal and hardly believable nature. Although realistically rendered, these models are surrounded in imaginary gardens of abstracted flowers, in imaginary spaces more flat than real. The rendering of their porcelain and seductive incarnate is contrasted by freehand, expressive strokes of vibrant nuances, that flow and shimmer before our eyes, while we focus on the surreal muselike beings. Beauty is the central topic of her paintings, while the artist successfully juxtaposes realistic and flattened fragments of the canvas, achieving what could be perceived as a Klimt-like painterly effect.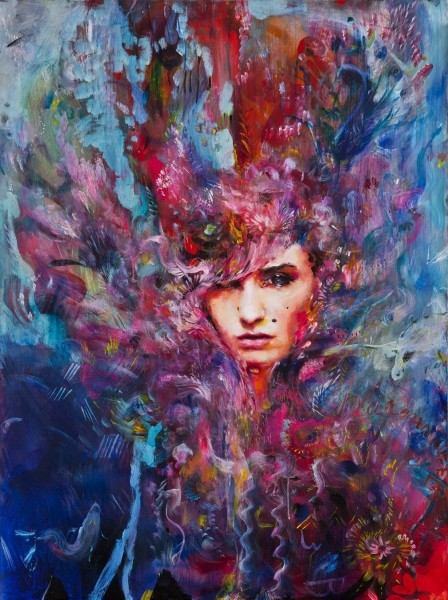 Muses of Bloom
The new part of Charmaine Olivia's oeuvre re-introduces many of her muses from the past. They are here portrayed in a different mode, emerged in an air of nostalgia, while their alluring nature is coming out onto the surface once again. In this seductive, vital Bloom, an abundance of hues embellishes the central and already attractive subjects, as the particular style of the artist remains true to her general body of work. Bloom is characteristic of Spring, and Spring is what is happening in this lively, potent and opulent series of oil paintings.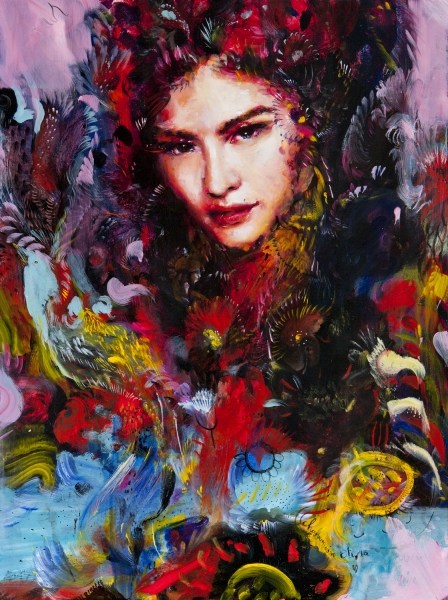 Charmaine Olivia
Charmaine Olivia is an acclaimed artist of San Francisco art scene, presently based in Mission. Her fans span all across the planed, as the masses joyfully adore and collect her work, raising its popularity. At only 24, she already produced a substantial and important body of work, featuring thematics that attracted famous figures such as Lady Gaga and big companies such as Urban Outfitters and Volcom. Her energy seems to be peaking, as novel painting series continue to come out of her studio. Female models Olivia paints are rendered to perfection, as their features are highlighted by loosely executed, expressive surrounding surface, providing a painterly quality to what would be a hyper-realistic piece. Charmaine Olivia's talent keeps developing through her prolific work, while she constantly employs new techniques and painting methods, and continues expanding her subject matter.
Third presentation of Charmaine Olivia's work at Shooting Gallery promises to be spectacular and not nearly her last.