Artist of the Week - Cindy Sherman
Who is Cindy Sherman? The answer to this question might be more complex than you think. There is one way to approach this question, and to go with the facts: Cindy Sherman is an immensely influential photographer who lives in New York and has a long and admirable career behind her. Often associated with feminism, as well as postmodernism, her art mostly aims to examine the notion of "self" and the matter of identity. Accordingly, she has been her own model for more than 30 years, and these self-portraits make Cindy Sherman a cross-genre artist whose art could even be described as life-long performance. As a winner of multiple prizes and awards, and an honorary member of the Royal Academy of Arts, Cindy Sherman is known worldwide and appreciated both as an artist and an icon.
But, who is Cindy Sherman, really? What does she even look like? The extensive search for identity made her own individuality become fragmented. We cannot say for sure if we know anything about Ms. Sherman, other than all the women she might be, and has been throughout the years. The archetypal housewife, the Hollywood diva, the clown, the freak, the seductive mistress, the sex toy, the corpse – we've probably seen her play more roles than any actress in the world. And yet, we never get to consider Sherman as an actress. We are somehow convinced that all of these Cindies are real.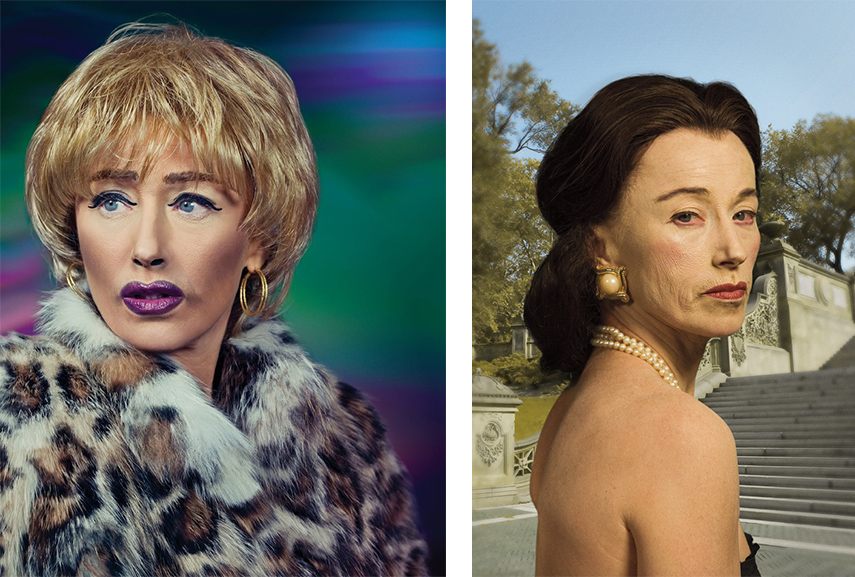 Cindy Sherman – a Photographer, or a Performance Artist?
As mentioned above, most of the artist's work belongs to a unique type of staged photography. What emerges is a genre that refuses easy definitions and is characterized by heterogeneity and ambiguity, which has much to do with the artist's own presence in these images. The fact that we inevitably associate the photographs with the artist makes it hard to decide if Cindy Sherman is a performance artist or a photographer, or a scenographer perhaps. Even when she is not part of the scene, like in her controversial, disturbing series Sex Pictures from 1992, the sense of mixedness is present, but so is an uncanny feeling induced by the imagery that might seem familiar, but it definitely isn't. Staging the contexts that belong to the stereotyped situations adds another layer to the already confusing identity debate. Cindy overlaps the personal with the staged, intimate with shared, and finally she counts on our previous experience to complete our perception of her work. This principle was most evidently embodied in her Untitled Film Stills (1977-1980) which appear to recreate different environments typical for movies and to deceptively present themselves as film stills, in color or black and white.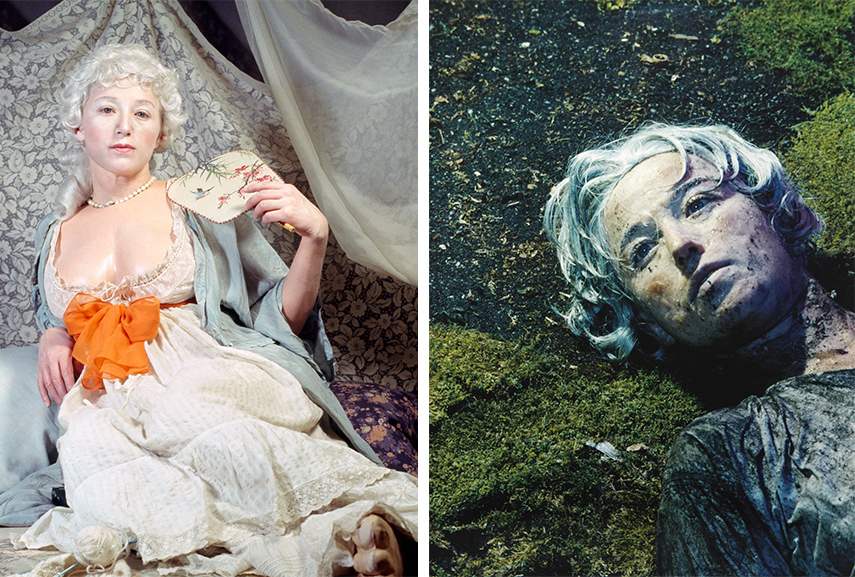 Imitation of Life
There probably isn't a title more appropriate for a Cindy Sherman show than that of the ongoing exhibition at the Broad in Los Angeles. Imitation of Life showcases more than 120 works from the artist's oeuvre, mostly from the museum's own collection, and it is the first comprehensive survey of her work in Los Angeles in 20 years. Also, what better place to exhibit these distorted identities and media-influenced personalities than the home of the American movie industry itself? The guest curator of the show, Philipp Kaiser, refers to this issue surprised by the fact that Los Angeles hasn't seen much of Sherman's work lately, which stands in contrast to their connectedness with Hollywood. "From her film stills to her rear projections and her films, her massive body of work comments on and speaks to the limitless stream of visual material available to us today via cinema, television, advertising, media, the Internet and art itself. Cindy helped to craft the title of the exhibition, Imitation of Life, which is a reference to the Douglas Sirk's 1959 film adaptation of Fannie Hurst's novel that deals with intensely emotional struggles with identity." The exhibition started on June 11th, and it will be on view until October 2nd, 2016.
Featured images: Cindy Sherman – Untitled Film Still #48; Cindy Sherman – Untitled #359, 2000; Cindy Sherman, from her Clowns series. All images used for illustrative purposes only.