Claude Rutault in New York
Artwork cannot be presented without its contextual surroundings. Well known French artist, Claude Rutault takes this hypothesis a step further and defines it in more constraining way. He generates a set of rules called "de-finitions/methods" on how to actualize his yet-to-be-born work of art. Yes, one of the original characteristics in his practice is that he doesn't paint the artwork himself. The works are created by the respective galleries, referred to as "charge takers", that agreed to follow Rutault's instructions and artistic guidance. As some kind of algorithmic do-it-yourself manual, "de-finitions/methods" affect many elements in the ever-changing equation that often ends in different result. The first "de-finition/method #1" titled "canvas per unit" from 1973 reads: "A stretched canvas painted the same color as the wall on which it's hung. All commercially available formats can be used, be they rectangular, square, round or oval." Other examples include different correlations and correlatives illustrated in "de-finition/method #449": "im/mobilier" from 2010: "Two canvases, hung side by side, have their price indexed according to the square meter price of the building in which they are actualized." The collection of such works will be main theme of the forthcoming exhibition at Galerie Perrotin in New York.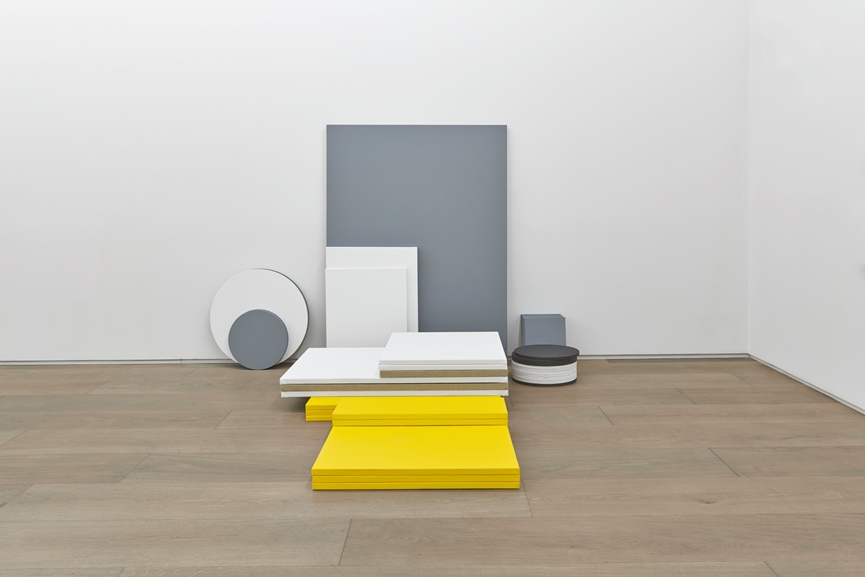 Conceptual Painter
Claude Rutault perceives himself as a painter, obviously a minimalist, but many would define him as a genuine conceptual artist. Such statement can be defended by the simple notion that he uses more than a brush to paint and that his work affects more than the viewer, but a wide range of elements and their relations. Rutault's art is a whole fluid mechanism surrounding the particular artwork – galleries, auctions and collectors.
Throughout his career, that began in early 1970's, he's written and developed more than 600 "de-finitions/methods" many of which have been exhibited across world's most renowned galleries, museums and similar institutions. His style is predominantly minimalistic in aesthetics but when it comes to philosophical dimension of his work, he depends on a number of factors that are out of Rutault's reach. Once the agreement between the artist and the gallery is made, for a certain amount of time Claude Rutault is no longer in control of the outcome, good or bad. Thus, Rutault made his work an interactive particle of the exhibitions entire social activity.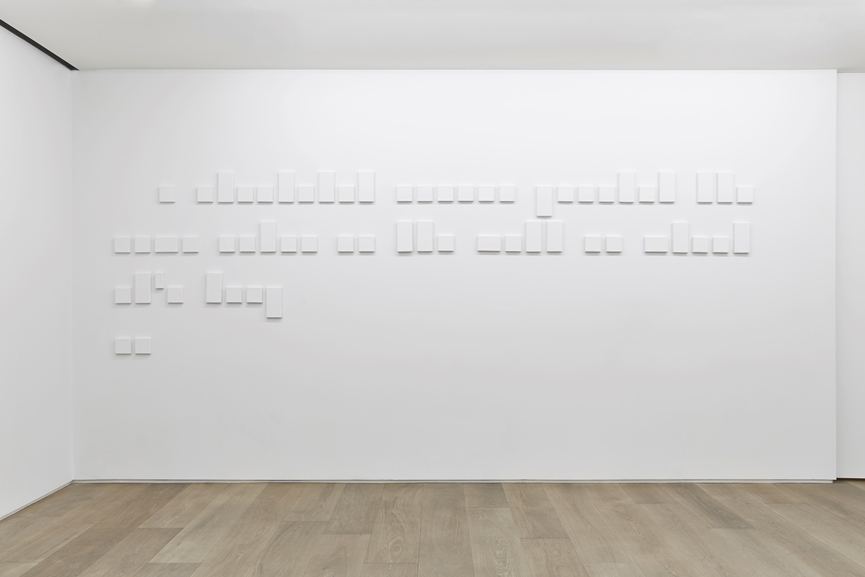 Claude Rutault @ Galerie Perrotin
Exhibition's opening reception at Galerie Perrotin "de-finitions/methods" is scheduled for November 20, 2014 and will be open until January 3, 2015. The exhibition will present a collection of 20 "de-finition/methods" including some of his early work dating from 1974, "positive/negative 2", and 1975's "formats at the limit 2" that were shown in 1979 at Rutault studio during his residency at PS1 in New York. Rutault will also be presenting three of his latest work from 2014 titled "Charity begins with others", "The exhibition" and "Suicide painting 11". Galerie Perrotin opens a new chapter with this exhibition by hosting Rutault first solo exhibition in the US.
Minimalism and conceptual art is often exhibited at Galerie Perrotin. Read about Park Se0-Bo exhibition presented in the Perrotin Parisian chapter at the moment. David Ostrowski has another minimalistic vision in painting, currently on view in Turin, Italy, while De Buck gallery wrapped up a group show of selected Italian minimalists of the second half of 20th century.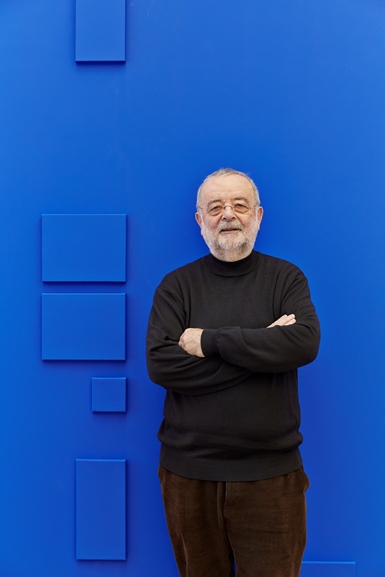 Featured images:
View of the exhibition Claude Rutault, Galerie Perrotin, New York, November 20, 2014 – January 3, 2015. 1. "a saturday morning on the grande jatte or at port-en-bessin", 2010, paint on canvas – variable dimensions according to the actualization (actualization at Galerie Perrotin: 265 x 367 cm / 1041/3 x 144 . in. around an invisible rectangle of 208 x 310 cm / 81. x 122 1/16 in.), unique; 2. "charity begins with others", 2014, paint on canvas, variable dimensions according to the actualization (actualization at Galerie Perrotin: 461 x 122 cm / 181½ x 47¼ in.); 3. From left to right : "painted/non-painted", 1977-2010 and repainted/de-painted",1973-1995; 4. "paso doble", 1995, paint on canvas, variable dimensions according to the actualization (actualization at Galerie Perrotin: 290 x 515 cm / 114 1/8 x 202 3/4 in.); 5. "translation", 2011, Paint on canvas, variable dimensions according to the actualization (actualization at Galerie Perrotin: 120 x 430 cm / 47 x 169 in.
ALL PHOTOS Photo: Yachin Parham – Courtesy Galerie Perrotin
Sign up for My Widewalls and be always informed about your favorite Conceptualists!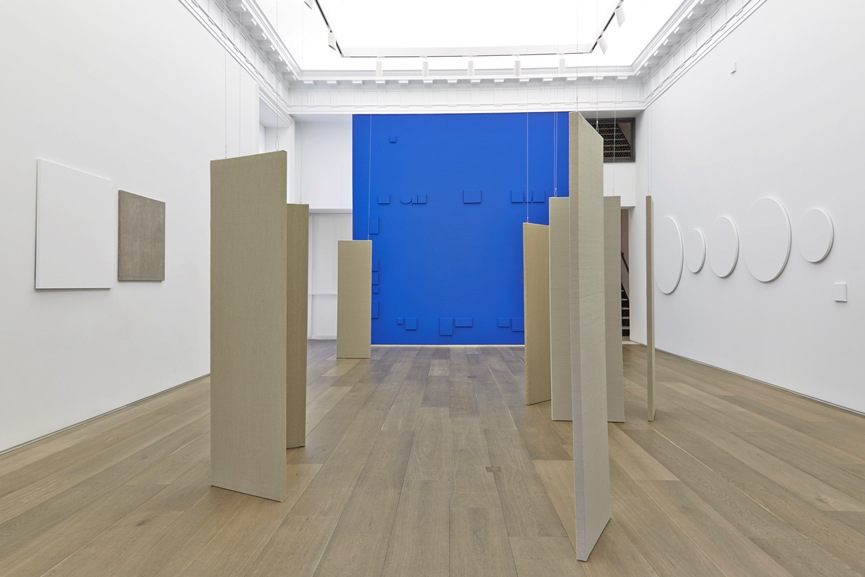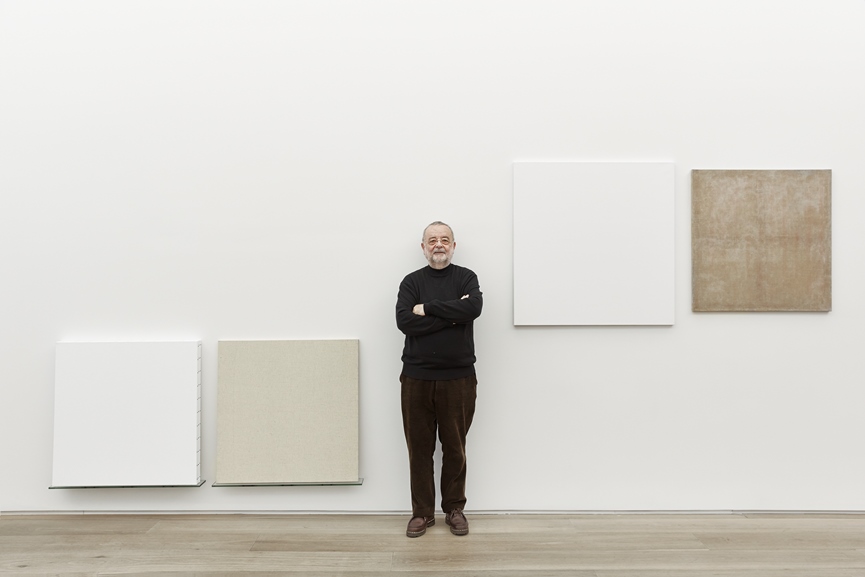 [mc4wp_form]