Colours of Resilience
Art has always been the means of rebellion against the oppression, war and the expression of the essential human need to survive. Today, Syria is suffering one of the most devastating conflicts, having millions of people forced to flee their homes. People of all ages are now constrained to grim refugee camps, having saved their bare lives. The young, as always, prove to be the biggest hope of the unfortunate people, with their creativity still present, and the need to express themselves still very strong. A group exhibition entitled Colours of Resilience is dedicated to them, presenting a collection of pieces created in Street Art projects in Syrian refugee camps, communities and in North Jordan, with the participation of Herakut among others, and aptArt and ACTED organizations. Opening at the Ausstellungshalle in
Frankfurt on June 6, the exhibit will culminate with an event held on June
20, 2014 – the World Refugee Day.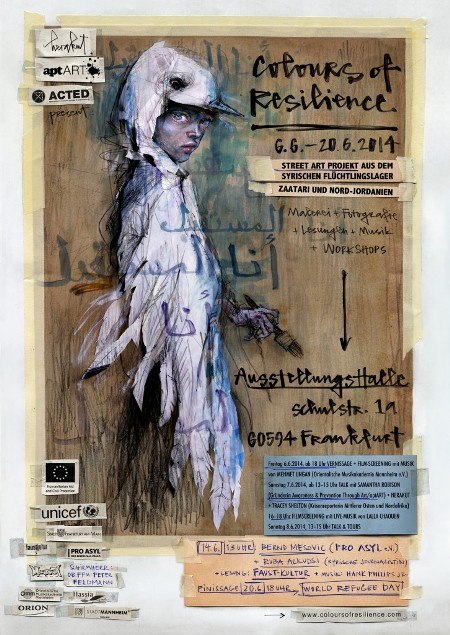 Exhibition of Resilience
Colours of Resilience will display an entire space dressed in an installation, presenting works on canvas, drawings and photographs made by Syrian and Jordanian young people. Some of the works are done by single authors, and some are products of collaboration between them and international and local artists involved in the project. The rich exhibition will be followed by organized discussions, workshops, readings and film projections with music acts, allowing the public to delve deeper into the Syrian problematics of the moment and to connect with the artwork and the situation on several levels. Guided tours will be held at the exhibition, while interaction with the participants and audience will be supported in order to understand and take part in the solution of the dreadful humanitarian catastrophe of the Syrian people.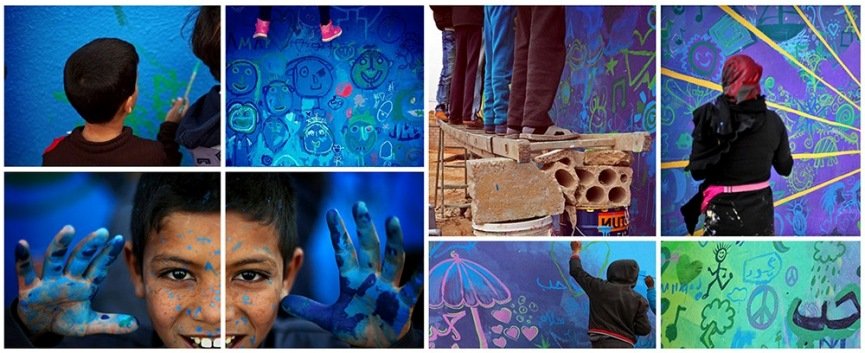 Syria Project
The project is conducted by aptART, a collective of artists and social activists devoted to providing marginalized youth groups a way to express their creativity with the idea to better the conditions of their living environments. The artistic team includes Herakut from Germany, Jumana Hokan from Syria, Ruben Sanchez from Spain, Luc van der Walt from South Africa, Jonathan Darby from UK, Samantha Robison from the USA, Yosra Aljabari from Jordan and David Shillinglaw from the UK. ACTED is a French international organization dedicated to relieving the Syrian refugee crisis, and one of the organizers of the project. This grand and interesting art initiative is backed by UNICEF and the Humanitarian Aid and Civil Protection department of the European Commission – ECHO as well.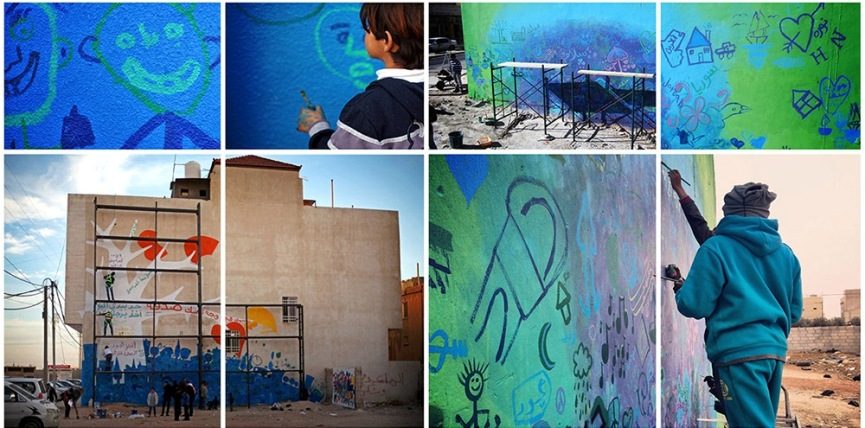 Resilient Art
The collection of art pieces will enable the insight into the ways art is used to demonstrate resilience to the hardships of the exiled. Most of the works were made in four months, through a street art project revolving around spreading visual messages of peace and hope over the refugee camps and host villages in Jordan. The art presented is the symbol of free expression, youth empowerment and optimism despite the dreadful conditions in which it came to be. Colours of Resilience is a special exhibition carrying the message of preservation of creative spirit and human dignity, while advocating concord and condemning violence.