Kickstart Consequences!
As our realities shift towards the digital world a little bit more every day, where does the ever so necessary human interaction go? Did it move entirely into the intangible, emotive plane, run by the flickering waves of our gadgets, induced by clicks and likes, or does it still exist? Do we hug? Do we really talk? Do we drink coffee or tea together, like our parents used to? The essentiality of face to face conversation and the dangers of the ongoing alienation are only a few layers of the topical range rendered in a collaborative project called Consequences. Organized by The Qabinet, the project will culminate in an exhibition, resulted from joint work of ten international street artists, who've created unique pieces over a warm cup of hearty conversation.
Sharing the Art
Sharing being the main focus of the project, the goal was to emphasize the possibilities of human reconnection through traditional channels of immediate communication. Visual inspiration for the endeavor came from the urban environment in East London, where Alessia De Pasquale, project ideator, lived for almost a decade. Seeing street art as the most accessible, most democratic and most human of all contemporary art forms, she devised a collaborative concept for 10 international urban creatives, who would work together on overcoming the technological gaps of human interaction. Series of artwork were produced, all emerged out of joint creative adventures, made on paper, wood or walls, where the core lead was an old paper 'game of consequences', better known as the Surrealist technique of 'cadavre exquis'. Besides surprisingly imaginative artwork, artists have created videos, while workshops, talks and screenings are also planned at the exhibiting space and on other locations disclosed promptly.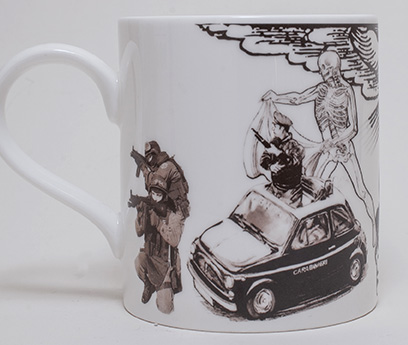 Artists with Consequences
Lineup of artists taking part at this interesting project is indeed impressive. It includes Never2501, an Italian Op-art muralist known for his stripy creations, an Israeli comic-loving crew – Broken Fingaz, EMA, an abstract versatile French urban artist, an illustrator and satirical paste-up vigilante from Hong Kong – HIN, a great muralist from Milan – Millo, controversial Italian mural maker – OZMO, miniaturist in the urban space – Pablo Delgado, a history and color-loving artist from London – Pakal, internationally acclaimed Italian muralist – RUN, and Zio Ziegler from USA, whose wall works are as elaborate as they are bold. Every artist designed a signature mug for this project only, in the very limited edition of 10 pieces each, already available for those who wish to pledge an amount at the project fundraiser, or, if there's any left, when the show opens.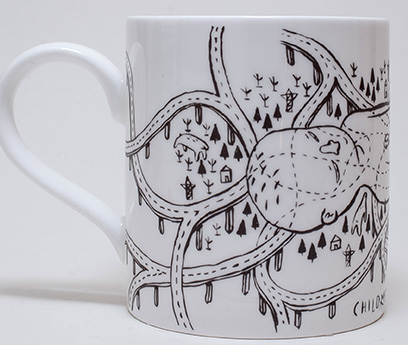 Fundraiser at Kickstarter
Kickstarter fundraising campaign for Consequences was set up to raise money that would cover costs of space in Shoreditch, framing and scissor lifts for big mural production. As the show promises to be more than excellent, we would like to give our support by inviting all to pledge at Consequences page, by Friday, September 26, 2014. All who donate will be awarded a unique gift in the form of artwork, so you can consider this an exclusive purchase as well. The guys are only about 1000 pounds short at this point, so all who can, collectors, art lovers, friends and enthusiasts – contribute!
You have 46 Hours left to contribute!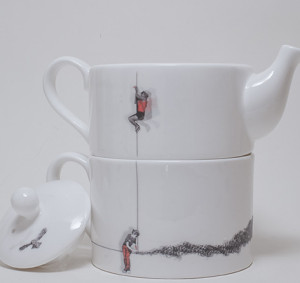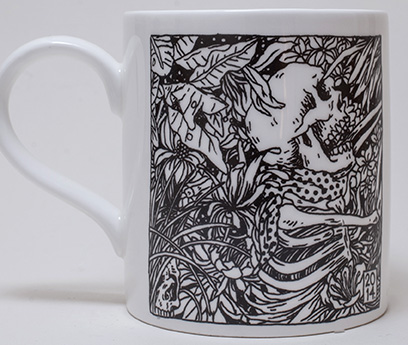 [mc4wp_form]